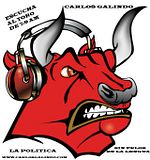 Both Carlos Galindo (Mexican American liberal radio talk show host in Arizona with the ear of thousands of immigrants who are influenced by his political analysis), and Viva Ramirez (Mexican American / Chicano activist) are drawing the line in the sand with regard to an extremist anarchist group via DreamActivist.org. This extremist organization is being led by a Fijian and Iranian immigrant and I have personally reported their "legal coyote" financial scam to the the Federal Bureau of Investigations. I personally believe they are exploiting young Mexican children to further their constant asking of donation$.
In the below, Viva was inspired to write the below response when he was asked: 'Why all the 'desperation' about Mohammad Abdollahi and Prerna Lal?'
What you refer to as desperation, is actually indignation. Better yet OUTRAGE...and what follows is the reason for it. Please note that I have my own personal reasons deep in my heart as to why I want Mexican migrants to walk free and proud as OWNERs of this great land, and for them to sit at the table of power on this planet as they deserve to... and I was willing to give my all to see that it came to be. My outrage came about only after Mo and Prerna initiated an unmitigated social media campaign denouncing my home, my country and my way of life in the most vulgar and insulting way possible.

And even worse was the still embryonic national identity of the young people in their audience who ideas they sought to infect. You see, when people who are guests in my house (that is to say people who are living here only by the grace that the system of this country has afforded them), turn and spit at my feet, and curse the ground where I have built a home for my children; when they disparage the land that generations of my family have gone to war to defend; when they scoff at their privilege by saying that they would rather be somewhere else....then I withdraw my welcome.

I am no longer their advocate, I am no longer their friend. I will no longer defend their perceived right to be here, and I will no longer tolerate their vile hatred echoing through my space--or even their opinions.

This is the ancestral home of my family and NO, they DON'T have the right. You say they might be a little 'abrasive'? NO. My Dad was abrasive, but he loved me and would have fought and died for me.

Will Mo and Prerna do the same for the nation they abrade? What they're promoting is hate.

They are a disgrace to the community who reside in this country. I wont speak for the people who have been rebuking this insult along with me other than to say that I am proud to have this love of our home in common with them. And I know for a fact that their interest in them begins and ends on this very issue. They are Patriots and they responded like patriots. The response that came down on MO and Prerna is just.

Chale Vato!! They are a long way from having the right to talk that kind of shit about my home. And as far as I'm concerned, they can take it back to wherever they brought it from.
In addition, Carlos Galindo wrote:
Dicho y hecho Carnal! We can stand in solidarity to defend our people of bronze, however, we cannot in our efforts to do so, disparage the country who has given Immigrants like me the opportunity to express my freedom of speech under my 1st amendment right, something that in other countries would get you jailed or killed. It is in fact this country that has given me everything.

The issue with the anti-USA rhetoric can be directly attributed to failed leadership and a systematic failure to provide our youth with accurate information that would allow them to make appropriate decisions and would deter the dogmatic follow the pied piper hypnotic state our youth seem to be in these days. Education is key.

I truly believe we have to launch a serious education based program for our youth. In a sense, deprogram them from the years of being programmed by pseudo activists, pseudo leaders and professional snake oil salesmen aka "community organizers."

In solidarity/En Solidaridad,

Carlos Galindo