There is the War on (some) Terror, the War on (some) Drugs, and the War on Christmas.
We are losing all of those wars.
There is another war that we appear to be losing. It's a global war that the news media has only recently discovered.
It's the global currency war, and it is far from over.
(Reuters) - The global "currency war" could get even worse if Europe joins the fray, says the man widely credited with coining the term.
Brazilian Finance Minister Guido Mantega told Reuters European countries should focus on reviving their economies with more investments, rather than trying to weaken the euro to protects jobs as France has suggested ahead of next week's meeting of G20 economic powers.
"It is useless for the European Union to try to get out of the crisis by exporting more to the United States, Asia or even Brazil," Mantega said. "We are battling over the scraps. We are elbowing each other to compete in a very restrictive market."
Pretty much everyone is involved with trying to devalue their currency these days. It isn't just the Brazilian finance minister saying it. The heads of British, Japanese, and German central banks have publicly declared that we are in the
midst of a currency war
.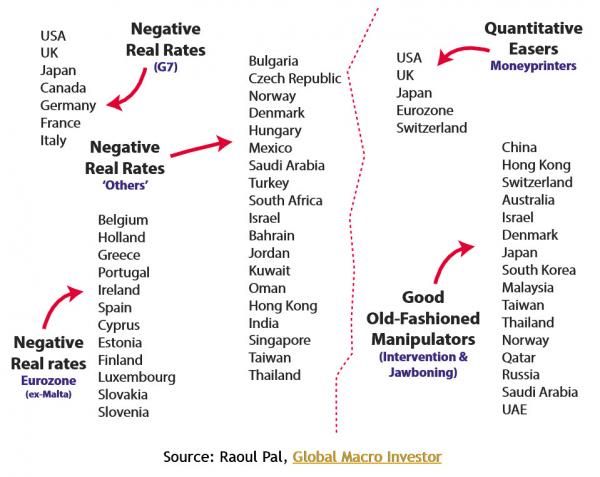 "Devaluing a currency is like peeing in bed. It feels good at first, but pretty soon it becomes a real mess."
- senior Federal Reserve official
Just yesterday Venezuela devalued their currency by 32% in a single day. They are the 8th nation to declare a currency war. However, no one devalues like China.
China has seen its money supply surpass that of developed countries since 2009 and has emerged as the world's biggest "money printing machine."
Following the global financial crisis of 2008, major economies in the world have been "printing money." Examples include the quantitative easing measures adopted by the United States and the European Central Bank's "unlimited" bond-buying program. Most recently, Japan launched its own version of quantitative easing on Jan. 22 by raising its inflation target and announcing open-ended purchases of government bonds.
The amount of newly increased money supply peaked in 2012, totaling over 26 trillion yuan (US$4.1 trillion), with China accounting for nearly half of it.
So what does all this money printing mean?
First of all, it means that food prices will continue to remain high, a fact that harms the world's poorest.
Secondly, it means that gas prices will continue to remain high.
While those two items directly effect you in the short-term, the real problems arise in the long-term if this continues.
"People ask me who's winning. I say nobody. I expect the international monetary system to destabilize and collapse. There will be so much money-printing by so many central banks that people's confidence in paper money will wane, and inflation will rise sharply."
- James Rickards
Trade War
The important thing to understand is that a currency war is simply a trade war by another means. Everyone is trying to make their nation's products more competitive on the global market.
But it's a zero-sum game. Someone else must lose for you to win. And even if you win, everyone could still lose.
A competitive devaluation game can turn into a trade war, whereby losing countries start slapping tariffs on imports and exports to punish countries deemed to be "manipulating" their currencies. Trade wars, of course, make stuff more expensive for everyone, and that's just about the last thing global consumers – increasingly squeezed by rising unemployment and inflation – need.
Even worse than that,
trade wars can lead to shooting wars
.
"If goods don't cross borders, troops will."
- Frederic Bastiat