There are diaries you look forward to writing. And then there are those you don't. This is one of the latter.
Madison the German Shepherd
May 22, 1994 - April 3, 2008
Fourteen years ago, I left the ugliest beach house in America to live in a small pink Spanish-style 1920s stucco house in St. Petersburg, Florida. I had shared that beach house with my best friend. The small pink house in St. Petersburg felt empty and I felt alone.
Just weeks after I moved into that house, I decided to get a puppy. I read all the ads in the newspaper. On a fateful night in June 1994, I drove to Hernando County to see a basket of German shepherd puppies.
My family had always had German shepherds. When I was a baby, Dirk had guarded my carriage, when my Mom and Dad left it out on the lawn on the grounds of my grandfather's house in a suburb of New York City. When I was 9, and we moved from our townhouse into a colonial in which my grandparents had lived, we got a new German shepherd puppy. This was Tuffy, and my Dad brought him home inside his jacket on a cold December night in 1966.
Tuffy was diagnosed with cancer in January 1976. By that time, he had eaten two sofas, smashed numerous windows and destroyed the kitchen floor. He had also eaten into my heart so much that I had left a biscuit for him in his dog bowl, hoping that it would bring him home. It didn't; he died on the operating table.
My Mom (a major dog lover who had gotten stuck with all the walking, and bandaging and cleaning up) said no more dogs. In February 1976, a neighbor called us and said he had a German shepherd puppy that needed a home. He had bred his beautiful shepherd and there had been 13 puppies. Weeks after selling them, he had gone to visit each home. When he had checked in on the puppy that would become ours, he had found her abused. He asked if we would take her -- and that is how we got Cymba. She arrived on my 19th birthday, covered in puppy down with her large ears already up, looking like a rabbit. We had Cym for 13 wonderful years.
And so, in 1994, when it was time for me to get a puppy, it was a no-brainer: of course, I would choose a German shepherd.
And what a German shepherd I chose!
On that fateful night in June 1994, I drove up to the kennel in Hernando County, Florida and asked to see the puppies, and one very special puppy ran to me and jumped straight into my arms. She was, at the time, all of about 6 pounds and not so many more inches. But she had chosen me and I was in love.
On a hot July night, I drove back to Hernando County to receive this bounty of puppy fur. I was concerned that she would be upset leaving her litter-mates and mother, but Madison had no such fears. I had already picked her name -- in honor of the author of the First Amendment. On the 60-mile trip back to my pink house, she snuggled in my lap.
Madison was an instant hit in my neighborhood. My neighbors' children were enchanted, and she reciprocated: "A baby police dog," they would say, and she would calmly put up with kisses and hugs.

The more mature neighbors were, perhaps, not so enchanted. Madison had a propensity for, um, vocalizing. My across-the-back-fence neighbors were the son-in-law and daughter of a Justice on the Florida Supreme Court, and "famous barking Madison" unfortunately got mentioned at least once during oral (!!) argument. She also broke a hole into my fence and regularly visited other neighbors for breakfast, and dug pool-sized holes into the backyard. When it rained, she wallowed in the black, silty mud before re-entering my supposedly white kitchen.
Destruction, for Madison, was a way of life. One night, while I was on the phone in the kitchen, I suddenly noticed that it was quiet: too quiet. When I hastily hung up and walked into the adjacent living room, I discovered the errant puppy amidst what looked like 2,000 pounds of goose feathers. There were feathers on the bookshelves, feathers floating in the air and, on the floor, approximately 6" of feathers, settled down. Amidst the destruction (six cushions from one sofa and two chairs) was one (1) German shepherd (with feathers), casually surveying the scene with a "what me?" expression. She also ate the porch furniture, my grandfather's scrapbook of photographs from his WWI service in France, a vintage Versace scarf and more pairs of shoes than I care to mention.
But Madison always also provided such comfort during hard times.
She cuddled with me when my marriage fell apart and when I was frightened and needed a champion. She was with my Mom the night my dear Dad dropped dead, in the space of the nanosecond it takes to turn on a light-switch -- and she lead my Mom to his crumpled body and carefully waited as she called 911.
Along the way, she positioned herself for weeks behind my Mom's chair, sipping coffee from her cup while my Mom blithely read the newspaper. No one knows how long she had been doing this before getting caught. On another evening, some years ago, she seemed near death's door. She had refused to get out of her dog bed all day. When I finally got her outside for a walk, she sprinted back inside and stole an expensive hunk of cheese.
She has been such a good friend, in the true sense of the word. And she has never, ever complained.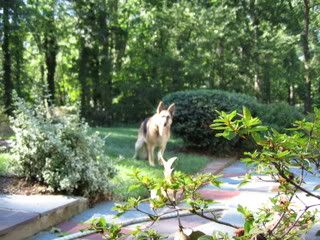 Two years ago, I sold a tiny historic house that I had just loved. It had been built in 1840 and was on a gorgeous block in a beautiful small city full of history and terrific neighbors. I loved that house, but it had steep, slippery 19th century stairs that Madison was no longer able to climb. She was reduced to living on the small first floor, and I thought she deserved better. I bought a fixer-upper house I didn't particularly like, that had a big backyard surrounded by mature trees. I suppose a lot of people would think I was nuts to choose a house with my dog in mind. But I didn't.
Madison has enjoyed the house and her yard:
Madison started slowing down about a year ago. In the last few months, it has become so obvious that she no longer saw very well (she may, in fact, have been functionally blind) or heard very well. Until the last few weeks, though, she seemed relatively happy despite all her difficulties. When I got home at night, whether through smell or other senses, she knew it, and she seemed happy. But these last few weeks have been very hard. Some days she has eaten; on others she has not. My mother, with whom I am so grateful to live, and who has been her gentle primary caretaker for so long, has rarely left the house.
About a week ago, Madison's back legs -- already shaky from advanced hip dysplasia -- pretty much stopped working. Last night, they gave out completely. This morning there were other awful issues, and she seemed so very sad.
Around noon, I left her with my Mom and went to the vet to arrange her last minutes. My Mom and I spent this afternoon with her, telling familiar Madison stories, hugging her, shedding tears.
Madison has been a great gift to me -- she has brought me comfort and love and joy. I needed, today, to give her the gift I could bestow -- a peaceful death.
She died at 7 pm, in my arms, very swiftly.
I cannot imagine what it will be like to see her cheerful plaid dog bed with her name embroidered on it empty. And to know that, from now on, it will always be empty. I have loved her so much for so long.
But there is enough suffering in this world today, and I cannot imagine, either, having Madison one of its victims. So I did what I had to do today, and I am grateful that I could.
If I can ever be half the wonderful person that Madison believed me to be, I will have lived a good life.
I love you so much, Madison. Rest well, dearest friend. I am glad you got one more beautiful spring day.
Good dog.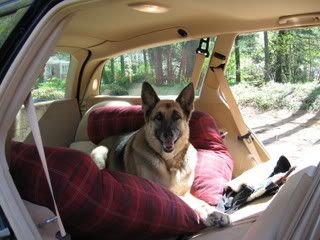 To this Wonderful Community: I am beyond overwhelmed by the love and kindness and the amazing number of comments tonight about my sweet Madison. I cannot thank you all enough -- you truly have no idea how much this response has meant to me. Thank you so much.