I've decided to start running some analysis for the presidential race. I'm going to cover races that Pollster.com rates as "tossup". Tonight: Alaska, Colorado, Florida, Indiana.
I just realized that I forgot to include dots for McCain. The lines are correct, and the blue dots are also correct
I'll add the red dots for McCain next time
Method:
1. I gathered polling data from Pollster.com. I only included polls in 2008.
2. I assigned the undecided 50-50 to Obama and McCain
3. I then added two loess lines to each, with different degrees of smoothing. Good descriptions of loess (aka local regression) are here (technical notes on local regression)
Off to the races!
Alaska


McCain has a steady lead of about 5 points.
Colorado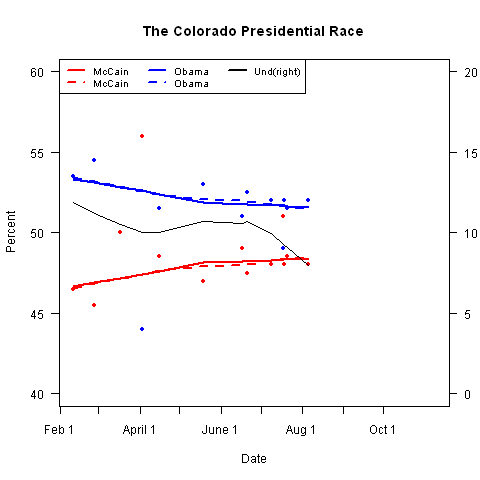 McCain is gaining slowly, and the rate of his gain is slowing. Obama still has about a 6 point lead
Florida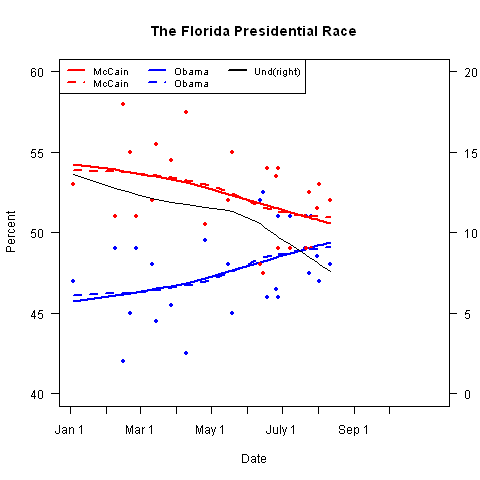 Obama is gaining fast. If trends continue, FL will go blue! And, given the sheer number of polls in FL, there's reason to be more sure of the trend.
Indiana
Wow! Obama is gaining fast!
Short diary, I know, but each of these takes a bunch of work. More next time.