They gathered in downtown Cleveland, Ohio from far and near, for the next-to-last rally that Barack Obama will attend prior to Election Day.
They came to hear Bruce Springsteen sing, and to hear Obama's Message of Hope.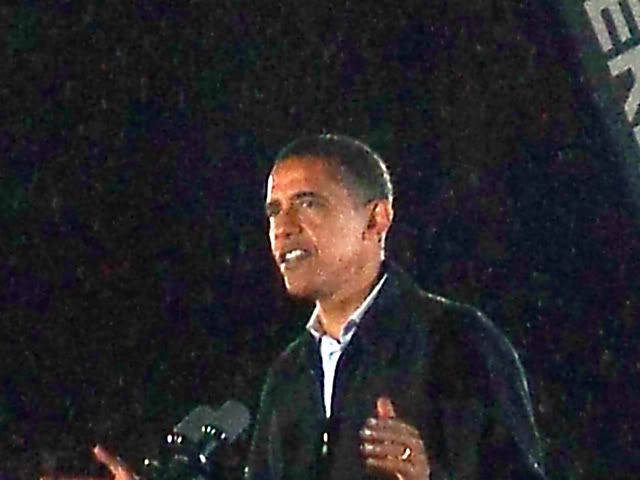 We got so much more...
UPDATE: If you're in northeast Ohio, join our NEO Kossacks Google Group!
See more Pictures at my Photobucket account!
Remember the pictures from the McCain Rally last Friday? Whiter than a bowl of rice, right?
Not today. What we saw was what it means to be empowered, to be part of a people-powered movement.
So after standing in line for more than 4 hours, we finally passed through fairly tough security to get in near the stage.
Bruce Springsteen finally came on stage and began a 6-song set with Promised Land.
After performing Youngstown and Thunder Road, his wife Patti joined him on stage for Workin' on a Dream.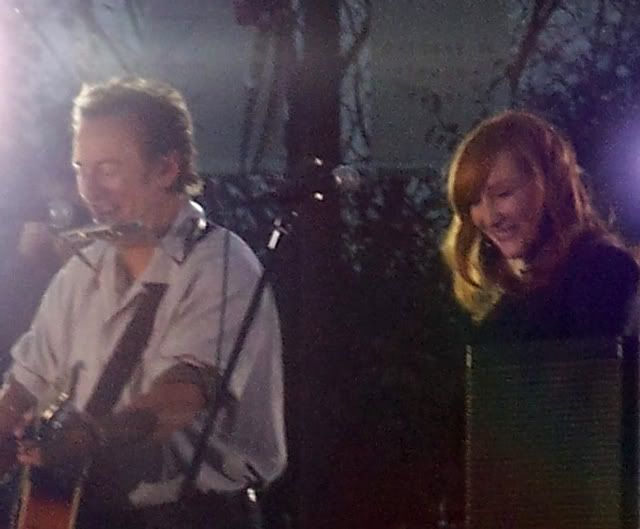 He followed that with This Land is Your Land, and Up For The Rising, then introduced Senator Obama and his family.
Then Barack took the mic, and began a half-hour speech, touching on the standard themes we've come to hear over the last 21 months: jobs, healthcare, the economy, the war in Iraq.
Barack did take a few shots at the Republicans, He said that "You can't tell what McCain stands for because all he does is talk about me," and he spoke at length about how Dick Cheney finally came out and endorsed McCain.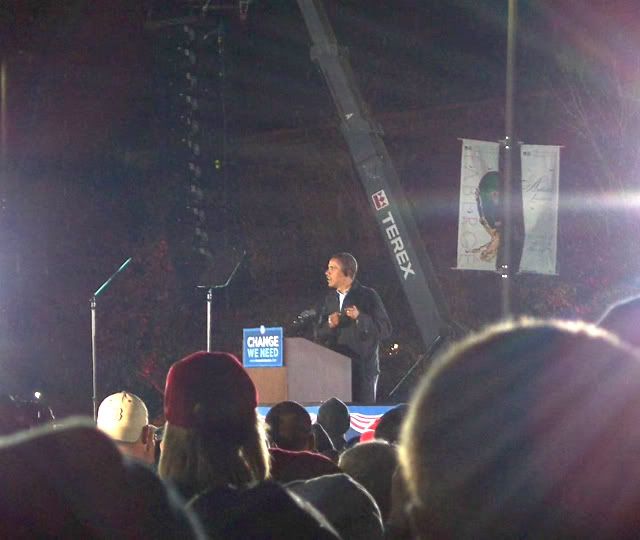 "I'd like to congratulate Senator McCain for this endorsement from Dick Cheney," said Obama. "McCain worked so hard for this. Voting 90% of the time and making sure that if he's president he won't go after the billion dollar contracts with Halliburton, or get rid of the culture of lobbyists in Washington."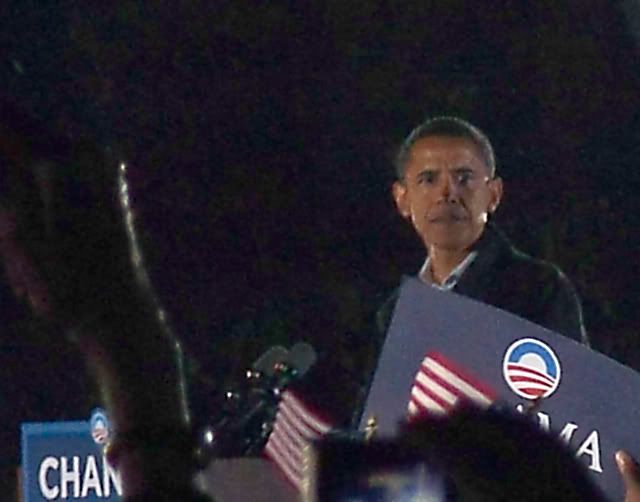 During this point it began to rain, catching many by surprise. Obama laughed and said "notice it didn't start raining until I mentioned Dick Cheney," and then quipped that "it's okay if we all get a little wet, since we've been weathering a storm for the last 8 years. But don't worry, the sun will come out on Tuesday."
___
I'd like to add that I had the distinct pleasure of meeting Kossack Observer while at the event, quite by accident. We had been chatting for 20 minutes waiting for the event to begin, when he mentioned he'd seen the McCain pics the other day on dailykos.
Observer is my new hero. Born near Bombay, he became a naturalized citizen last March, after living in America for 17 years. Upon receiving his citizenship, he convinced 30 of his friends andf family to register to vote, and even delivered absentee ballots to them to make sure they voted in this election.
We need more people like Observer. (Update: and you can give him love here.)
(UPDATE: Thanks to my lovely wife who not only kept me company during the long, long, long wait in line, but also helped me spellcheck this diary. We're dog tired, and it was evident in my first draft.)
UPDATE 3: Just to give a sense of perspective, here's a map of downtown Cleveland, with the waiting lines and event area shown: