Every once in a while in the world of economics an economic indicator will suddenly go crazy. One day the charts all look normal and easy to understand. The next day it suddenly launches into an entirely different world.
What a massive swing in the index means is always open to interpretation (a whole industry exists to analyze these movements), and no one is certain if they are correct until years afterward. Sometimes what it means is more obvious than the why, but the 'why' is ultimately more important.
The Quiet Oceans
The Baltic Dry Index dates back to 1744. To put it roughly, it is the price of moving raw materials by sea.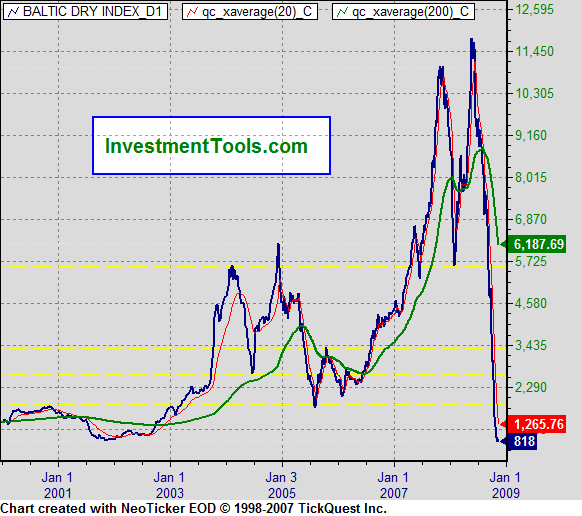 Whenever a major, worldwide economic index collapses by 98% in just a few months its time to sit up and take notice.
Peter Kerr-Dineen, chairman of Howe Robinson shipbrokers, said: "The scale of change in rate is utterly staggering – the market has come down from super-boom territory to pretty close to bust, effectively in two months."
The price of the daily rental of a Capesize bulk carrier has collapsed from $234,000 to $5,611. I'm no expert on shipping, but I bet that the cost of fuel, insurance, maintenance, and crew salaries on a ship that large is about $5,600 a day. If there is no profit from moving these ships, then goods will not move.
If the world's shipping lanes remain quiet then wheat doesn't make it to flour mills and coal doesn't make it to power plants. Everything stops moving.
The reason for this epic collapse is the credit markets.
Cargos are sitting on docksides because the finance is not available to ship them, with the gravest implications for the future. "This is a nuclear bomb in the freight market, and in world trade," Mr Kerr-Dineen said. "Liquidity has to return because if there is insufficient money to provide standard finance, world trade will be sharply cut back and economic growth will implode."
The Federal Reserve takes over the economy
It took just under 100 years, since its creation in 1913, for the Federal Reserve to accumulate about $800 Billion in assets.
It's taken just two months to nearly double it.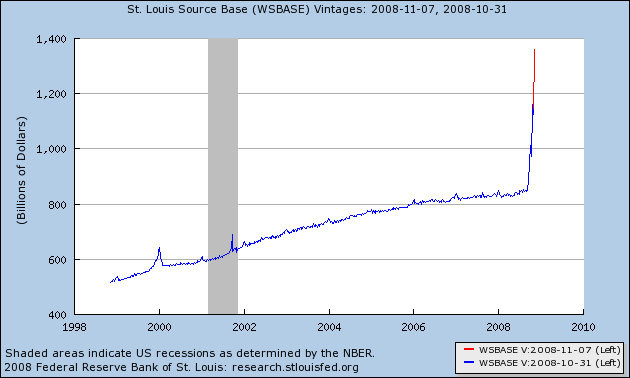 Notice where the line turns red. That's just the past week.
The Fed's monetary base is the most powerful money stock around. Because of fractional reserve banking, the Fed's monetary stock is leveraged many times over before it makes it to the consumer.
That's just the start. Take a look at two other charts from the Federal Reserve concerning their reserves.
I honestly don't understand exactly what is going on here (although I have a good idea), and I'm not alone. I've read lots of opinions, and they range from "unprecedented reaction to deflating asset prices" to "dangerous expansion of the Fed into the private market" to "setting up a hyperinflationary explosion once credit markets unfreeze". One or more of those opinions are likely true.
More importantly, the two charts are directly related.
The borrowed reserves chart indicate that commercial banks are relying in an unprecedented way on the Fed for credit because they can't get it from private sources.

It's the reserve balances chart that is the most interesting.
The Treasury has been issuing new debt (that the taxpayer must service the interest on) so the Fed can expand its balance sheet which it can leverage in order to lend more money to Wall Street banks. That is somewhat of a concern, but that isn't the real trouble.
The real trouble is that the Fed has started paying interest on capital that banks are required to keep in at the Federal Reserve. The idea is that this helps the banks stay afloat, but it is really a tax on the taxpayer because it reduces the amount of profit that the Fed returns to the Treasury each year. Another reason why the Fed is encouraging this is because it helps to hold down all the inflationary pressure that is being created from the Fed's balance sheet.
Congress approved this change before the credit crunch in 2006.
What this move has also done is that it has helped to dry up credit in the general economy. Banks now have a 100% safe place to store their capital and still earn interest that is greater than short-term Treasuries. In an environment where lenders don't trust borrowers, this is important.
A quick technical look
Any technical reading of economic charts will tell you that a parabolic spike is unsustainable. Eventually, and it doesn't take long, something will break, and the whole market will come crashing down. How long something like this can continue is unanswerable - we are in uncharted waters.
The problem here is that we aren't talking about orange juice or pork bellies. We are talking about the people who run the dollar. The currency that the world uses to trade goods with.
Which reminds me of the problem with shipping and their credit problems. Is there a connection? Probably.
The word "credit" is derived from the Latin word "trust". Ultimately if people don't trust dollar-based credit then they don't trust dollar-based debt, and the world runs on a debt-based currency.
[Update: Since many of you are speculating on what will happen to international trade with this credit freeze, I wanted to mention this article from a few weeks ago.]
Thailand on Monday said it planned to barter rice for oil with Iran in the clearest example to date of how the triple financial, fuel and food crisis is reshaping global trade as countries struggle with high commodity prices and a lack of credit.

The United Nations' Food and Agriculture Organisation said such government-to-government bartering – a system of trade not used for decades – was likely to become more common as the private sector was finding it hard to access credit for food imports.

"Government-to-government deals will increase in number," said Concepción Calpe, a senior economist at the FAO in Rome. "The lack of credit for trade could lead also to a resurgence of barter deals between countries," she added.
...
Ben Savage, managing director at London-based rice brokers Jackson Son & Co, said the full effects of the credit crunch had not been felt as most of current food trade related to contracts signed before the crisis.