My parents live in Southern California, specifically the Oak Ridge modular home community in Sylmar, CA. But I guess "live" should be in the past tense because as of yesterday, that community (as you can see in the photos below) was destroyed by a wildfire.
Late at night, and with only a half-hour to pack their most critical possessions they literally fled for their lives, leaving behind what may have been their most prized possession - the community.
Oak Ridge was a community of 600 modular homes that set against the foothills north of Los Angeles. It was a beautiful, if modest, community of well kept-up homes and yards. MANY of the residents were seniors on fixed incomes. In one article from the L.A. Times, two of the residents, former LA Unified School District bus drivers, spoke of pooling their savings to buy one of the homes so that they could retire there.
My parents were very active in the community. My Mom was involved in much of the planning of community activities including holiday events, parades and even the occasional bingo night. My Dad was involved as well including leading the recycling effort. They cherished the friendships they developed in the many years they lived there.
On Friday night, about 11:00 pm the call went out. A fast-moving fire was advancing toward Oak Ridge. My parents literally had a half an hour to get out. Some people had so little time they couldn't even get in their cars and had to be driven out by fire trucks. My parents took their cars and spent a sleepless night in the Wal-mart parking lot in Santa Clarita. In the morning they drove up to my aunt's house for refuge.
From the L.A. Times website, here is an overhead shot of the community after the fire. All those gray-black rectangles? Homes completely burned down. In total more than 500 homes destroyed, 50 damaged. These are the most homes destroyed in a fire in Los Angeles County since 1961.
I spoke (and cried) with my Mom and Dad several times last night. On the last call, my Mom, completely exhausted because they didn't sleep a wink, talked about going to the shelter where many of the residents fled to. "I have to go, that's where my friends are." she said to me. She also mentioned the cherished Christmas Spode collection, lost forever. And that's what happens in events like this, a memory comes to you of a cherished possession and now you know it's gone forever. In their late 60's they're starting over.
I know this diary isn't really about politics, but as I know too well, this community, the Daily Kos community, also knows and appreciates that life goes beyond the machinations of politics.
And those two retired bus drivers? As one of them stated in the aftermath:
"My street -- ashes," Pogacnik said, crying uncontrollably. "It was the Beverly Hills of mobile home parks. . . . We had a view, trees, a yard and neighbors. We felt so safe there. It was a perfect place for an old retired woman."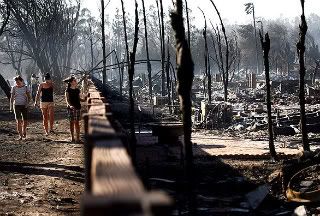 From the LA Times photo gallery
UPDATE: Thank you so much for the kind words and the recommendations. I'd also like to mention my wonderful husband who is on the road right now (we live in Colorado) to L.A. to help out my parents with the next steps in their lives. And please recommend this liveblog about the SoCal fires.
ANOTHER UPDATE: Video of residents from Oak Ridge: http://www.latimes.com/...