This Wednesday, over 100 nations will gather in Oslo to sign the Convention on Cluster Munitions, a global ban on the use of cluster bombs. The vast majority of our allies will be there: Australia, Canada, the Czech Republic, France, Germany, Indonesia, Ireland, Italy, Japan, Kenya, Mexico, New Zealand, Norway, Spain, Sweden, the United Kingdom and many others. The United States will not. Once again, the United States laughs in the face of international cooperation and moral leadership.
Also, morning reaction to Obama's national security team.
Should I be surprised that I didn't see much coverage of this - none actually - in the U.S. press today? Channel News Asia reports on the signing of the cluster bomb ban this Wednesday:
Some 100 countries will ban the use of cluster bombs with the signing of a treaty Wednesday in Oslo but major producers such as China, Russia and the United States are shunning the pact.

The treaty, agreed upon in Dublin in May, outlaws the use, production, transfer and stockpiling of cluster munitions which primarily kill civilians.
and:
While the United States, Russia and China "seem to have an allergy to international law in general," there are signs that "the stigma against this weapon is already working," Nash said.
China and Russia. Is that really the company we want to keep as a nation? In 2006, a Senate amendment to a military spending bill drafted by Senators Feinstein and Leahy would have banned the use of cluster bombs in civilian areas. Barack Obama was one of only 30 Senators who voted to approve the ban.
::::::
Actually I take that back. There was one mention of the cluster bomb ban in the U.S. press today - the Washington Times editorial board tries to explain why cluster bombs are just oh so important to U.S. defense:
The United States has always stood out militarily because its arsenal can and does defend American soldiers and foreign nations suffering tyranny. While this nation is at war in Iraq and Afghanistan, it should not forswear the potential - and we stress potential - use of any item in its arsenal. We hope that Barack Obama and team, when in force, consider that.
Yup, I'm sure tyranny would suddenly triumph if the United States couldn't use cluster bombs. Give me a break. The United States has said that it is developing cluster bombs that will be less prone to failure (not exploding) than the current weapon. The editorial board of the Seattle Post-Intelligencer summed up that argument perfectly back in July:
The world bans an inhumane weapon. We want to perfect it. Embarrassing.
::::::
Cluster munitions have been used in many recent conflicts. Russia used them in Georgia in 2008. Israel used them in Lebanon in 2006. The United States used them in Iraq in 2003. In each conflict, cluster munitions have caused civilian injuries and deaths, particularly of children.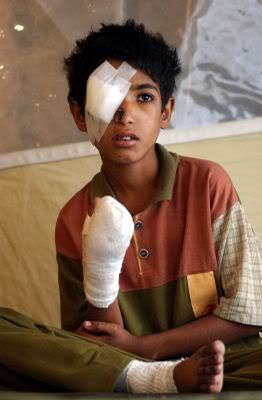 Munir was injured by a cluster bomb while playing soccer in Baghdad in 2003.
(Photo: Victor R. Caivano/AP Photo/SCANPIX)

Six-year old Abbas Abbas was injured by a cluster bomb in Lebanon in 2006.
(Photo: AP/Mohamed Zaatari/SCANPIX)

Victims of cluster munitions in Laos.
(Photo: John Rodsted)

Five-year old Ali Mustafa and his brothers were wounded by an unexploded cluster bomb they found in the garden of their home in Baghdad.
(AP Photo/Anja Niedringhaus/SCANPIX)
If you agree that cluster bombs should be banned, you can sign the People's Treaty, a global petition that calls on governments to sign the treaty banning cluster munitions. This is one issue I will be contacting the new Congress and President Obama about as soon as they take office. Obama wants to restore America's moral authority in the international community? This is a great place to start. You can learn more at the Cluster Munition Coalition.
::::::
The big political news this morning is the announcement of Obama's national security team, which the AP reports will include Hillary Clinton, Robert Gates, Janet Napolitano, Eric Holder, Susan Rice and James Jones.
The New York Times reports on the "foreign policy shift" that his national security team has embraced:
Yet all three of his choices — Senator Hillary Rodham Clinton as the rival turned secretary of state; Gen. James L. Jones, the former NATO commander, as national security adviser, and Robert M. Gates, the current and future defense secretary — have embraced a sweeping shift of priorities and resources in the national security arena.

The shift would create a greatly expanded corps of diplomats and aid workers that, in the vision of the incoming Obama administration, would be engaged in projects around the world aimed at preventing conflicts and rebuilding failed states.
::::::
Meanwhile, the New York Times editorial board praises the Napolitano pick, especially focusing on her experience with the immigration issue:
It would be a relief to see the job go to someone with a solid understanding of immigration and all its complexities and political traps. As governor of a border state, Ms. Napolitano knows the landscape intimately. She has a cool head and a proven willingness to pursue policies that conform to reality, rather than the other way around. For years, the country has stumbled in a state of immigration panic, using harsh tactics to create the illusion of control while rejecting comprehensive strategies that would attack the problem at its roots.
::::::
TIME looks at the strengths James Jones may bring to the table:
In Jones, Obama gets someone with instant and deep understanding of military plans and details. He gets a 6'5" Marine Corps veteran at his side who has firsthand experience of combat theaters from Vietnam to Bosnia and who earned Defense Distinguished Service Medal, a Silver Star and a Bronze Star with "V" for valor. While the uniformed military will follow the orders of the Commander-in-Chief no matter what, the public is more likely to support them when they're being enforced by a decorated veteran with a long career on the battlefield.
Didn't Jones campaign with McCain during the general election? I guess Obama is quite serious about this whole rivals thing...
::::::
Kim Dae-Joong, a columnist with South Korea's Chosun Ilbo, wishes South Korean President Lee Myung-bak would take some lessons from Obama in selecting talented people for his government:
The dearth of talent in this government is particularly conspicuous because it can be seen to contrast with the skill with which U.S. president-elect Barack Obama is picking his staff.
::::::
John Nicols thinks that there really aren't many differences between Obama and Clinton on foreign policy:
That's what makes the whole "Team of Rivals" discussion so comic.

Obama and Clinton were rivals for the Democratic presidential nomination because they both wanted the job. They were never really ideological rivals.
::::::
Reuters thinks the Clinton pick may come with challenges for Obama:
But Obama may be courting trouble in tapping the woman he narrowly defeated in the race for the Democratic White House nomination, some analysts say. They note that Clinton maintains her own power base within the party and may not have fully put to rest her own presidential ambitions.
I was not a huge fan of Hillary's during the primaries, but I am REALLY sick of the word "ambition" being used in every article about Hillary Clinton. Of course she's ambitious! Can you find me one politician who is not ambitious? There is nothing wrong with being ambitious - even having Presidential ambitions - and I wish the media would stop using it as a slur against female candidates.
::::::
The New York Daily News lists a number of diplomatic challenges that Clinton will face upon her confirmation as Secretary of State. Beyond Iraq and Afghanistan, the list includes India/Pakistan, Thailand and Somalia. Surprisingly, Korea didn't make the list.
The relationship between North and South Korea - already strained - has grown increasingly troubled in the past few weeks as North Korea has threatened to cut off all border crossings between the two countries. Well, today they made good on their threat and have severely restricted cross-border traffic, the Los Angeles Times reports:
Monday, Pyongyang made good on its threat to "restrict and cut off" traffic across its troubled border with the South, significantly reducing trade and ending all tourism in a move that further isolates North Korean leader Kim Jong Il's mysterious and reclusive state.
It's not surprising to me at all that North Korea would cut off its nose to spite its face, especially when it comes to closing or restricting access to the Kaesong Industrial Complex, which employs 35,000 North Koreans.
"I don't think North Korea appreciates the damage they're doing to themselves. The border closing comes off as arbitrary and capricious and chokes off business that otherwise could have been developed," said Marcus Noland, a North Korea scholar for the Peterson Institute for International Economics in Washington.
Meanwhile, three opposition parties called on Lee Myung-bak to scale back his hardline policy toward the North and instead pursue a policy of "reconciliation and cooperation."
::::::
Given all the talk around here yesterday about torture, I thought this article from Salon's Mark Benjamin was particularly timely. He wonders why Charles Graner, one of the infamous Abu Ghraib prison guards, is the only one serving time for those crimes:
After staring at the image of a naked, humiliated detainee with a bag over his head, it is easy to argue that Graner deserves whatever he gets. But Graner is now the only person involved in the Abu Ghraib scandal who is still behind bars. Of the eight other enlisted military personnel whom the Army tried and convicted in courts-martial in connection with the abuses, none is now in prison. (The sole officer who was tried was acquitted.) Staff Sgt. Ivan Frederick, the other alleged ringleader, got eight years, but his sentence was commuted and he is out of jail. Pfc. Lynndie England is not in jail. Everyone but Graner is free.

Years of revelations, however, show that the prisoner abuse started at the top, yet nobody who ordered the abuse has ever been tried or convicted of anything.
::::::
Sorry to not give you any happy reaction this morning, but this cluster bomb issue is an absolute disgrace. And it makes me mad as hell.
But, to cheer you up, just think - Palin is going out in public again today! I'm sure she will do something embarrassing to keep us entertained!