On October 6, 2007, I weighed at least 390 pounds.
Yesterday, I weighed 158 pounds.
(My scale didn't go above 390. Given what how much water I was retaining - probably in cardiac shutdown - what my weight read on October 7 and October 8, it's very likely I was at or beyond 400 pounds.)
On October 6 I started an eating plan called Medifast. I am a health coach there now, but this is not an ad for that plan. It worked/is working for me, but different programs work (some work very well) for different people.
I'm doing the bunny hop over the jump.
I have always said I'm 5 foot, 6 inches (instead of 5 foot, 5 and three-quarter inches) - but given aging and stuff, I may be closer to 5 foot, 5 inches now. Still, I set my weight goals based on 5 foot, 6 inches.
These are based on "BMI" (Body Mass Index) typical weights.
For 5 foot, 6 inches, the healthy range is 115 to 155 pounds.
I originally set a goal of 145 pounds, but soon changed it to 130 pounds for a couple of reasons...
It's one third of where I noted my starting weight.
I like the number.
When I started considering running the marathon, I asked a friend - who has run several marathons - where he fell in his healthy range, and he said he was x% above the low end, y% below the high end. For me, that number is 129, which confirmed 130 for me pretty handily.
Now, if I hit 150 or 145 or 135 and stop losing completely, I'll re-think that. But for now, my goal is 130.
The plan I mentioned before is made up of (mostly reconstituted) meals from the program - shakes, puddings, oatmeals, soups, hot and cold drinks and bars. I have 5 of these a day, and they are fortified so that I get all of my daily requirements in those 5 meals.
(Some people go to a doctor weekly and do 5 or 6 of those meals and nothing else.)
I also have a "Lean and Green" meal each day (sometimes, two, if I exercise extremely hard, with 4 of the plan meals.) My typical "Lean and green" is 4 cups of lettuce with quite a bit of chicken plus some cottage cheese, dressing and red wine vinegar, and often a bit of salsa on that.
Most "Lean and Green" meals are very filling. I recently made "fritattas" of eggbeaters, diced tomatoes, mushrooms, spinach and mozzarella cheese - no crust, cooked in a pan sprayed with non-stick spray.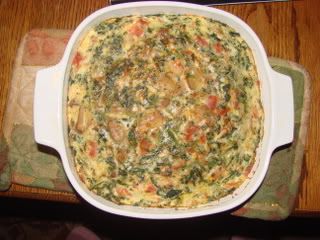 In April of last year, I began running using an interval training program. I love running - but since August or September, I've changed my commute to include biking (weather permitting, so very little since Dec. 1) and walking and a train ride. Because my total calories for the day probably average 1000 - 1200, I don't run in addition to the commute time.
:)
But I am signed up for a run in February, and I will start training for the marathon as soon as weather makes sense to do that.
So... my plan was to next diary about this when I hit 155, and was 25 BMI. I'm tired of waiting though.
Yesterday I weighed 158, which is 25.5 BMI - still "overweight", but within 3 pounds of "healthy" or - hee, hee, hee "normal."
Here are two photos - the one on the left was taken June, 2007 (basically, my best before photo, though I had others from 2004 & 2005 where I definitely looked larger, I think...) one in the center taken a couple of weeks ago, and the one on the left one taken yesterday.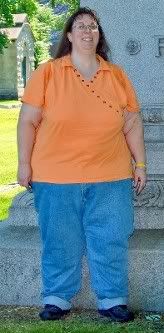 -

-

I was wearing size 36 or 38 jeans when I started, and the top is at least 3x, probably 4x. (Because I liked baggy, somehow thinking it hid things, I had often worn 5x blouses.) The middle photo, I'm in a medium sized turtleneck sweater and size 10 petite length jeans. The right photo, a small top (purchased in the junior's section) and size 8 petite length slacks.
Other changes: new glasses, shorter hair, recently 'styled' with layers & highlighting.
Oh. And another change. I can do crunches! Whoa, baby!
Further updates... I'm still watching my sister's dogs - the family returns home today (which is good, the dogs may survive these last few hours...)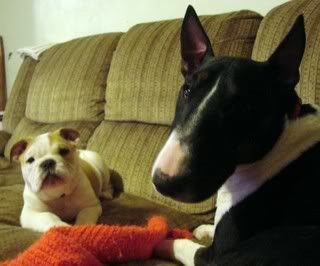 Tater (Couch Tater, Tater Tot... Tater, Tater head like a termater) on the left, Brooklyn ("You really want my nose in my face or my feet under yours") the Idiot Bull Terrier on the right.
Dog sitting two dogs which I have not trained and have no intention of training for a week is not pleasant, restful, or something I'd do for many people...
My nephew Danny has been in Disney World with his mommy, daddy and older brother & one of daddy's sisters. Not sure how the aunt did (fine, probably.) Brother Eddie and his dad loved it. My sister hates rides and amusement parks. Hates them, passionately. (Truly fun to spend time with, in Disney World & Busch Gardens - I really remember two amazingly dismal trips to Florida with little Suzie sunshine when she was in her stunningly difficult teen years.)
Danny spent the time scared because of the noise and lights and general scary stuff.
He is unchanged - hopefully will be returning to rehab to continue to improve his strength and his balance... He also spends a lot of time kind of crouched/curled forward making a grab for his privates. (He's ready to be a ball player...) This is apparently related to the minimized sensation and his bladder issues - that will hopefully also continue to improve - or at least, hopefully we can get him to stop the general 'grab,' before he starts school, next year.
Those are my updates for now. :)
By the way, if you're interested in assessing your own healthy weight and fitness level, this is an excellent web page.