Don't let the Republican Spinmeisters, Psych-Ops Warriors, and Whiners make you believe the President is losing support among the American public. According to Gallup, despite his setbacks with his cabinet nominees, the American people trust him even more now than when he got inaugurated. This is what happens when a President is willing to have the humility to say "I screwed up":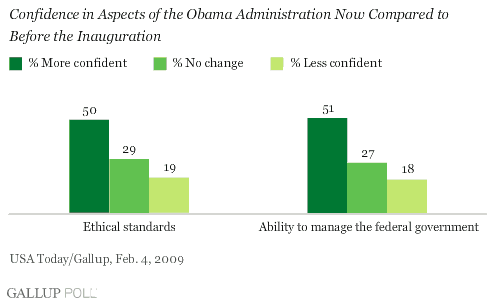 Most of those who say they now have less confidence in Obama are Republican identifiers. Thus, a great number of those who claim to be affected in a negative way probably did not have a great deal of confidence in Obama to begin with.
Two and a half times more people have more confidence in the President's ethical standards and ability to run the government than those who have lost confidence. You would think otherwise from all the Right Wingers (and some Kossacks) already putting the nail in the President's and Democrats' coffin.
Republicans are trying to seize on the withdrawal of Daschle and others as evidence of this President's incompetence. The American people think otherwise:
The public may be largely taking these Cabinet controversies in stride because it tends to view them as nothing out of the ordinary, according to the Feb. 4 USA Today/Gallup poll that probed reaction to the controversies.

Specifically, the poll finds 58% of Americans describing the controversies as "a normal part of the process of filling high-level government positions in any new administration." Only half that number -- 29% -- think they reflect poorly on the Obama administration, saying the administration "appears to be having more problems filling high government positions than is typical for new administrations." The remaining 12% have no opinion.
I heard a Republican hack on TV claim he saw the President's numbers plummeting into the 50s. You could see the glee in the douchebag's eyes as he was dancing on the President's grave in his mind. Well, as this graph shows, the American people have a rather steady view of the President that has taken shape over the course of a long campaign that no cynical, lying spin can change: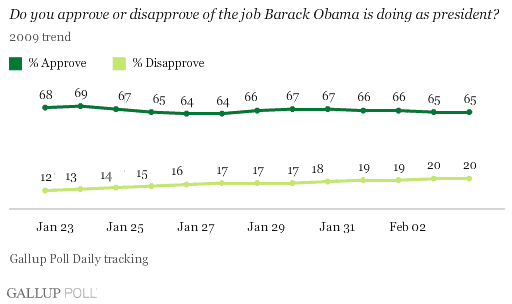 I know many of you will say, "But his poll numbers were in the 80s!" Sorry, but all Presidents have artificially high poll numbers just before their inauguration. Compared to where Congressional Republicans currently stand, the President is a giant. According to DailyKos tracking polls, Mitch McConnell's number are 23 fav/48unfav and Boehner's at 19 fav/53 unfav. The President's numbers may have gone done from an artificial high, but the Republican leadership is losing just as much ground from a far lower level.
Meanwhile, these same lying Right Wing Spinmeisters say that the current stimulus bill is unpopular and they keep citing Gallup as their source. Well, guess what, they're pull this shit out of their ass. Here's Gallup's latest poll numbers on the stimulus: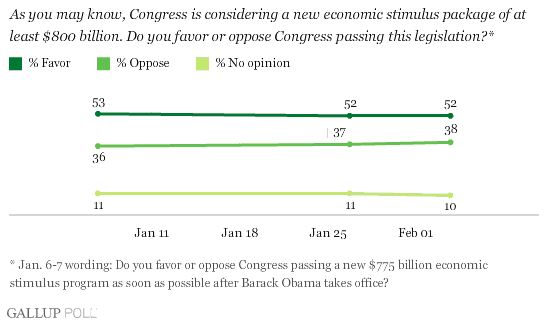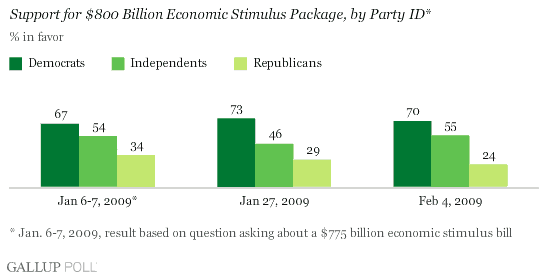 In addition, America no-likey Rush of OxyViagra Limbaugh (I tried to embed the graphs but it didn't work):
Conservative talk-show host Rush Limbaugh is viewed favorably by 60% of Republicans nationwide, while 23% have an unfavorable opinion of him. In sharp contrast, only 6% of Democrats view Limbaugh favorably, while 63% view him unfavorably.
And independents have a 25 fav/45 unfav opinion of AnkleGrabbing-Fearing Boy.
Now, as slinkerwink points out in this diary, Limbaugh's dittoheads are the ones getting themselves heard, despite their being in the minority. Of course, the perception that this minority is the majority is the fact that Republicans have mastered their empty talking points and have no interest in negotiating in good faith. President Obama held out his open hand as a gesture of his willing to be bipartisan and the Republicans responded with a clenched fist. And now that the President has responded to their ideological warfare and attempts to bring this country down further by caaling their bluff, the Republicans - aided and abetted by the Traditional Media - are whining that the President is not being bipartisan. It's fucking frustrating. It's time to light up the Senate's phone lines and flood them with e-mails. Here is the contact information:
Update [2009-2-6 16:19:14 by John Campanelli]: Mark Blumenthal at Pollster.com asks "Is Support for the Stimulus Plan Falling?". Blumenthal looks at three polling outfits - Gallup, CBS News, and Rasmussen Reports: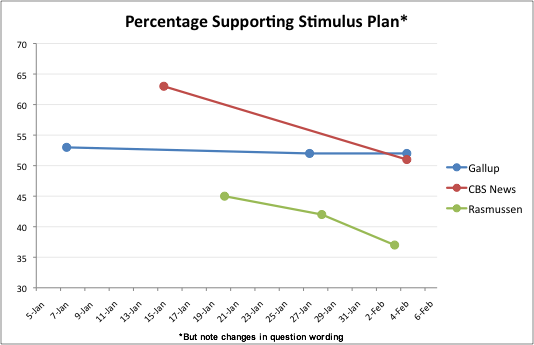 However, Blumenthal makes the point that the questions each pollster asks effects the results they get (rather than my reprinting the questions, I'd advise you to click through to Blumenthal's piece if you want to see the exact questions):
First, notice the big difference between the Rasmussen question and those used by CBS and Gallup. In addition to Rasmussen's consistently higher "don't know" response (discussed here last week, presumably the result of a prompt for "don't know), CBS and Gallup include an approximate price tag for the stimulus plan in their question. Rasmussen includes no dollar amount. Meanwhile Rasmussen explicitly associates the stimulus plan with "Barack Obama and the Congressional Democrats," while the other two identify no specific sponsor.

As Nate Silver observed, Rasmussen consistently shows less support for the stimulus plan than other pollsters. My bet is that question text and format explain most of the difference, although variation in sampling (Rasmussen screens for "likely voters" while Gallup and CBS samples all adults) and mode (Rasmussen uses an automated methodology while Gallup and CBS use live interviewers) may also be factors...

What we do know is that pollsters are getting different results, something that often happens when many respondents lack strongly held views. We also know that most Americans are not closely following stimulus debate.** Less than a third tell CBS (28%) and Gallup (31%) that they are following news about the stimulus debate "very closely," while almost a quarter (23% on CBS and 24% on Gallup) say they are following the issue "not too closely" or "not at all."

Since Americans are not following the debate closely, it's easy to have opinions shaped by shallow, petty arguments and demagoguery. This is exactly what the Republican Party is banking on to make this failure and regain power. They have no desire to help the country. In a way, this is a continuation of what Thomas Frank argues in What's the Matter with Kansas?. As long as voters can be distracted and disturbed by issues like family planning dollars and shouts of "PORK!", Republicans can scare voters into supporting their obstructionism.