Let me begin this ninth in the Filling Empty Bowls series by repeating a personal story I first told here last October.
I was 6 years old and sitting next to my grandmother at the table where as many as 14 of our extended family members ate our evening meals. I quickly finished my small plate of rice and beans, and said, "But, grandma, I'm still hungry." Everyone went silent. My grandma, Simmalikee, smiled at me, took her plate and scraped off the several spoonfuls she had not yet eaten onto mine. No, I thought. Not your food, grandma. Some other food. I sobbed as she coaxed me to eat each bite. No matter how empty my belly felt, I never again said I was still hungry after a meal.

That was a long time ago, and my grandma has been dead more than 50 years, but I have never forgotten that terrible moment nor what it means to be poor. If there was meat or fish on the table then, it was possum, deer, catfish and the occasional wild hog. In those days, before food stamps, we received surplus government hand-outs every month: rice, beans, cornmeal, lard, cheese and powdered milk. It was never enough, and toward the end of each month, everybody's portions got smaller.

Since the enactment of what might be called the Third New Deal – LBJ's Great Society programs: the Food Stamp Act of 1964, Medicare, Head Start, housing assistance, education grants and various other programs – the ravages of widespread poverty in America have been greatly reduced. Ameliorated, but not removed from what the propagandists so regularly call the No. 1 country on the planet. And lately, it's been getting worse. Not just the ragged poverty many Americans associate with the Great Depression, inner cities or Indian reservations, but also middle-class slippage.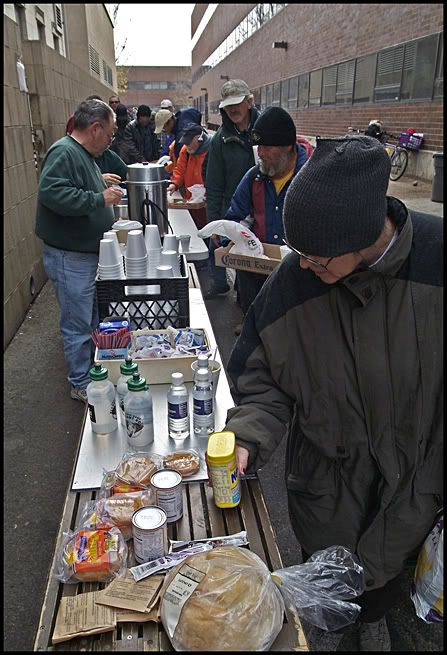 I long ago escaped the poverty that sometimes left my belly less than adequately filled. But millions of Americans aren't so lucky.
Indeed, for the past two years, one measure of hunger, the queues at soup kitchens, has grown. And while the lines have grown longer, the amount of money and food donated to such feeding operations has dwindled.
As George McGovern said in 1972: "To admit the existence of hunger in America is to confess that we have failed in meeting the most sensitive and painful of human needs. To admit the existence of widespread hunger is to cast doubt on the efficacy of our whole system."
Perhaps that unwillingness to admit that there is a problem is why some shameless politicians have sought to constrain the amount of government support going to programs that ameliorate hunger in America. Republicans, in particular, have frequently sought to cut food stamps (now SNAP), and food programs for seniors. The compromise guided by Senator Susan Collins and Senator Ben Nelson cut back on food stamps, too, in the stimulus bill.
These politicians are part of what has made programs like Feeding America necessary. They, at root, are the reason our 36-hour Filling Empty Bowls campaign was initiated.
If you're already convinced and don't wish to read further, you can donate with a credit card here or donate other ways here. If you're not convinced, I urge you to read more.
Right now in America, you know, the country we are told almost every day is the best and richest in the world, it is estimated that some 12-13 million children - children - live in what the U.S. Department of Agriculture euphemizes as "food insecure" or "very food insecure" households. Translated, this means that, at least some of the time each year, these children go hungry because their families do not make enough money to feed them adequately.
Many volunteers try to help. But, as was the case in Santa Rosa, California, last June, they're coming up short. There, to feed kids during the summer school recess when taxpayer-subsidized meals aren't available, they set up a special program. The first day 90 kids showed up. Only 50 meals were available.
With memories of the Great Depression still sharply etched in their minds, Democrats in Congress pushed passage of the first National School Lunch Program in 1946, the year I was born. The federal program - with a small amount of matching funds from the states - was modeled on local volunteer efforts put together as early as 1894 in a few cities. Sponsors of the bill pushed the idea that it was "to safeguard the health and well-being of the nation's children." That this was a concern came about because it had been discovered during World War II that many Army recruits were malnourished.
Getting the program passed, however, required a broader coalition than those politicians who merely thought filling empty bellies was reason enough. The bill was eventually signed into law with two objectives: to prop up prices of food commodities by absorbing farm surpluses; and to ensure that kids from low-income families attending public and nonprofit private schools got at least one meal a day.
Six decades later, the school meals program now provides free lunches to students living at 130 percent of the national poverty level, which is about $28,665 for a family of four. Reduced-priced lunches are provided for students living at up to 185 percent of the poverty level, slightly more than $40,793 for a family of four. In 2007, more than 30 million school-children benefited from the program, which cost the federal government $8.7 billion, the cost of occupying Iraq for about 20 days.
Good nutrition in the sense that we mean it today wasn't on their minds back in 1946. Efforts have since been made to improve the quality of what's in those free or low-cost lunches, reducing the amount of fat and sugars. (The second phase of a report from the Institute of Medicine, "Nutrition Standards and Meal Requirements for National School Lunch and Breakfast Programs," will be released in December 2009.)
In addition to the lunches, there are now breakfasts as well as snacks provided for after-school enrichment programs. Like the school-lunch program, the breakfast program was not originally a brainchild of Congress. It was initiated amid huge controversy by the Black Panther Party in several cities in the 1960s. The after-school snack program came later still. Some 8.5 million students participated in the breakfast program nationwide last year.
You would think these programs would be on solid ground politically. They're not. Although elected Republicans have given up calling ketchup a vegetable, they and a few Democrats have never given up trying to cut the subsidized school meal programs. And even when these are fully funded on the federal level, matching funds from the states can be hard to come by.
For instance, in California, where the percentage of students who receive subsidized meals ranges from 10% in some of the most affluent districts to more than 75% of the 750,000 students of the Los Angeles Unified School District, the state's contribution is 22 cents a meal. Phyllis Savage, manager of child development and nutritional fiscal services with the state's Department of Education, told the Sacramento Bee: "That 22 cents buys a lot. That 22 cents can be the difference between a fresh piece of fruit and something canned." In January, because of growing joblessness among their parents, the surge in the number of students qualifying for the subsidized meals led a California state assemblyman to introduc an emergency measure to increase spending by nearly $20 million this year to cover the state's matching-fund obligation. A month later, the bill, AB 95, has not cleared the legislature.
As with poverty in general,
there's still a stigma attached to standing in a separate line for a free or subsidized meal at school. It's just not cool. Throughout the country, various measures are being tried so that students don't miss out on meals needed for them to be at their optimum for learning anything. In the Los Angeles Unified School District, for instance, there are no separate lines.
The food stamp program - whose origins date back to a federal program begun in 1939, but got under way full tilt as as one of the first Great Society programs in 1964 - was recently renamed SNAP (Supplemental Nutrition Assistance Program). While participation is always in flux, there were 31,097,201 participants in November 2008, a rise of 12% since November 2007.
Food stamps had their foes when the idea was first proposed, and many politicians still consider them wasteful welfare programs despite how they have vastly reduced hunger in America over the past 45 years. If you think living on food stamps puts you on easy street, you should do what my family plans to do starting February 23 thanks to a suggestion by
1864 House in one of the earlier Filling Empty Bowls Diaries - live on a food-stamp budget for a week.
Here's how it went for 1864 House:
As part of the last dKos Feeding America effort, I committed to spending a week on the "Food Stamp Diet" and contributing the difference between the allotted $3 per day per person and what I normally spend on groceries for the two of us. I was able to make a donation of $75 over and above the usual monthly donation I make to our local food panty.

We started on Sunday evening... and as you will see, we had some help because it was the holiday season. Here's what I bought to feed two people for one week, spending $42:

6 carrots
6 apples
2 bananas
2 oranges
2 baking potatoes
4 small red potatoes
1 avocado
1 can diced tomatoes

½ cup cornmeal
1 cup rice
1-1/2 cups black beans
1 cup red beans

1 large tomato soup

3 bags of frozen veggies: corn, peas, brocolli
1 loaf whole wheat bread
6 whole wheat buns

1 pkg Boca spicy chicken patties (4 patties)
1 pkg smoked sausage
1 pkg cheddar slices (8 slices)

½ gallon milk
small sour cream

Where I cheated and got lucky:

We both have free coffee at work.

Tuesday was my workplace's holiday lunch for the management team. I feasted on a salad of mixed greens, pan-fried walleye pike and shrimp, asparagus spears, twice baked potato, ice cream and cookie. The portions were generous so I ate exactly half of the entrée and had the leftovers boxed up for lunch the next day.

Mr House works at large organic dairy coop – they have access to "all you can eat" free cheese and bread at work. He forgot to take soup one day for lunch, but ate bread and cheese.

The final night was Mr House's company holiday party – he had steak and I had veggie ravioli.

I used some food items we had at home – three yellow onions, butter, 3 cups of flour and 3 tbsp of sugar, a few tablespoons of mayo, some maple syrup, ¼ cup of shortening and some spices. Oh, and some tea bags.

And finally, the guy I buy free-range eggs from got new laying hens, and they start out laying tiny little eggs. He gave me some because they are too small to sell, so I got two dozen very small eggs for free (he did not know about the challenge, just gave them to me serendipitously).

Day 1 - Sunday
Supper: black bean soup w 1/2 of the smoked sausage
Corn muffins (I made 6)

Day 2 - Monday
Breakfast glass of milk, 1 slice of toast
Lunch leftover black bean soup and corn muffin
Supper Leftover soup (Mr House), toast (me – not feeling well)

Day 3 - Tuesday
Breakfast glass of milk, banana
Lunch Free food - lunch w/management team at local country club
Supper Boca chicken patty, avocado, bun, corn

Day 4 - Wednesday
Breakfast glass of milk, 1 slice toast
Lunch leftovers from free lunch yesterday
Supper Baked potato topped with broccoli, 1 slice of cheese, sour cream

Day 5 - Thursday
Breakfast 1 egg and 1 slice toast
Lunch Boca chicken patty, avocado, bun
Supper Red beans and rice w other ½ of smoked sausage
Snack Orange

Day 6 - Friday
Breakfast 1 slice toast
Lunch Leftover red beans and rice
Supper Boca chicken patties, mashed avocado, bun
Snack Apple

Day 7 - Saturday
Breakfast omelets with leftover brocolli, toast
Lunch Tomato soup and grilled cheese
Supper Holiday party – free food!

Day 8 - Sunday
Breakfast Pancakes with apple compote
Lunch Egg salad sandwiches

It was surprising how quickly I fell back into the grocery shopping routine from when I was really on food stamps ... the calculator in the store, putting back the celery because it put me over the limit, choosing things I didn't know or like because they were .75 cheaper. I also used food I would possibly toss out now; one of the onions had a brown mushy center and I cut that part out and used the rest. Sadly, these are skills people all across America are learning.
As is clear from this experience, the food stamp program is, as its new name asserts, just a "supplement." While the United States has made significant strides in reducing hunger, large gaps remain. School meals programs deal with part but not all of the problem for children, particularly during their vacation months as well as for those not yet enrolled in school. Government programs for seniors also have their limits. Until our politicians do a much better job reducing hunger in our country, private efforts like the one we are raising funds for today are essential.
We should strive to ensure that there is No Child Left Unfed, No Adult Remains Hungry. For every $1 you donate, Feeding America will provide 10 pounds of food and grocery products to men, women and children facing hunger.
Here is a link for Feeding America and this page lists some sponsors and provides a place where you can find a local food bank. Many are in critical need of your support.
As part of our effort today, I will match the first $10 of each contributor who donates up to a total of $150. (In other words, if you donate $5, I'll match your $5. If you donate $50, I'll match the first $10 of it. I'll continue doing this until I reach my $150 limit.)
If you would like to see a fuller picture of the situation, here are links to all the previous Diaries in the Filling Empty Bowls series.

Filling Empty Bowls: 36 Hours for Feeding America by noweasels
Filling Empty Bowls: 36 Hours for Feeding America: US/Afghanistan Food Justice by Patriot Daily News Clearinghouse

Filling Empty Bowls: 36 Hours for Feeding America, People Are Starving Now! by Hardhat Democrat
Filling Empty Bowls: 36 Hours for Feeding America: Unpaving Paradise by boatsie
Filling Empty Bowls: 36 Hours for Feeding America: Honoring those Childhood Memories by JellyBearDemMom
Filling Empty Bowls: 36 Hours for Feeding America: Hunger in the Garden State by blue jersey mom
Filling Empty Bowls: 36 Hours for Feeding America by rb137
Filling Empty Bowls: 36 Hours for Feeding America: Special Challenge Edition by timroff