Chris Simcox, the founder of the Minutemen Civil Defense Corps, a vigilante group who organize "Border Watch"s in Arizona, has announced he will run against John McCain in the Republican Primary.
<align="center">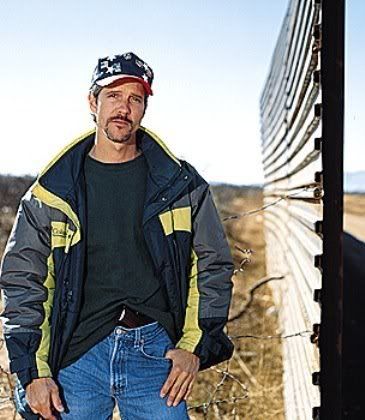 This laughable campaign does show some vital signs however.
Learning from other failed Nativist campaigns like Rep. Tom Tancredo, Simcox vows he's not a "single issue candidate" and says he's confident he can raise $10-15 million from conservative Washington anti-immigrant groups.
It's no secret the Maricopa County (Phoenix) GOP has an strong distaste for McCain. Arizona's GOP base has significantly splintered over immigration. Just what you need to make the Arizona Senate Race interesting!
Can Simcox fracture the GOP enough to make Arizona a possible Democrat pickup?
At the least Simcox's heated rhetoric and substantial political baggage should make this interesting.
More below the fold

I'm truly excited.
What better way to destroy the Minutemen than to expose them on a national platform as a political opponent to John McCain?
Chris Simcox started the Minuteman Civil Defense Corps in 2004 with a website, a truck, and a few friends. An out of work actor who was having marriage problems (amidst racism and molestation charges), he fled Los Angeles to Arizona's Cochise County shortly after 9/11/2001.
In fact, Simcox according to the Arizona Star, has often mentioned that his fear of terrorism drove him to the border. It was Simcox, along with minuteman filmmaker Chris Burgard, who propagated the myth that Al Qaeda terrorists were getting smuggled across the border. Their proof?
A Qur'an that they said they found near an illegal immigrant. Border Patrol never substantiated this claim and in fact House Intelligence Committee member Rep. Silvestre Reyes moved for a perjury subpoena briefly against a former Border Patrol official for citing the Qur'an Minutemen incident during a House Subcommittee testimony. The Qur'an on the Border story however continues to be quoted by a range of border extremists as an example.
Simcox did not invent the Minutemen, something similiar was founded by failed Congressional Candidate Jim Gilchrist earlier in 2003. Chris Simcox's similiarly named group however quickly gained national attention and volunteers began showing up.
In 2007 Simcox was sued by Jim Cambell, a donor to the MCDC after charges of fraud and mismanagment of funds came from within the organization. Campbell complained that he gave $100,000 to Simcox to build a fence along the border and but none of the money was ever accounted for. Simcox, during the lawsuit, released his first and only public budget for the MCDC, where Simcox listed his salary as $90,000.
Campbell later dropped his civil case citing lawyer costs.
The mystery over Simcox's funding has helped to derail much of his support amongst his own organization. As the Arizona Star noted, many inside the Minutemen take issue with Simcox's alliance with Alan Keyes's Renew America.
The AMerican Prospect absolutely opens this guy up:
the group began recruiting new Minutemen around the country--everywhere from Illinois to Washington to New Hampshire. The donations began pouring in. Now thoroughly enmeshed in the [Alan] Keyes organization, all the MCDC donations flowed into a web of nearly a dozen organizations revolving around Declaration Alliance, including Diener Consultants; a Texas outfit called American Caging that acted as the escrow agent and comptroller for the operation; Renew America, a Keyes-run "grass-roots organization"; and a direct-mail company called Response Unlimited.
The association with Keyes' organizations raised hackles within MCDC ranks. Some of the Minutemen began exchanging e-mails denouncing the relationships, since Keyes and his groups were perceived within the ultra-right ranks as being "neoconservative" organizations whose interests were inimical to theirs. Gilchrist, who had washed his hands of the Keyes groups, sent out a bulletin making clear that his Minuteman Project no longer had any associations with Simcox and his outfit. The Washington Times reported on the dissent and quoted Keyes dismissing the MCDC's internal critics as anti-immigrant racists "and other unsavory fringe elements attempting to hijack the border security debate to further their individual agendas."
Simcox was undeterred. In April 2006, he hit on the idea of building a "state of the art" security fence along a section of the Arizona-Mexico border and told The Washington Times that he had more than $200,000 in donations. He described the project as one that would "feature separate, 14-foot-high fences on both sides of the border, separated by a roadway to allow the passage of U.S. Border Patrol vehicles, with surveillance cameras and motion sensors." It was this description that enticed Jim Campbell to pony up his $100,000. But there were problems, notably that there were few private landholders along the border willing to participate. The ranch owner who had agreed to a fence had no interest in an "Israeli style" security barrier; he only wanted a standard barbed-wire fence to keep out Mexican cattle. So that was what was built. The steel Campbell bought was to be used for a short section of "demonstration" fence at another ranch. Of the promised 70 miles of security fence, so far a length of only .7 miles has been erected. Much of Campbell's steel still lies in a pile, collecting Arizona dust.
... Certainly there was a significant gap between Simcox's public claims of having raised $1.6 million for the fence, and what his financial disclosure forms show his organization actually spent on it. No one can say for sure because the MCDC won't let anyone touch its books. But a look at the organization's 2006 public filings indicates that, of all the money raised for the border fence, only a small amount (if any at all) went toward its construction. The forms for the Declaration Alliance—through whom all the border-fence donations were directed—show that it brought in nearly $5 million that year for all its programs. What percentage of that $5 million consisted of border-fence donations is unclear, but considering that the fence appeals began in May 2006 and have remained the MCDC's (and Declaration Alliance's) chief fundraising focus in the months since, it is likely that they provided at least a majority of that money. It also shows that $3.19 million went to the MCDC. But for what?
The Declaration Alliance largely spent the money on printing, consulting, and similar activities. The only indication on the form that any actual money went back to the MCDC in the field is $143,000 listed as "operational expenses," though this money reportedly was for MCDC border watches, not the fence project. If any of those millions of dollars actually went toward building a border fence, it's difficult to ascertain where they are and how much was disbursed—though a look at the disclosure form for the Minuteman Foundation, the MCDC entity set up specifically to handle the fence project, shows a mere $87,500 in total revenues from donations for 2006. If that's the actual revenue coming from that $3.19 million the Declaration Alliance says it spent on the MCDC—and you estimate that at least half of that is fence-related—then we're talking about less than 6 percent coming back to build the fence.
In other words, the best rough estimate is that about 94 cents of every dollar Jim Campbell spent on the fence went toward printing, mailing, consulting, and the like. It's no wonder members at the field level were seeing so little of the money that Simcox claimed to be rolling in.