Well, humans thrive on conflict and division it seems. Might as well add to the fire of issues that deeply divide us.
Are you more of a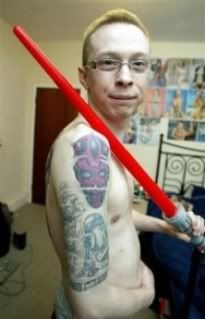 ?
or more of a

?
Me personally, I have always been a Lord of the Rings dork first and foremost. So maybe that is why I never felt a conflict between appreciating both Star Wars and Star Trek. Both SW and ST are two great pieces of art that can leave a lasting impact upon one's psyche. (Lord of the Rings even more so)
But I have seen firsthand the horrid conflict that can arise between Star Trek fans and Star Wars fans. The sounds of geek/nerd/freaks shouting and yelling over science fiction haunts me to this day. (not really)
My friend was kicked out of his house when he told his Trekkie parents he preferred the creation of Lucas over the creation of Roddenberry. (Well, just kidding, he moved out when he went to college.)
____________________________
Remember when the country was divided between Blue voters and Red voters? Now the red is shrinking, and the blue is ever so popular. Is a similar thing is happening to the SS/ST divide?
Being true to its oft-spoken Vulcan credo, Star Trek's $76.5 million (U.S.) opening weekend shows that even the creakiest of franchises can indeed "live long and prosper."

But what's more interesting for long-time sci-fi fans is that, at this moment, Star Trek is absolutely, most definitely, cooler than Star Wars.

This has been the Coke vs. Pepsi debate amongst science-fiction aficionados since the franchises' inceptions decades ago. But while Star Trek has a hot new film from director J.J. Abrams, Star Wars has, well, The Clone Wars.
Trek fans are claiming victory on Sciforums.com, in which a thread titled "Star Wars vs. Star Trek: Which Universe Would Win" runs 782 pages.
I only wonder if Trekkies will turn on themselves/ over the difficult question of Picard or Kirk?