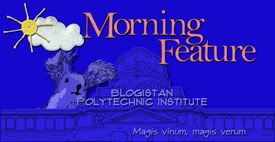 We on the staff here at Blogistan Polytechnic Institute thought the faculty might actually work through the weekend, as we hadn't seen them walk by on their way to the wine cellar library to spend the weekend drinking thinking on our motto of Magis vinum, magis verum ("More wine, more truth"). Then we heard the faint but distinctive pop of a cork bookmark being removed. It seems they used the back stairwell. They were deceptive. Or maybe yet again they'd read this week's mail.
More below the fold....
Deception is common here in the BPI mail room. This is the home of the staff poker game, after all, and poker is a game of deception. For example, the Professor of Astrology Janitor was sure his top two pair were good on the King-Queen-Six flop with two Hearts. But he didn't want Chef to know that. So his eyes widened a bit when the Eight of Hearts fell at the turn, and he checked his hole cards as if making sure he had two Hearts and not the King and Queen of Diamonds. Sure enough, Chef put it a hefty bet. And after much silent non-deliberation, the Professor of Astrology Janitor called. When the Three of Clubs came on the river, he let his shoulders sag just the tiniest fraction. Then he bet just over half the pot, as if trying to bluff his way out of the missed flush draw. Then Chef raised, just as the Professor of Astrology Janitor had hoped. With no possible straights or flushes, he reraised. Chef called and turned up her pocket Sixes, for three-of-a-kind. Cue his signature plaintive mewling, and her scurrying to the kitchen to make Deceptively Delicious Applesauce Muffins.
Those tricky women. Maybe Chef was reading the mail too....
+++++
Dear Ms. Crissie,

I am witnessing the defilement of the Tea Party movement and everything we stand for. I find this bilious and disingenuous on its face. Hold on. My thesaurus is hungry and I need to feed it again. Okay, back. We of the Tea Party are not just voting meat for minion laden political operations lead [sic] by failed Republican hacks. We must beware of turncoats and deceivers herded into our ranks like wolves in sheep's clothing by usurpers. What can we do?

Dale in TX
Dear Dale,
We first suggest turning down the speed on your metaphor blender. Your purity puree is rather like chocolate-banana-liver ice cream. After that we suggest you recall how much your movement owes to money from industry lobbyists who support the GOP, to endless promotion by a cable channel that is merely a GOP mouthpiece, and to the participation of high-profile GOP personalities. Finally, if you really wanted to be separate from the GOP, you shouldn't complain to reporters that your calls offering to work with the Republican National Committee have not been returned. There's a reason Democrats refer to the "Tea Party GOP." Your Overton Window game of a distinct, radical movement to make Republicans look moderate has been exposed.
+++++
Dear Ms. Crissie,

That sounds like a conspiracy theory to me, and I support that. I think it's healthy that people are asking questions about 9/11 and President Obama's birth certificate, even though there is no doubt in my mind that Muslim terrorists flew planes into those buildings. A lot of the report was redacted and people should wonder what the government is hiding, just like people should wonder why the president won't reveal his full birth certificate. People should always be free to question their government. That's why I want to be Governor of Texas.

Debra in TX
Dear Debra,
We suggest that if there is no doubt in your mind that 9/11 was an Al Qaeda attack, you probably shouldn't say on the radio that you won't take a position on the issue. Refusing to take a position because you want to maintain support from some group, even when you claim to have no doubt on the issue, is the definition of "pandering." That tends to make people suspicious of government and ask lots of questions of the sort you are now trying to evade. We also suggest that continuing to ask the same questions, even after clear and compelling evidence has been offered, is not healthy skepticism but merely stubborn ignorance
+++++
Dear Ms. Crissie,

Surely you'll admit that Democrats are deceiving Americans about the Constitution by working to pass health care reform in the Senate by a simple majority. The Founding Fathers never intended for the Senate to pass bills with only 51 votes. That's why they created the filibuster, and I hope cooler heads will prevail and honor the original intent of the Constitution.

Dan in IN
Dear Dan,
We agree that the Constitution does not specify that ordinary bills should pass the Senate by a simple majority. However, we note that the filibuster is not mentioned in the Constitution. Article I authorizes both houses of Congress to enact their own rules, and the filibuster is a Senate Rule that has been changed several times over the years. Thus, it can be changed yet again. Finally, you voted for reconciliation bills while you served in the U.S. Senate. Cloaking partisan self-interest as constitutional fealty is highly ... deceptive.
+++++
Dear Ms. Crissie,

Three letters from people whose names start with D, all about deception? That's awfully convenient, don't you think? And are Deceptively Delicious Applesauce Muffins deceptively difficult to make?

Dubiously Drooling in Blogistan
Dear Dubiously Drooling,
We are shocked, shocked we say. Our letters are just as real as your name. But the muffins are not difficult to make at all. Mix 1½ cups of all-purpose flour, 1 cup old fashioned oats, 1 teaspoon baking powder, ½ teaspoon baking soda, and ½ teaspoon cinnamon in a bowl. In a second bowl, mix 1 cup unsweetened applesauce, ½ cup skim milk, ½ butternut squash puree, ½ cup firmly packed dark brown sugar, ¼ vegetable oil, and 1 beaten egg. Slowly fold in the dry ingredients, stirring until just moistened. Chef notes the batter should be lumpy.
Divide the batter into muffin cups in a cupcake pan and sprinkle with a streusel topping made from 2/3rds cup old fashioned oats, ¼ firmly packed dark brown sugar, and 1 teaspoon of cinnamon mixed into 2 tablespoons of butter or margarine. Bake at 400°F for 18-20 minutes, until the topping is golden brown and an inserted toothpick comes out clean. Bon appétit!
+++++
Happy Sunday!
+++++
Sources:
Dale in TX
Debra in TX
Dan in IN
Deceptively Delicious recipes