Joan Walsh: Peggy Noonan says his presidency is doomed. Even Democrats want him to
be more "emotional."
This is getting silly
Please continue after fold...
There is this:
Constructive Criticism
Part of Speech: Noun
Definition: Criticism or advice that is useful and intended to help or improve something, often with an offer of possible solutions
and then there is this:
Criticism
Part of Speech: Noun
Definition: the act of passing severe judgment; censure; faultfinding.

There is just one word difference between the two---but it makes all the difference. At times, there are room for both, this is not one of those times.
I understand the anger. I get the frustration. When there is a irking problem...people just want two things.
1.) Answers
2.) The Problem Solved
Right now we are getting neither of them. People are losing their livelihoods and they are screaming for action. We, too, need to be screaming for action---but at the right people.
This is NOT President Obama's fault.
This IS BP's and 100% BP's fault.
Let's not forget that.
The Right-Wing has come out in full-force attacking the President from every angle on this story, That is their job. It is expected.
There is Sludge Drudge Report, FAUX NEWS, Redstate, The National Review and Sarah Palin's Twitter Account which seem to be holding up their part of the bargain.
Our job is to deflect that B.S. trash with the truth and facts.
These are the facts:
White House immediately dispatched officials, Coast Guard to work on response

April 20: Oil rig explosion. An April 21 ABCNews.com article reported, "An overnight explosion in the Gulf of Mexico rocked the Deepwater Horizon oil rig off the Louisiana coast, sending spectacular bursts of flame into the sky. The fires were still raging today."

April 21: Deputy Secretary of Interior, Coast Guard dispatched to region. An April 22 White House statement noted that following a briefing with President Obama, Department of Homeland Secretary Janet Napolitano, Admiral Thad Allen, United States Coast Guard Commandant, Department of Interior Secretary Ken Salazar, EPA Deputy Administrator Bob Perciasepe, and FEMA Administrator Craig Fugate, "Deputy Secretary of the Interior David Hayes was dispatched to the region yesterday to assist with coordination and response." The Coast Guard announced that four units were responding to the fire, with addition units en route.

* Search and rescue efforts begin for 11 missing. An initial focus of the response was the search for 11 missing crewmembers. The search was called off April 23.

* CNN.com: "The U.S. Coast Guard launched a major search effort." An April 22 CNN.com article reported:

The U.S. Coast Guard launched a major search effort Wednesday for 11 people missing after a "catastrophic" explosion aboard an oil rig in the Gulf of Mexico engulfed the drilling platform in flames.

Another 17 people were injured -- three critically -- in the blast aboard the Deepwater Horizon, which occurred about 10 p.m. Tuesday. The rig was about 52 miles southeast of Venice, Louisiana, said Coast Guard Senior Chief Petty Officer Mike O'Berry. As of late afternoon Wednesday as many as six firefighting vessels were working to contain the massive fire caused by the explosion.

"It obviously was a catastrophic event," O'Berry said.

* BP confirms U.S. Coast Guard was "leading the emergency response" In an April 21 press release, BP stated they were "working closely with Transocean and the U.S. Coast Guard, which is leading the emergency response, and had been offering its help - including logistical support." A separate April 21 press release from drilling contractor Transocean also stated: "Transocean's Emergency and Family Response Teams are working with the U.S. Coast Guard and lease operator BP Exploration & Production, Inc. to care for all rig personnel and search for missing rig personnel."

April 23: Coast Guard "focused on mitigating the impact of the product currently in the water." On April 23, the Coast Guard stated:

The Department of the Interior, MMS, and the Coast Guard continue to support the efforts of the responsible parties to secure all potential sources of pollution. Both federal agencies have technical teams in place overseeing the proposals by BP and Transocean to completely secure the well. Until that has occurred and all parties are confident the risk of additional spill is removed, a high readiness posture to respond will remain in place.

Although the oil appears to have stopped flowing from the well head, Coast Guard, BP, Transocean, and MMS remain focused on mitigating the impact of the product currently in the water and preparing for a worst-case scenario in the event the seal does not hold. Visual feed from deployed remotely operated vehicles with sonar capability is continually monitored in an effort to look for any crude oil which still has the potential to emanate from the subsurface well.

"From what we have observed yesterday and through the night, we are not seeing any signs of release of crude in the subsurface area. However we remain in a 'ready to respond' mode and are working in a collaborative effort with BP, the responsible party, to prepare for a worst-case scenario," Landry stated early Friday morning.

Axelrod: "We had the Coast Guard on the scene almost immediately" and "the deputy secretary of the Interior was on the ground the next day." White House advisor David Axelrod discussed the administration's response to the oil spill during an appearance on the April 30 edition of ABC's News' Good Morning America. He stated:

DAVID AXELROD: This is always the case in Washington, that whenever something like this happens, the political speculation sets in. But the truth of the matter is that we had the Coast Guard on the scene almost immediately after this accident, the deputy secretary of the Interior was on the ground the next day, and we've been coordinating closely with the local authorities and with the responsible party, BP, down there to deal with this from the very beginning. I'm not concerned about that. What I'm concerned about is that we do every single thing we can to remediate this problem, to stop the flow -- and that's what's going on.
But when I look at some on the Left for some defenses against the right-wing smear merchants it seems, instead, we have joined the Liberal mainstream media with their "Obama's Katrina" chants.
I get that what we are looking for right now, is just for the President to call a Press Confrence---step out say:
FUCK YOU BP
and leave.
It will feel good. But It will not accomplish anything and that is just not the kind of leader he is. That would be asking him to act like something he is not. I don't recall the Right begging Dick Cheney to visit the local Petting Zoo and show his soft side.
Joan Walsh writes a "must-read" article on the Right AND Left are blaming the wrong person, President Obama.
I've been struggling to understand the rage at President Obama about his handling of the British Petroleum disaster in the Gulf. I just haven't felt it. I don't see what more he can do, or could have done, to stop the continued oil leak or clean up the spill. So the anger, on right and left, seems strictly political, designed to benefit either one party — Republicans — or one particular point of view. From the left, it's that Obama is too cozy with corporate interests. And from Democrats in the region, like James Carville or Florida Sen. Bill Nelson, it's that the president hasn't made this his highest priority in the last 39 days. If I lived there, I might well share that feeling. That doesn't mean it's justified.

From cable television, 24/7, we're told that even if there's nothing more Obama and his administration could do to stop the leak and contain the damage, he's at fault because he's just not feeling our pain. On MSNBC Friday morning I watched former Rep. David Bonior, last seen peddling John Edwards to Democrats, complain about Obama's cool. "He's got to get emotional," the Democrat (who was there to balance the anti-Obama ranting of Pat Buchanan) insisted.

So Obama traveled to the Gulf today, to examine damaged beaches and wetlands, reassure the region, and emote a little. "I'm here to tell you that you're not alone," the president told Gulf residents. "You will not be abandoned. You will not be left behind."

...

The criticism from the right isn't surprising, and it isn't particularly hard to refute. The loopy Peggy Noonan wrote one of her loopiest columns of all time today, predicting that the oil spill will mark the end of Obama's presidency. But she loses her train of thought almost immediately. Americans aren't angriest about the oil spill, but about government spending and the government "gushing dollars," a tone-deaf metaphor while the Deepwater Horizon is still gushing oil. Noonan never really tells us exactly how the spill dooms Obama's presidency; she's hoping we'll be too caught up in her gauzy, fact-free prose to ask.

....

The complaints from the left are a little harder to refute, but even there I see a frenzy to lay blame I don't entirely understand. Obama compromised his ability to stay untainted by the oil spill when he flip-flopped and endorsed opening up new areas to offshore oil drilling. Now he's not merely cleaning up the mess of the oil-friendly Bush-Cheney administration, but a mess that's a byproduct of drilling policies he supports. It's also inaccurate to blame the corruption of the Minerals Management Administration on Bush-Cheney appointees; Elizabeth Birnbaum, the leader who walked the plank Thursday, was appointed by his administration 11 months ago, and the corruption of the agency has been well-known for years. There's no evidence the Obama White House acted with any urgency to clean it up.

....

The real problem, for left, right and the media, is that it's easier to blame the White House and to criticize Obama's demeanor than to report on BP's role in the mess — the corner-cutting on safety in the lead-up to the Deepwater Horizon accident, and the company's woeful lack of preparedness for such a disaster. Of course, some media outlets have done great work: CBS's "60 Minutes," which showed that BP and rig-owner Transocean ignored evidence that the blowout preventer was itself blown out, when technicians found chunks of rubber from its sealant in drilling mud; this week, the New York Times' revelation that BP used the riskier of two choices to seal the well before the blast; just today, the Wall Street Journal, on the lack of preparedness by BP and for a crisis of this magnitude. But they're the exception....
Full Article: http://www.salon.com/...
This is who caused the problem:

And this is the man who is doing everything in his capacity to solve the problem: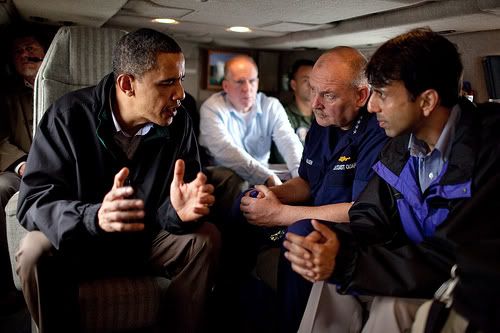 and no I'm not talking about Bobby Jindal
Lets not forget that.
And Lets not forget which side we are on.
Happy Memorial Day
===========================================================
Update:

Thank You so much for appreciating and putting my diary on the rec list. This has been a blessed weekend for me. Much Love to my fellow Kossacks. Again, this diary is to promote discussion but not forget who we are and what we stand for.
UPDATE #2:
Joan Walsh further explains her POV on This Week.
Meanwhile, on This Week this morning Salon's Joan Walsh — an early and enthusiastic supporter of Obama, herself, who was less than thrilled with the president's abandonment of the public option during the HCR debates — suggested the nation should stop looking for a daddy.

We don't need a president, apparently we need a daddy. There's this great call for a daddy, especially among Liberals and I find it ridiculous. You've got Maureen Dowd today calling him Spock again, she loves calling him that; Arianna Huffington is calling him 'nowhere man' because he's daring to see a concert honoring Paul McCartney, and I think it's really it's a stand-in for a sense of helplessness when we sit here...and there really was a pattern of negligence and there really was warning signs on that rig in the weeks and certainly months perhaps and that's what we need to get to the bottom of, and I don't care if he emotes, I don't need a daddy, I had one, he was great.

She later noted Obama was not Jesus either.
http://www.mediaite.com/...

UPDATED X3:
Looks like I am getting alotta heat for this diary. Mostly because of my word choices (i.e. Left Camp, side). Well I won't be changing anything else to the diary. I stand by what I say. There is a Left vs. Right mentality in this nation---and if you need a wake-up call look up some Tea Party Rallies and read up on Redstate. We can have discussions on our positions but we are still on the same side. I appreciate the KOS community and I appreciate these conversations even more.
Well I have the SAT to study for.
Good Night.