I live in Panama City, Florida and we are waiting on the arrival of BP's oil slick like so many others on the Gulf Coast. Our time is drawing near. The oil edged nearer to us in Pensacola and Ft. Walton over the weekend and it seems it is only a matter of time for we here in Panama City Beach. This is my second trip to the beach since Mad Max Macondo began spewing filth into our beautiful Gulf of Mexico. I wanted to at least preserve in pictures the beauty that is the Emerald Coast of Florida...Follow me below the fold for a pictorial...
I started off the day by heading over to the Jetties at St. Andrew's State Park here in Panama City Beach. It is where the Gulf of Mexico meets the mouth of St. Andrew's Bay.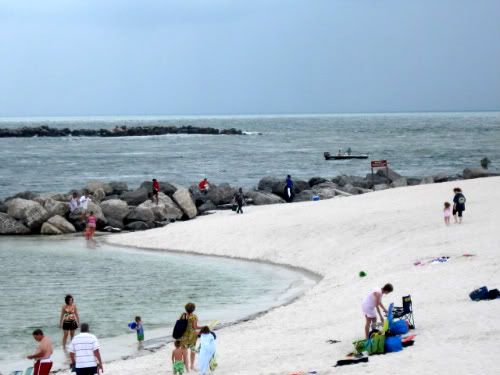 The Jetties provide a safe area of shallow water for the kids to wade and swim. I talked with several wide eyed children that had nets and buckets to capture hermit crabs and baby shrimps. I don't spend much time around children so it was almost an aching reminder of the innocence that one loses as one grows older and more jaded. Their eyes lit up at the site of a sea urchin that had washed ashore and they ran giggling to tell their Mothers of the wonders they had discovered, there on the beach. I vaguely remember those days as a child...I decided to head over to the Gulf side to get some photos of the rather large waves we were getting today. There were Red Flags flying because of the dangerous rip currents the waves were producing. The winds have been blowing pretty steadily here for days out of the South West at about 20 MPH. The winds that are bringing us doom from Mad Max Macondo...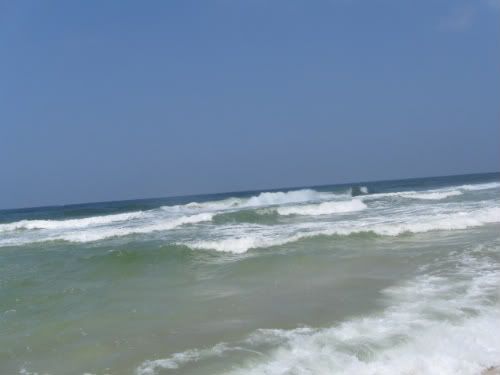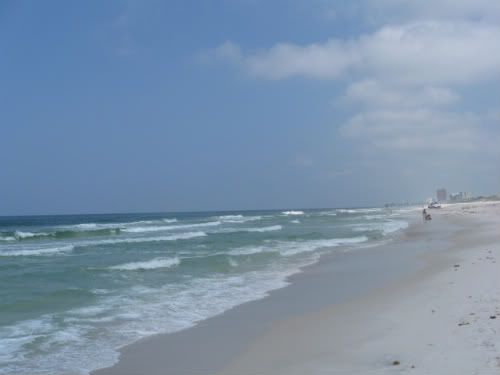 I walked about a half mile down the beach and came across some feathered friends, still clean and oil free and seemingly oblivious to the coming disaster. I couldn't help but hope they avoid certain death in the oil slick..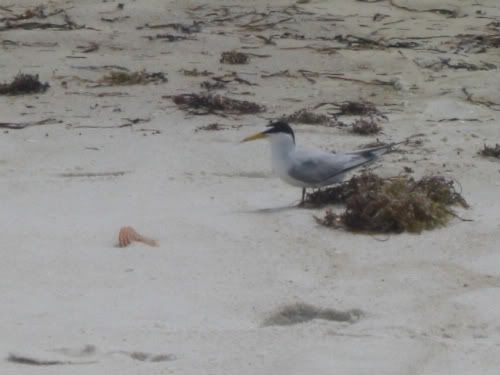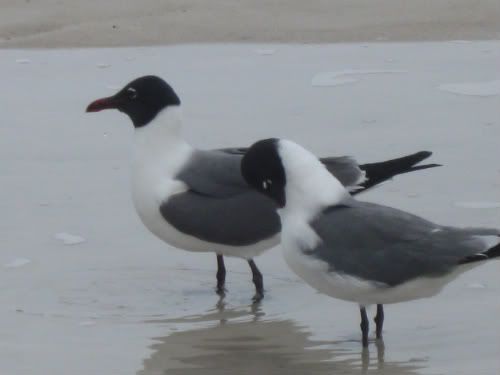 I believe the little guy with the yellow beak is a Least Tern. The larger, red beaked Gulls are Laughing Gulls. They are quite animated and always fun to watch.
I headed back for the Jetties as it was getting quite hot and I still wanted to head over to Gator lake to see if I could find a Gator that would pose for me. I chatted up an elderly lady and the conversation turned to the oil gusher almost immediately. She said she had drove down from Alabama to see her beautiful Gulf one more time before the oil got here. She teared up as she spoke and let out a gentle sob. I did too. It's like being at a funeral for someone that hasn't died yet but you know the end is near. An older gentleman was taking pictures from the Gazebo nearby and I stopped to cool off in the shade with him. Again the conversation was immediately of the oil...always the oil. As we were talking a group of kids ran by with their pails full of treasures from the Sea, laughing and giggling without a care in the World. I wondered how their Moms would break it to them when they can't come to the beach anymore? I began to tear up again and decided to head for Gator Lake.
Gator Lake is breathtaking in its own right as you can see from the above photo. The white birds in the distance are Egrets and the bird flying across the water is a Great Blue Heron. I couldn't find any Gators. I've tried a couple times now with no luck. There used to always be Gators there but last Fall some local teens got a snoot full of beer and decided to go Gator hunting in the Park. They killed three of them. They were caught and arrested but it seems the Gators are gone now. I did find this cute little guy to pose for me though.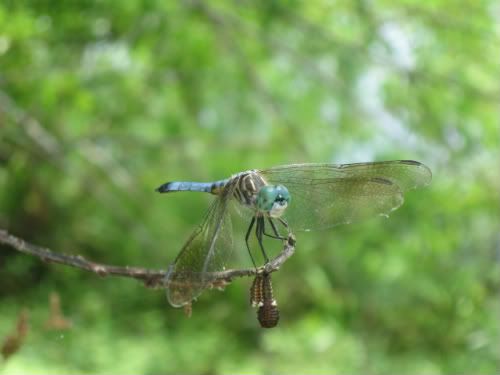 and this guy...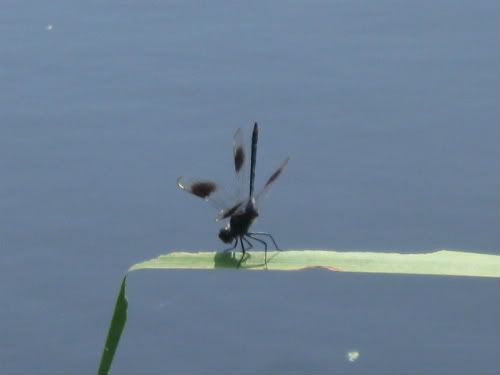 Another denizen of the Marshes by Gator lake is this Slider that I got a picture of a few weeks ago when I went to the Park. She must have been up on the trail to lay her eggs, she was quite large at over a foot long.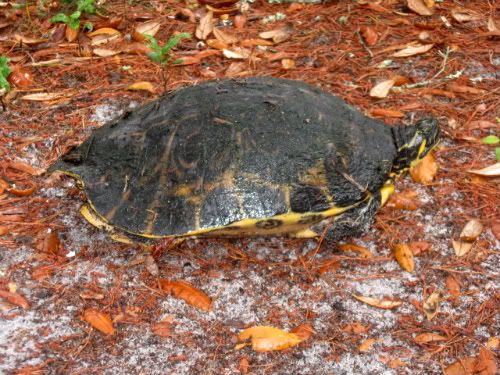 Here is a picture from last fall of a Great Blue Heron that I took at the Marsh.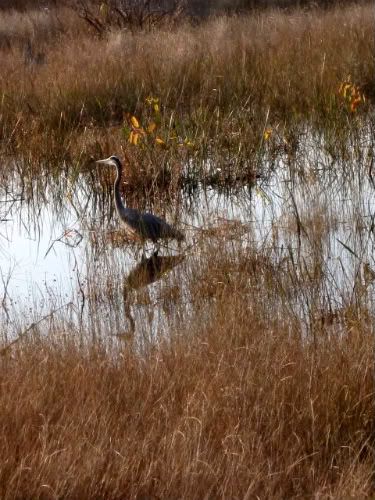 All these creatures are imperiled by the oil. There is a vast ecosystem here and if one creature is affected they all are. This is what we are going to lose. I think about it each time I fill my gas tank or use a plastic bag. We all need to make a change...and we need to make it soon while we still have some of our natural resources left...