With respect to a diary that was recently top o' the rec list and a later front page article, I don't think the numbers are saying what some people want them to say. In a nutshell nyceve and Digby (via the FP) referenced Charlie Cook's analysis of the recent WaPo/NBC polls, and Jed provided some extra material from Ben Smith's posting of the Pew numbers. It's apparently a widespread conclusion among the blogger-pundits that Democrats are losing faith in their party, and are likely to get trounced in November.
However, both polls are simultaneously more interesting and less interesting than people may realize, and I don't really buy the angles that these analyses are selling.
So let's look at the raw data:
Are Democrats "demoralized" by the Democratic party's consistent "derision" for the party base?
The enthusiasm gap is an especially interesting one, but I think people are drawing if not the wrong conclusions, then strangely self-serving ones. Let's take a look at the numbers from the Pew poll:
| Enthusiasm among... | 1994 | 1998 | 2002 | 2006 | 2010 |
| --- | --- | --- | --- | --- | --- |
| Democrats | 30 | 38 | 40 | 46 | 42 |
| Republicans | 45 | 42 | 44 | 30 | 56 |
The enthusiasm gap should concern us, but peak enthusiasm among Republicans shouldn't surprise us in the least. Notice that Democratic peak enthusiasm took place when the Presidency and both chambers were in the hands of Republicans. I don't think I have to connect those dots for you.
What's considerably more interesting to me, and the part that seems to be ignored here, is that Democratic enthusiasm is higher than anytime other than 2006: it's easy to notice the drop from the record-breaking highs of the last presidential election, but not the fact that we're more enthusiastic now than in off years like 1994, 1998, or 2002. I don't think that's terribly good evidence of mass disillusionment by the base. The Dem's lowest numbers are among the "liberal Democrats", whose 37% is nonetheless on par with previous years. (see update at end of diary)
Furthermore, let's cross-reference those enthusiasm numbers with the actual voting patterns in these off-year elections (for this and all graphs in the diary, I use the combined House election numbers directly from the House Clerk's website):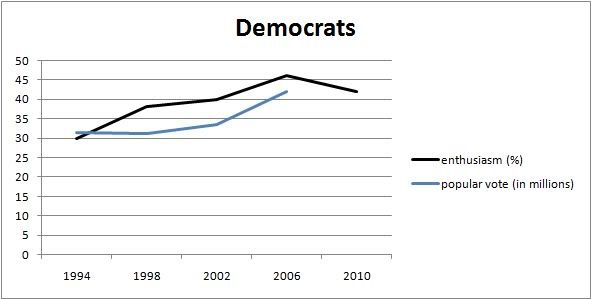 Leaving aside 2006 for the reasons I outlined above, these numbers aren't bad - in fact they're well above average. That there's been a decline will make our GOTV more difficult in this election than in 2006 (or, gawd, the giddy highs of 2008), but our difficulties will be less due to an "angry, demoralized, and fed up" base, and more due to this: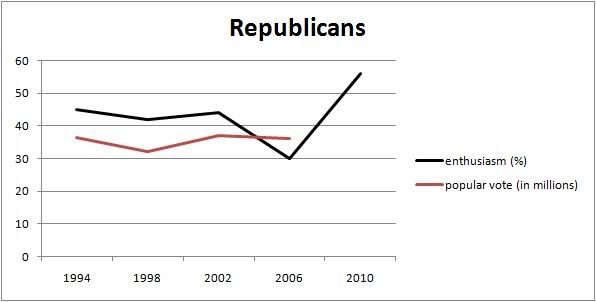 Those are crazy high enthusiasm numbers, and it should simultaneously worry us and not surprise us. The Republicans have been gunning for Obama since he was elected, and, much like the fully Republican government going into 2006 brought out Democrats in record numbers, so should the fully Democratic government bring out the highest in Republicans.
And make no mistake: it is about hating Democrats. However "angry, demoralized, and fed up" we may be, we still believe in Democratic policies. Check out these crazy numbers from the WaPo/NBC poll last month (this question wasn't re-asked in June):
For those who prefer a Democratic-led Congress:
| | |
| --- | --- |
| Do you prefer Democrats because... | |
| You support Democrats policies | 49% |
| You oppose Republican policies | 48% |
For those who prefer a Republican-led Congress:
| | |
| --- | --- |
| Do you prefer Republicans because... | |
| You support Republican policies | 31% |
| You oppose Democratic policies | 64% |
Take a minute to soak up the awesomeness of those numbers: practically none of the people who will vote Republican support Republican policies. In other words, if these two groups fielded equal numbers of voters, genuinely pro-Republican voters would make up some 15-16% of all votes tallied. It's not policy that's prompting this surge of support for Republicans - it's hatred of Democrats, period. The Pew Poll confirms this:
Despite the Republican Party's favorable electoral prospects, its image with the public is still relatively weak. The public views the Democratic Party as more concerned about the needs of "people like me," more able to bring about needed change, and as governing in a more honest and ethical way.
Meanwhile, the Democratic numbers don't look great, but they look a fair lot better than those belonging to the Party of No. We may be a scattered group, but we generally believe we have something to offer.
If there is widespread disillusionment because of health care, as nyceve suggests, it's certainly not showing up in the polls - or at the very least, few people consider it a priority: healthcare is a distant 6th in voter priorities, behind job creation (33%), the oil spill/energy (22%), deficit/spending (15%), national security (9%), and the wars in Iraq and Afghanistan (9%). Even the combined trends that include both first and second choices put health care into a fourth, behind job creation (55% - take note, Dems!), deficit/spending (36%), and national security (27%).
So, yeah: jobs, jobs, jobs.
Now, none of this means that the apparent downturn in enthusiasm for the Democrats shouldn't concern us: of course it should. A lot. The House in particular is going to be a close call, and a strong GOTV effort may indeed make the difference between a bad scenario and a much worse scenario. We will lose seats in this election - this question is, how many?
But I don't buy that this is about widespread feelings of betrayal by Democratic voters, or at least I don't see any compelling evidence in the actual poll data to back that up. What I see more evidence of is the apathy that comes of off-year incumbency on our side, combined with the energy that comes of being the minority party on theirs. Republicans don't have to run on policy this time around, just as the most effective Democratic slogan of 2006 was "Had Enough?" That makes their job a lot easier than ours, even if "the base" were pleased as punch over Congress' track record.
Of course what's bothered people is less the raw numbers themselves than the trends, and it's easy to understand why. 2008 was an annus mirabilis for Democrats, who found it easy to come out and support a young, charismatic president with a powerful message, especially on the heels of such a disastrous eight years. Since then our enthusiasm numbers have slowly collapsed "like a flan in a cupboard." But comparing our enthusiasm numbers to where we were during a presidential election year strikes me as unhelpful, for reasons that should be obvious: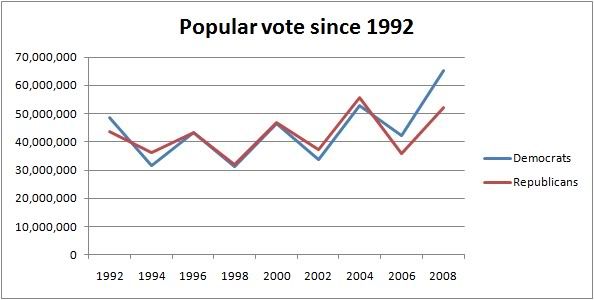 Interest in elections slowly rises and falls with Presidential election years - that much is clear. And unlike Republicans we don't have the blinding rage of minority-party status to drive up our enthusiasm. The big question, the one that all these analyses should hinge on, is not why our numbers are declining, but whether they're declining faster or slower than we should expect. Then we'd have a real basis for analyzing issues like atypical voter "anger", or whatever.
As blogger-pundits we have a tendency to think in narratives - for better or worse (and, yes, this sentence is another example of that.) Sometimes, though, it's better to sit back and wonder if the narrative is getting ahead of the data. In this case, I think it very well might be.
Likewise, am I applying my own less-disillusioned filter to the information? That's a very good possibility, and that's why I'm presenting the numbers and the information to let you decide for yourself. I've made the case that I believe more accurately reflects the numbers, but if you disagree, I'll be happy to consider your point of view. Just, please, base it on something we can analyze (not personal feelings, not anecdotes, etc.), otherwise we're just whistling past each other.
Cheers!
++
Oh, one further note: I can't wait for the Great Immigration Debate to start. Check these numbers from last month's WaPo/NBC poll:
(Hispanic/Latino voters only)
| Which party better... | Democrats | Republicans |
| --- | --- | --- |
| Protects the interests of minorities | 49% | 12% |
| Works for equality/against discrimination of minorities | 49% | 7% |
| Promotes strong moral values | 30% | 23% |
Ha! We're even beating them in the moral values department. That's some pretty weak tea y'all are bagging, my Republican friends!
+++
Update/clarification: user bluicebank correctly noted that I was wrong about the 37% being a consistent number for the liberal Democrats. Though Pew only gives data from 2002 on, liberals and moderates in the party have changed position entirely in terms of off-year enthusiasm since then, with liberals declining from 45% to 37%, and moderates climbing from 38% to 45% - that's why the overall numbers look pretty consistent. I leave out the 2006 numbers for the reasons I described in the diary.
Does that mean the liberal side of the party is feeling demoralized? Possibly, although again I'd like to see more than 2 data points to confirm that we aren't just resettling into our more baseline levels. I'm actually much more surprised by moderate enthusiasm being up, and I hope that doesn't indicate splits by conservative Dems for Republican candidates.