(Written by an American expat living in the European Union)
This diary offers a review of the German magazine Spiegel - November issue entitled A Superpower in Decline.
This insightful and well written, well researched article covers a variety of topics, wherein it is revealed that the actual American unemployment rate is close to 20 percent, a statistic never seen since the Great Depression. It asks the question why is America in decline? This German magazine asks why is Fox news broadcasting opinion pieces likening Pres Obama to Adolf Hitler through hate filled Tea Party announcements with agitators like Glenn Beck, who are nationalists, racists and proto-fascists according to Manfred Heningson a German political scientist.
They take advantage of the economic situations almost the way the right wing intelligentsia did in the Weimar Republic.
Let me introduce the readers to first of all the Spiegel magazine. It is a well regarded journal published in Germany, well regarded for its research and journalistic integrity. The same way Time or Newsweek may be in the United States.
This diary seeks to undertake an analytical review of an article entitled A Superpower in Decline in November's edition of the Spiegel magazine. As it has bearing on the series The American Dream versus the European Dream, which through the generous support of the Kos community, I've been fortunate enough to be able to publish here.
In part 4 of this article entitled The New American Nightmare
we see that the Spiegel has presented an event at a town hall, wherein Pres Obama according to the Spiegal magazine offers a critique of Velma Hart,
quote: "Velma Hart, a stout woman in her mid 40's, stepped up to the microphone. "Mr President," she said, as her eyes teared up, I'm a mother. I'm a wife. I'm an American veteran and I'm one of your middle class Americans. And quite frankly, I'm exhausted. I'm exhausted of defending you, defending your administration, defending the mantle of change that I voted for, and deeply disappointed with where we are."

Hart, who is black, voted for Obama. It was an obvious choice for her at the time, and she says that has never felt closer to an American president before. She is about the same age as the president and, like Obama, she has children......."

"The financial recession has taken an enormous toll on my family, Hart said. My husband and I have joked for years that we thought we were well beyond the hotdogs and beans era of our lives. But, quite frankly, it is starting to knock on our door and ring true that that might be where we are headed. And quite frankly, Mr President, I need you to answer this honestly: Is this my new reality?"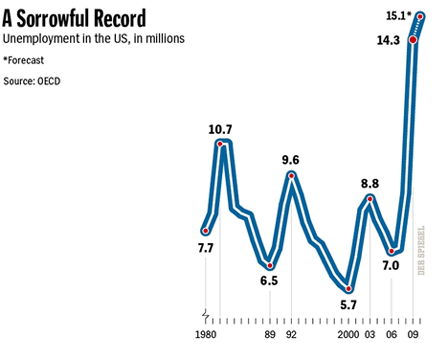 The Spiegel article's analysis was that Pres Obama had no real answer, that he quote, mentioned the right steps that had been taken, but that in essence he had no real answer for Velma Hart. On that point this diary begs to differ. The position that Pres Obama took was well reasoned, wherein he highlighted the accomplishments of his administration. Be that as it may, the Spiegel's analysis of the unemployment rate in the US being on or about 10 percent is certainly correct. The analysis that when people have stopped looking for work and are not registered anywhere that in fact the real unemployment number is more than likely close to a 20 percent figure, is also a responsible estimate. At which point the article goes on to tell us that this is in fact the first real instance where America has struggled with long term unemployment since the Great Depression. As such the article goes on to say this has become the new American nightmare in the United States, as exhibited through the following quote:
"In a country with a limited concept of social cohesion, laughable from a European perspective, the quiet demise could have unforeseen consequences. How strong is the cement holding together a society that manically declares any social thinking to be socialist? The US economy lost almost 100,000 jobs in September. Is this Obama's fault?"
Clearly it is not President Obama's fault. Yet the American people have punished the Obama administration, though it is not their fault, with declining poll numbers, wherein an estimated 23 million Obama voters stayed home during the mid-term elections on November 2nd 2010.
"Full of Hatred: The Tea Party, that group of white, older voters who claim that they want their country back, is angry. Fox News host Glenn Beck, a recovering alcoholic who likens Obama to Adolf Hitler, is angry. Beck doesn't know what he wants to be -- maybe a politician, maybe president, maybe a preacher -- and he doesn't know what he wants to do either, or least he hasn't come up with any specific ideas or plans. But he is full of hatred."
The new American Tea Party which is in fact largely speaking just the old American Libertarian Party dressed up to get new media ratings, wherein the Tea Party's influence of the John Birch society is quietly hushed up. Be that as it may, while it is clear that the Tea Party has ordinary Americans in its ranks, it also has a number of haters for lack of a better word! This has become so salient that Glenn Beck had to ask his supporters to leave their signs at home. At which point I'd like to point our reader's attention to the following quote from the Spiegel article. Please keep in mind this is a German news and opinion publication, which quotes Manfred Henningsen a German political scientist.
"Agitators like Glenn Beck are "nationalist, racist and proto-fascist," says Henningsen. They take advantage of the economic situation, almost the way the right wing intelligentsia did back in the Weimar Republic."
Let's please remember that Germany during WW1 and WW2 had a lot of experience with proto-fascism, nationalism as well as racism. So for a major German publication to be editorializing on this issue providing quotes from the German political science scholarly community, is clearly a red flag, because they see the historical context, and feel emboldened to publish this caveat, which by de facto states that those who do not learn from history are condemned to repeat it. Surely we must learn from the German experience.
For readers who may be interested here is a link to the full text of the Spiegel article.
http://www.spiegel.de/...
I'd like to if I may please close with the quote below from the author of Were You Born on the Wrong Continent. Too many times we've heard CNBC and the Wall Street Journal declare the European Union insolvent. As I am writing from the European Union, I would ask anyone whose ever been here, who do you believe? These bias news outlets or your own eyes because the European Union in general and in German in particular are affluent today because they have learned the lessons of history. Those lessons say the best way to protect democracy is through a strong working class social safety net which includes universal medical access that can't be taken away.
Were You Born on the Wrong Continent?
How the European Model Can Help You Get a Life

BY THOMAS GEOGHEGAN
THE NEW PRESS / AUGUST 10, 2010 —Publishers Weekly
High-wage Germany, which offers the most bottom-up worker control of any European country, nearly ties with China as the leading exporter in the world, well ahead of the United States. But in China and America we work until we drop while in Germany, they take six weeks off a year (with a shocking number of four-day weekends along the way). It's not just that the Germans can out compete us, but they seem to be doing it with one hand tied behind their backs.
http://tomgeoghegan.com/...
PS: To new readers or person unfamiliar with the Kos who are interested in following the series: The American dream vs the European dream, which documents that the United States is the only major industrialized country in the world that doesn't offer universal medical care to all residents. The United States only major country that doesn't by law provide paid sick leave, paid maternity leave, paid annual leave. Thank you for your support. This diary series may be found at the link below:
http://democrats-ramshield.dailykos.com/