Internet scuttlebutt has it that the Wikileaks document dump is set to go down at 22:00 GMT with the people from Der Spiegel getting the first look.
Our State Department has apparently spent the last couple of days in consultation with allies basically telling them to get their heads up because some things are about to hit the fan.
So, is anyone else waiting to see what's going to happen? Me too! So I'd like to dedicate a diary to the Wikileak. I'm hoping there will be several others who are going to go through the summaries and even the documents themselves to find out what it is that has our diplomats in apology mode.
A State Department spokesman reflected Washington's anxiety about the impending release of some three million classified documents by WikiLeaks, a document dump expected to include sensitive diplomatic cables that could harm foreign relations.
P.J. Crowley tweeted Friday night:
Across the State Department, senior officials are reaching out to countries and warning them about a possible release of documents.
Along with:
#SecClinton reached out to leaders in Germany, Saudi Arabia, the UAE, Britain, France and Afghanistan regarding WikiLeaks.
The Hill reporting of tweets of Friday
Here we go. The Obama Administration has asked through a State Department lawyer yet again that Wikileaks not release the documents. Harold Koh has stated that lives could be at risk in the number of "countless
Wikileaks just tweeted that Wiki.org is under a massive denial of service attack. So in my opinion it's time to start watching. Anyone who is of a similar mind today pull up a chair get your coffee and any German speakers would be really appreciated.
Update: All help is not only appreciated, heck ITS DEMANDED!! So, thanks
to cadejo4 for this link and the update on the DOS attack of Wikileaks Wikilinks central
16:30GMT: WikiLeaks reported on Twitter: "We are currently under a mass distributed denial of service attack."

The Guardian's David Leigh noted that "The #guardian will publish US embassy #cables tonight, even if #wikileaks goes down"

16:48GMT: WikiLeaks update: "El Pais, Le Monde, Spiegel, Guardian & NYT will publish many US embassy cables tonight, even if WikiLeaks goes down"
Update: 9:34
Now I'm very curious what Wikileaks has to say about the Italians.
ROME (Reuters) - The expected release of classified U.S. documents by Wikileaks will be the "9/11 of world diplomacy," Italy's foreign minister said Sunday, urging Italian prosecutors to investigate the whistle-blowing website.

Foreign Minister Franco Frattini, on a trip to Qatar, said he did not know the content of the files to be released but warned they would"blow up the relationship of trust between states," according to Italian news agencies.

"It will be the September 11th of world diplomacy," he said.
Italy calls this the "9/11 of diplomacy"
Big Update 10:21
Hat tip to Cotterperson it appears Link to the Guardian's interactive release The Guardian is starting the release.

Will update with additional links as the big media organizations come on line with their reporting.
Link to Guardian ability to download all cables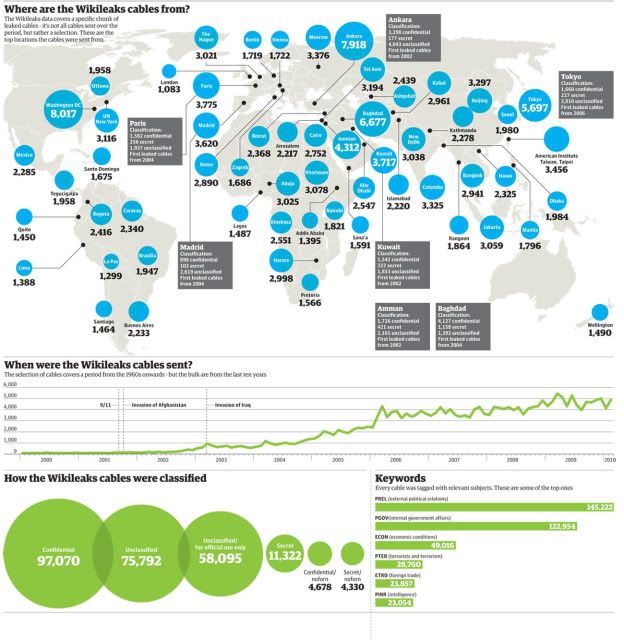 Link to Guardian explanation of the cables
Update 11:00 White House statement in response to the cables release.
We anticipate the release of what are claimed to be several hundred thousand classified State department cables on Sunday night that detail private diplomatic discussions with foreign governments. By its very nature, field reporting to Washington is candid and often incomplete information. It is not an expression of policy, nor does it always shape final policy decisions.
Nevertheless, these cables could compromise private discussions with foreign governments and opposition leaders, and when the substance of private conversations is printed on the front pages of newspapers across the world, it can deeply impact not only US foreign policy interests, but those of our allies and friends around the world.
To be clear -- such disclosures put at risk our diplomats, intelligence professionals, and people around the world who come to the United States for assistance in promoting democracy and open government. These documents also may include named individuals who in many cases live and work under oppressive regimes and who are trying to create more open and free societies.
President Obama supports responsible, accountable, and open government at home and around the world, but this reckless and dangerous action runs counter to that goal. By releasing stolen and classified documents, Wikileaks has put at risk not only the cause of human rights but also the lives and work of these individuals. We condemn in the strongest terms the unauthorized disclosure of classified documents and sensitive national security information.
The Guardians hot topics are
At the start of a series of daily extracts from the US embassy cables - many of which are designated "secret" – the Guardian can disclose that Arab leaders are privately urging an air strike on Iran and that US officials have been instructed to spy on the UN's leadership. snip
The cables published today reveal how the US uses its embassies as part of a global espionage network, with diplomats tasked to obtain not just information from the people they meet, but personal details, such as frequent flyer numbers, credit card details and even DNA material. snip
The most controversial target was the leadership of the United Nations. That directive requested the specification of telecoms and IT systems used by top UN officials and their staff and details of "private VIP networks used for official communication, to include upgrades, security measures, passwords, personal encryption keys".snip
• Grave fears in Washington and London over the security of Pakistan's nuclear weapons programme
• Alleged links between the Russian government and organised crime.
• Devastating criticism of the UK's military operations in Afghanistan.
• Claims of inappropriate behaviour by a member of the British royal family.
Update: 12:06
Here is a link to a diary that can serve as a child for this one and for people who are interested in discussing the content of the cables. Diplomatic Cable Content Discussion Diary