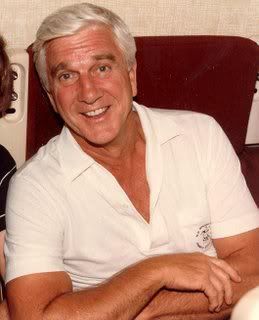 Actor Leslie Nielsen, best known for his film roles in "Airplane" and "The Naked Gun" series, died Sunday of complications from pneumonia, his family said.
Nielsen, 84, died in a hospital near his home in Fort Lauderdale, Florida, surrounded by his wife and friends.
"In lieu of flowers, the family requests donations in his name to the charity of your choice," the family said in a statement.
I always really enjoyed his movies. His slapstick comedy sent me into tears of laughters many a time.
I remember when I first met my hustband and he came out to New Zealand and we rented a Naked Gun movie, laughing so hard we both cried and our faces hurt.
Laughter is indeed the best medicine. Here are some clips to comemorate his life and career.
May he rest in peace. My thoughts go out to his family.
And after the week I have had, it was really really good to watch some of them again and LAUGH!
One of these days I will get a diary on the rec list that isn't about someone dying. Thank you everyone.