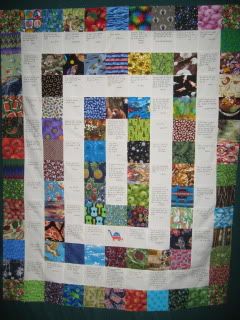 First, go read this diary from earlier today
Then grab your wallet and join me on the flipside.
UPDATE: I'll donate an additional dollar for every recommend this gets. It's the best I can do.
A year and a half ago I nearly died twice within a three-day span.
I had contracted cellulitis in my left leg, causing it to swell to nearly twice its size.
Then, the cellulitis got infected with either a strep or staph infection. We're still not sure which it was, but it was bad enough that they were thinking about cutting off my leg at the top of the thigh if the swelling spread anymore, and the doctors told me later that they were extremely concerned about it turning into Necrotizing Fasciitis (WARNING!!! DO NOT follow that link if you're squeamish). They put me on heavy doses of Vancomycin -- aka the antibiotic of last resort -- and started praying. An hour later the swelling began to reduce, slightly, and everyone gave a deep sigh of relief....
...until three days later, when my kidneys and liver decided to shut down. It seems that the vancomycin was interacting poorly with the rest of my other diabetes medications and attacking my organs. So they once again started praying, switched me to Daptomycin (a less-potent antibiotic), took me off the rest of my drugs, and started testing my blood every 2 hours. I had tubes in both arms, an oxygen mask (I have sleep apnea too), and my leg raised in a traction sling above the level of my head.
A month later I was finally allowed to go home, with a PICC line in my heart and antibiotics twice a day for an additional 6 weeks. During this long home-care adventure, the ever-wonderful and loving Sara R asked this amazing community to help her make me a Community Quilt to help me get better.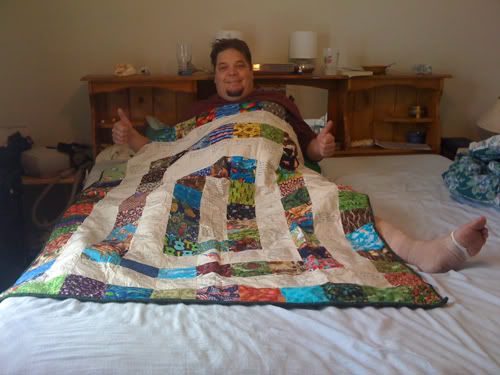 So why am I writing all of this?
Because now it's Sara's turn. This lovely, amazing, giving woman is struggling with her own health issues right now, and, lacking health insurance, she is unable to pay for the surgery she requires to keep herself alive. I realize that sounds overly dramatic, but it's simply the truth. WIthout gallbladder surgery, Sara R will die.
I don't want that to happen.
So I sent $50 to Sara R's Paypal Account today.
You should do the same. So many have received life-bestowing energy and healing from Sara's beautiful quilts. Now it's time for this community to step up and give back to her what she's given to so many.