Thursday night my Husband and I were quietly checking our mail online when I mentioned an email from MoveOn.org about the nationwide rallies in support of Wisconsin workers. We had no plans for Saturday so we decided to go to Olympia (50-ish miles away) and take part. Last night, we rounded up some cardboard and dowels and made signs. I did the lettering - if you saw his handwriting you'd know why (a doctor's got nothing on him) and he did the taping. We charged up the cameras and declared ourselves ready for the rally.
It was cold this morning, just above freezing at Casa de Purple so we layered and bundled up. It was sunny, though, for which we were grateful. Standing in the cold is bad enough but standing in cold sleet is horrible!
So we headed off to Olympia around 10:30 and as we traveled south, we began to see white stuff along the highway in shady spots, mostly. But the further south we went, the more snow we saw. In Shelton (30 miles), the snow was an inch deep. In Olympia, it was more like 2 or 3. This is what last week's storm deposited. I don't know how we manged to avoid getting stuck with it too, but we did. As I speak it's trying to snow outside. Well, we're home and warn now so nyah!
We arrived at the Capitol at just around noon. There were already a few hundred people there and, as we approached the stand, we heard music playing: A War On The Workers. Indeed it is.
Our signs, particularly Hubby's, drew a lot of comments: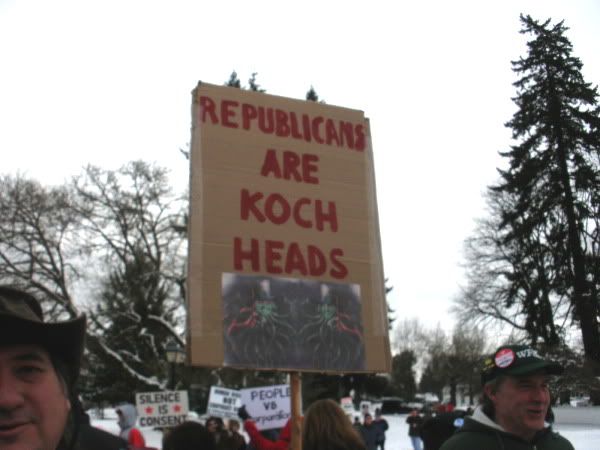 Special thanks to CityLightsLover for the image of the Kochtopus. It was the perfect touch. A reporter from a local paper asked if he could take a picture of me and my sign (Hubby's holding it below). Of course I said yes so that might end up online somewhere....
There were people there from lots of different unions. We were representing the IBEW Local 46. My Husband had served as President of the chapter, shop steward and served on the bargaining committee several times. He had his IBEW tee on even if it was covered by a sweater. There were groups of firefighters, nurses & medical workers, prison guards, teachers.... we were all well represented.
Speakers included labor leaders, State Representatives and House Members and union members. One prison guard who worked with murdered guard Jayme Lee Biendl spoke haltingly of his finding her and performing CPR on her to no avail. The crowd was hushed as he told his story and pointed out that she died protecting the public from a violent prisoner. Jeopardizing correctional employees presents a danger to the community, he emphasized.
A home medical worker spoke about what she does and how she went to Wisconsin to help medical workers there gain union membership. And to bargain collectively for a fair wage and benefits. She got huge cheers, especially from the cheeseheads in the crowd.
There were, the WSP estimates, 2500 of us there, standing on the cold pavement and snow. The Tea Partiers, who were hanging out on the steps of the Capitol building, numbered about 200. We outnumbered them over 10-1. Which is a pretty good representation of TP-ers to workers in this country. There were even a few yellow dogs there. No, real yellow dogs.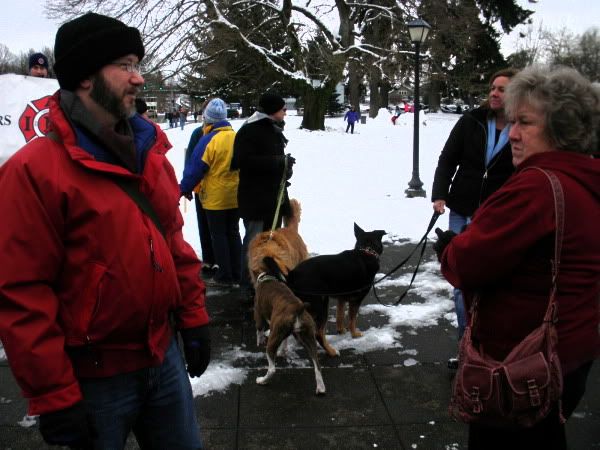 After the speakers had their say, we marched towards the Capitol building, singing Bob Marley's Get Up, Stand Up. This must have spooked the TP-ers because by the time we got there, they were nowhere to be seen. Well, there was one guy standing in front of the huge facsimiles of the Constitution and the Corporate version. He was yelling at us, almost frothing at the mouth as he screamed about how public workers make 20% more than private workers and how they were trying to destroy the country... the usual TP bullshit. It seemed as if he were goading, hoping someone would confront him. But nobody did. We all laughed and made comments like: try Xanax, no more caffeine for you and Dude, go smoke a bowl. We weren't going to take the bait.
On the steps, we chanted a bit as we gathered behind banners and made a nice photo op for the reporters who were there. Some people went into the Rotunda but we had signs so we were forbidden. Oh noes! We haz sticks! Who knows what we could do with sticks!! Nevermind that Republicans want to pass a law allowing GUNS in there.::::facepalm:::: So, since I could no longer feel my toes (if I'd known there was snow on the ground I would have worn my snow boots!) we made our way - carefully - to the car and off to find lunch. It was a successful rally. Even with the snow.
These are our friends and neighbors, the ones who protect us and the ones who teach us. The ones who keep us safe and the ones who shuffle the papers that allow us to live our lives more smoothly. THIS is what Democracy looks like.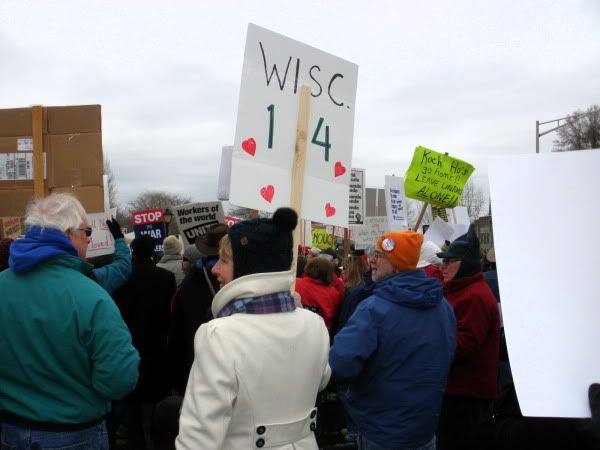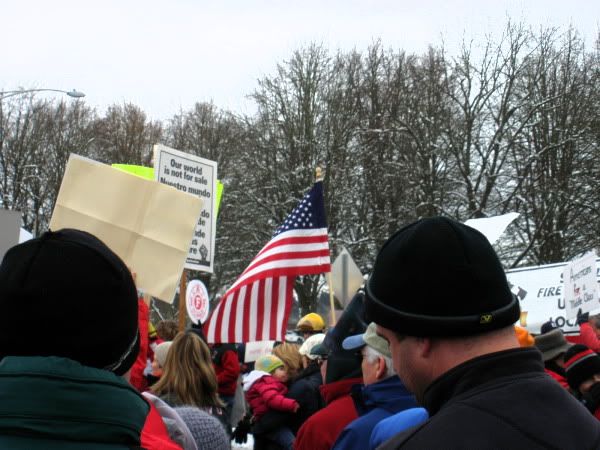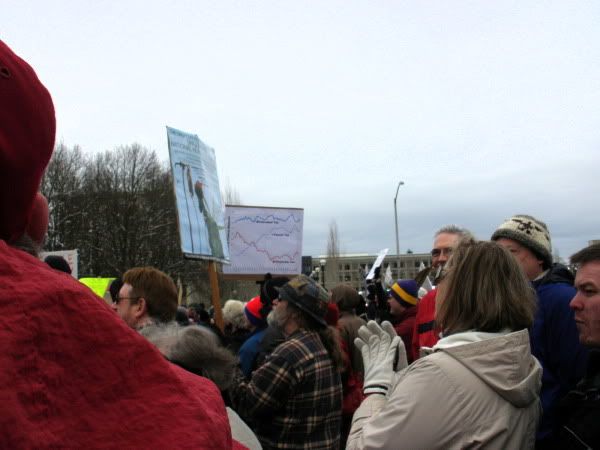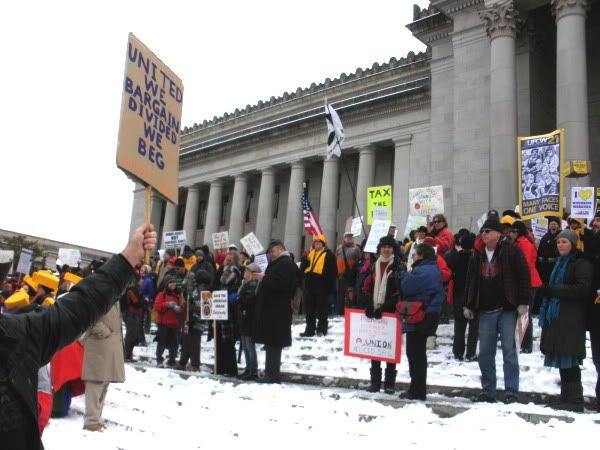 Here's my Hubby with our signs...

A few videos from the rally (I'll just add links - this diary probably loads slowly enough as it is):
There will be more as he gets them uploaded. Check back for updates...
We are UNION!!!! We stand for the Middle Class!! And we will not be quiet!