I started my day yesterday in a bit of a funk. I had woken up early and was unable to go back to sleep, for the second night in a row.
The first thing I did was check Twitter, where I read more grim news from Japan: it looked like a meltdown of one or more reactors was imminent. The Japanese people are trying to deal with this on top of the devastation from the earthquake and tsunami.
Meanwhile the battles in Libya are being forgotten by the media and international community, the media barely takes note of the continuing protests of workers in Wisconsin and elsewhere, and the right wing in this country has begun making inroads in its all-out assault on everything we care about -- everything that matters in the lives of working Americans.
I wasn't in the best state of mind to deal the challenging and hectic day ahead--we were running a big organizing/training event, one we'd been working on for the past few weeks. But on my way to the event, I reminded myself of something I've learned over the past few years:
Getting out and getting to work with other volunteers can completely change your mood.
And that's exactly what happened.
In the photos that follow, I think you'll get a sense of how this works. It's just not possible to spend the day with so many dedicated, interesting, enthusastic people and not come away feeling better.
The main purpose of yesterday's event was capacity-building. New York grassroots groups and organizers associated with OFA worked together to create an agenda that would attract and engage volunteers. We hoped to meet new people, give some we already know a chance to play a bigger role, and plan activities that we can work on together going forward. We are going to need a LOT of volunteers to win in 2012.



A small army of organizers and volunteers showed up early to help set everything up. We weren't sure how many participants we would have. There were nearly 200 signed up, but some percentage usually don't show.

They did this time -- we ended up with over 220 people!! It's a good thing we bought enough snacks.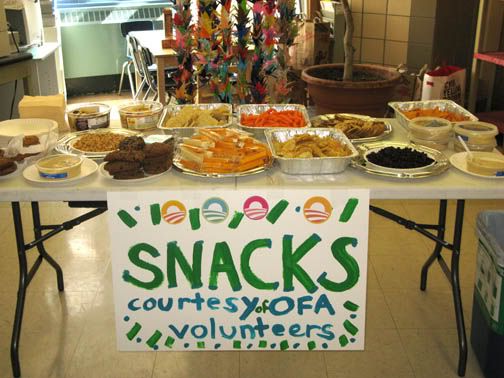 People began arriving even before the doors officially opened at 11:30. We managed the flow with a team of volunteers greeting, informing and directing people through the sign-in process. People with smart phones could sign up on their devices, those without filled in their info on one of the laptops we had set up.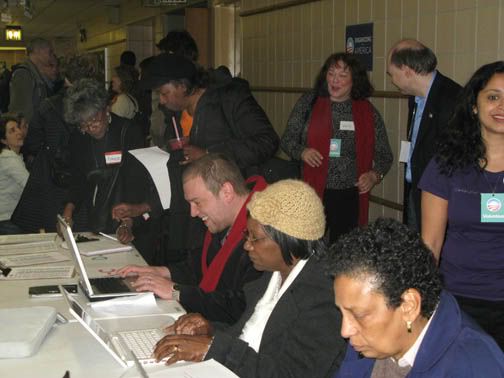 By the time the program started, the main auditorium was nearly full. We began with a welcome and overview of the day's activities, then OFA-NY Director Geoff Berman talked and answered questions about 2012 and the many challenges Democrats face in the next 20 months.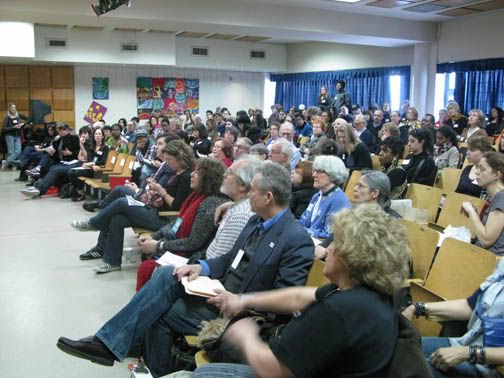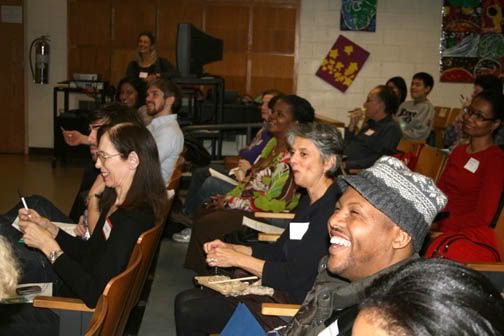 City Councilwoman Margaret Chin stopped by to say hello.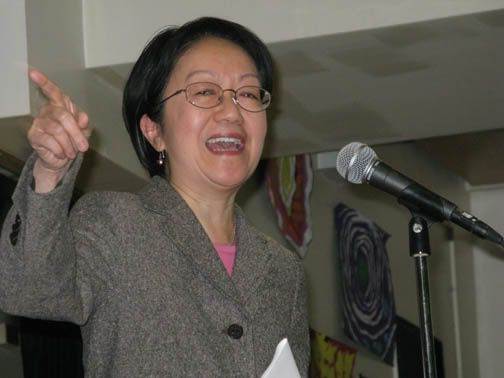 The key piece of the agenda was the workshop section: workshops on the economy, health care reform, foreign policy, social media and youth outreach. There was an expert presenter for each, but we structured them to be interactive and to result in future action items.
Here are Truman National Security Project Security Fellow Mike Derham (middle), presenter for the foreign policy workshop, with Long Island Organizer Sue Hornick and OFA NY Director Geoff Berman.



The youth outreach workshop was led by the amazing Manhattan Young Dems President Emmy Suzuki Harris.



We were thrilled that the highly-skilled, talented and always-engaging Katherine Haeschen (kath25) was going to be in town this week and agreed to lead our Social Media for Organizers workshop. Thanks again, kath!



Each workshop was tasked with determining at least one action item they would like to pursue.
We all came back together to hear each workshop's action plans. A representative from each group gave a report with quick descriptions of the action plans and what they intended to achieve.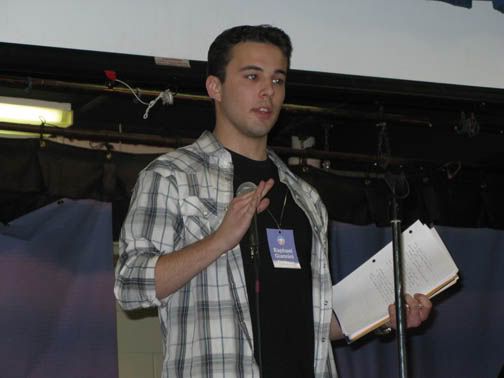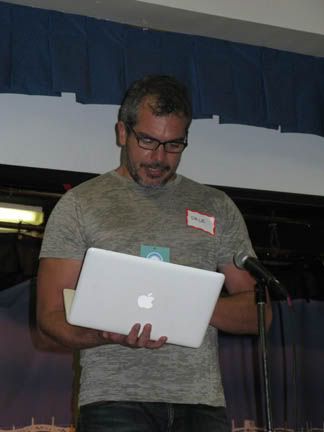 As the action items were being presented, the amazingly talented designer and illustrator debojg, who created all the signage and name tags for the event, sat in the hall making signs for each one.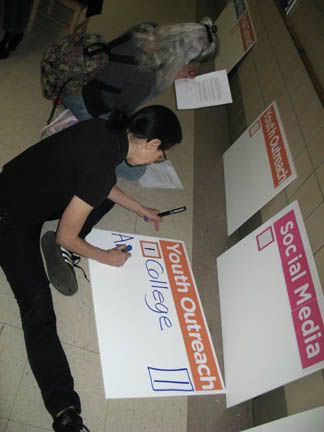 After all the reports were given, volunteers holding signs made their way to the stage allowing attendees to determine which actions they might like to sign up for. That woman in the front (in pink) is mindoca, who together with another great volunteer conceived of and organized this part of the program.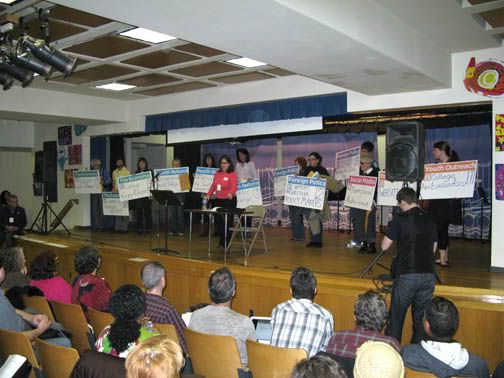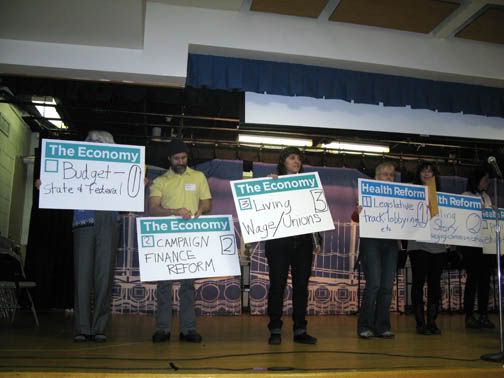 We then gave everyone the chance to talk to other members of the newly formed "action groups" to learn more about what they were planning and to network.


It was exciting to see so many people hanging around and talking for the next half hour or so, engrossed in conversation.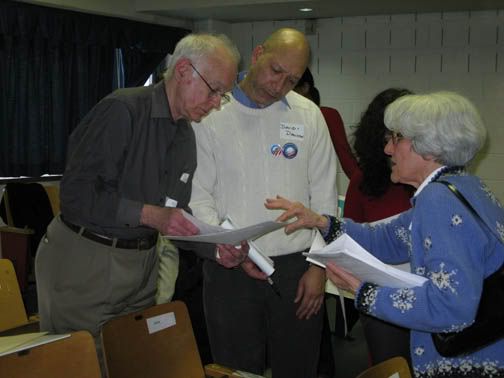 Our videographing team, -- Alan, a professional filmmaker and two film students from John Jay College -- did an amazing job of capturing the day's activities and interviewing volunteers. Here they are relaxing after things started wrapping up. At some point soon I'll have video of the social media workshop to post, with other content coming later.



Volunteers cleaned up and restored the venue to the condition we found it, and we were done for the day.
----------------------------
So how did I feel by the end of the day? This photo says it better than I can. You just can't experience the energy, excitement and enthusiasm of a group of activists and not feel fired up.
I encourage everyone to find a way to get active -- in your community, with a campaign, on an issue, whatever.
I say this over and over because it's true: Taking action is the best way to counter the despair, fear and anger we feel over so much of what is happening. So find a way to get involved. It really does help!