This is so hard to write, as the wound is still so fresh.
Charlie died last night. My little buddy. My funny, fuzzy comical, little guy.
And oh, good lord, how I'm going to miss him.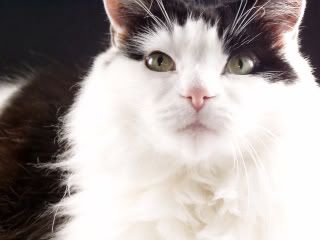 If you're not a fan of pootie diaries, please leave now. Otherwise, follow me over the "Rainbow Bridge..."
Charlie, aka, Charles Dickens, was one of the best cats anyone could ever know. I know people say that about their cats, as they do when they talk about their children. But we all have had good cats, bad cats, and OK cats. But Charlie was really special. And he died much too soon.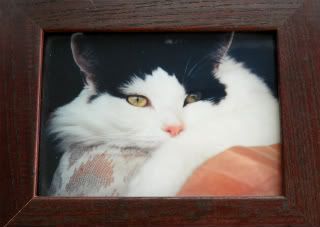 Charlie came to us one late fall day in 1999. In a home where we always had at least one cat and one dog, we had been cat-less since the early 90's, when our last cat, Ben (Benjamin Franklin) passed away at a ripe old age. One day, while I was at work, mom had the dog in to see the vet. While she was there, she saw the employees at the desk making a fuss over something. When my mom saw what it was, she asked if it was a bird.
No, they told her, it was a little kitten. But he was so tiny and his fur so feathery, it was really hard to tell at first glance. But he was, even then, cute as the "Dickens". Mom called me at work and told me she wanted him. and after discussion with my dad, it was decided that she would go back the next day to get him.
Now Charlie wasn't your ordinary stray. (The aforementioned vet had a cage in their office for "Strays in Need" a local cat rescue operation.) It seems Charlie was found by a guy who had just driven from Danvers to Beverly (next town over) in his pickup truck; and when he stopped, he heard a crying sound. When he opened his hood, there was Charlie, on the engine. He'd ridden there, alone, suffering only singed whiskers on one side. The Vets named him Chevy, since it was Chevy truck. Of course, we decided that Charles Dickens was more apropos, considering the Christmas holiday was fast approaching, and because being, as mentioned, "cute as the dickens." Well, almost...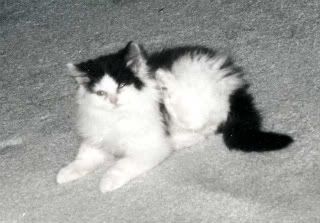 You see, being a stray, he was tiny and had weepy eyes. They told us he'd probably always have them. Little did they know.
When we got Charlie home, he became my responsibility. I know our lab, Maggie, would never intentionally hurt him, but Charlie was so little he could fit in the palm of your hand, and I was afraid Maggie might accidentally hurt him. I mean, he was so little, I had to go out and buy a smaller box, because a normal size litter box was too big for him to get into.
At night, I'd take Charlie up to my room. He was too little to get on the bed by himself, so he would either jump on the spread, like velcro, and climb up, or I would lift him up. And being too little to get up he was, of course, too little to get down. Which meant every night he would march to the end of the bed and pee on the comforter. That was OK though, as it was an old comforter, one of two that a friend had given us for a spare guestroom. So for this period of time, I had one all ready in the dryer for those midnight accidents. I'd go get the clean one, put the dirty one in the wash. That lasted a couple of weeks.
At his early, tender, age we didn't know what kind of cat he was. But when he grew, his fur was long, with the telltale markings of a Maine Coon (fur between his toes, fuzzy ears, and fur on his legs that made him look like he was wearing pantaloons). And when I looked up Coons, his personality fit the description as well - funny, playful; a little clown who never wanted to sit in your lap, but had to be wherever you were.
Over the years, he showed a penchant for boxes...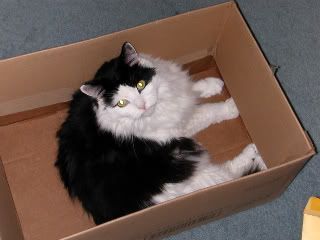 Baskets...
And shoes...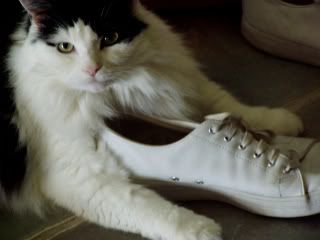 Especially shoes...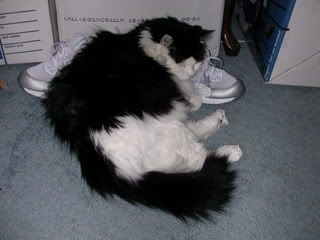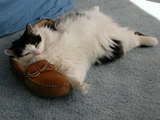 Every time I took off a pair of shoes, he would find them and then nap on them. he would put his face inside, or rub his head on the outside.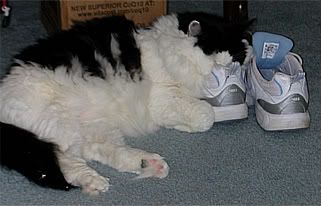 A final funny story about when he was a kitten. At the time, I had a fuzzy bathrobe, a fleecy one with an Indian sort of design. Well, Charlie found the belt, and it became his favorite toy for at least a few years. When he was tiny, you might see him running through the house, one end in his mouth, and the other trailing between his legs. Or you might wake up the next morning to find it in any number of spots from his nocturnal playtime.
Move to yesterday. Charlie seemed OK in the morning. He ate, but I was rather surprised that he only had a half of a small can, which was quite unusual. for if there was anything Charlie loved more than playing and sleeping, it was food...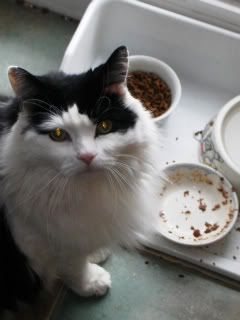 No matter who was home, or visiting, if anyone ventured into the kitchen, Charlie parked himself by his bowl, you know, just in case. And I could always tell when he was just trolling for "nummies" or really hungry. If hungry, he'd give you a lusty Yowl. If not, he just gave you the sleepy cute boy eyes.
Anyway, I had things to do. My mom is now in a nursing home and I needed to see her and bring fresh laundry. When I got home, Charlie was lying in the hallway. Not so unusual, but he just didn't seem himself. I kept checking on him and he seemed OK, but, again, somehow just not right. Since this was a Friday night, there wasn't much I could do but keep an eye on him and then try get him to a vet this morning. The only emergency animal hospital is well over an hour away. So I put him on a nice fluffy blanket on the couch, where he stayed most of the night. From time to time, I'd pet him. He'd stretch and then sleep more. He seemed better than before, so that was encouraging.
About 4 this morning, I got up to use the bathroom and checked him again. He was now on the floor, but when I petted him, he began to purr, in his loud Charlie way. Ok, I thought, see ya in the morning buddy.
Then about 8 this morning, I got up and went to find him. He was lying in the sunroom, absolutely still. When I looked, I didn't see him breathing. As I got closer, I could tell he was gone. Oh god, no. Not "Mr. Charlie."
I've been bawling my eyes out ever since. I thought how ironic that today is supposed to be the "rapture." It was said God was going to come down and take those he loved up to heaven. Well, looks like he got at least one who is a "keeper."
Some friends are coming over later to help me bury him in the yard. He's in a box with soft pads, one of his toys and a full can of Fancy Feast. I can't find his robe belt or he'd get that too.
I'm sooo going to miss him. I've had cats and dogs all my life. And it has never been easy letting them go. Never. But Charlie was one of the special ones. I know he's in a "better place". At least I hope so. If there is a heaven for pets, he certainly deserves to be there.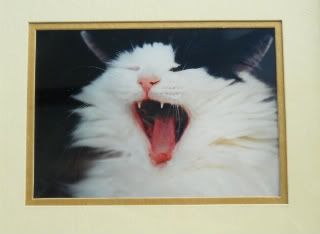 So RIP, Charlie. You were one of the best.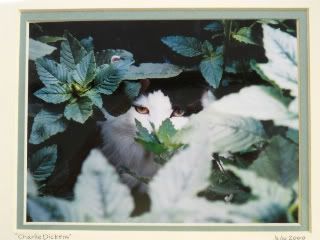 Updated by MA Liberal at Sun May 22, 2011 at 12:00 PM EDT

Just an update to say thanks to everyone for their kind words, reminiscences of their lovely critters, and simply for being there. I've been through a box of tissues, at least.

We buried Charlie an a plot under a tree, with an ocean view. Flowers and prayers accompanied.

Then I got away for the evening to be with friends.

Imagine my surprise seeing this still on the rec list this morning. I am humbled. And I'm sure Charlie is as well, wherever he is.

I meant to say, originally, that we have another pootie, Peach, who came from the same organization about two years after Charlie. No matter how he tried (bold, submissive, etc.) he could never win her over. She is alone now. I don't know how she will deal with it all yet - made herself pretty scarce yesterday.

But one thing I did notice when I found Charlie, is that his right cheek had been licked, the fur matted by a wet tongue. Perhaps it was Peach's way of saying goodbye. I think even with all their travails, she really will miss him.

As will I. I still expect to see him come running into the kitchen for food, or to be lying on my shoes in the hall.

Anyway, thanks to you all. It's times like these when one realizes that Daily Kos is so much more than a political blog. It also makes me realize why I am a liberal. We have some pretty damn fine folks on our side of the aisle.