WEDNESDAY, JUNE 15th
...continued after the Cheer & Jeers Dinner.

Meet BFSkinner!

Land of Enchantment and jnhobbs spot me. Meteor Blades is close by.



LOE taking a picture of me taking a picture of her...



TexasMom and maggiejean mobbing Meteor Blades



BFSkinner, Julie Gulden and Meteor Blades



From center and clockwise:
indiemcemopants, kyril, Seth Kaye, John Aravosis, Clarknt67



David Trujillo and TheFatLadySings



Kaili joy Gray and Jed Lewison



Will Rockafellow, Faith Gardner and Jennifer Bruenjes (Scout Finch)


THURSDAY, JUNE 16th

My new friends: Anwar Hijaz & Zahra Billoo



Tyler Lewis, Kimberly Ellis aka Dr. Goddess and Elon James White



Julie Gulden and the cutest mr. anonymous in the world, lol plus KVoimakas in the background.



Kitsap River and Charles Curtis-Stanley



Kitsap River, Charles Curtis-Stanley and Ramara



Land of Enchantment with her Saturday back stage pass she won in an NN auction. I can't wait for her photo diary on that!

Someone had to photograph LOE's shoes, note orange nail polish.


FREE FOOD!!!!!

Meteor Blades, Land of Enchantment photo bombing and mr. anonymous cutie pie



Trashablanca with a tee shirt he had made for Bleeding Heart



Shanikka and Meteor Blades syncing their phones



Eric Thut, Operations Director of Netroots Nation



Bill in Portland Maine in his kiddie pool


FRIDAY, JUNE 17th

Panel of Promoting People of Color in the Progressive Blogosphere: TexMex, deoliver47, navajo and soothsayer99



Dan Choi signing his new quilt square for the Community Quilt Project



Dan Choi's new quilt square for the Community Quilt Project


From maggiejean's camera: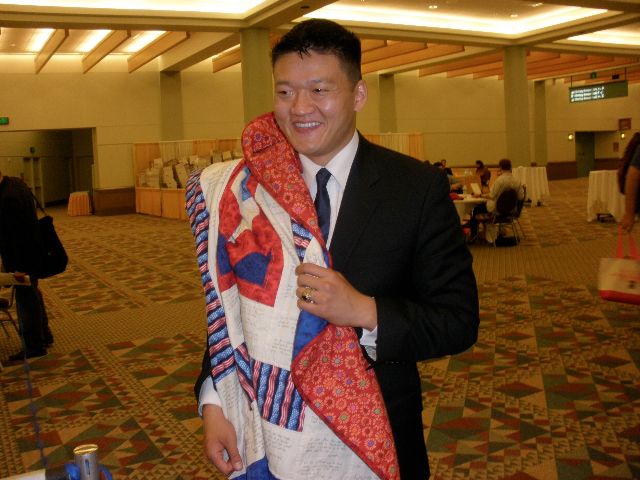 Dan Choi and his quilt from Sara R



Pine Ridge Billboard Project's poster table



L-R: jnhobbs, Land of Enchantment, mr. anonymous, Meteor Blades and Shanikka



jnhobbs and Land of Enchantment



Drinks with the Front Pagers: Kaili Joy Gray, Faith Gardner, Jennifer Brunejes, Tom Tomorrow and Susan Gardner



mik, ? , ed tracey and Brillig


SATURDAY, JUNE 18th

Julie Gulden, One of the winners of the Pub Quiz, in case you haven't heard



SFKossacks represent: Starting with norm there in the red and clockwise, Paradise50, smiley creek, aha aha, jotter (hidden) Mrs. side pocket, side pocket, Jeff in CA and vicki !



Folks meeting with Raul Grijalva are left to right: The Cunctator (Brad Johnson), theGreenMiles (Miles Grant), RLMiller, myself (SolarMom), and Rep. Grijalva's aide. And LoE of course.



L-R: Mr. TexasMom, TexasMom, TexDem, Floja Roja and Common Sense Mainer during NFFT



Meteor Blades and navajo leading the American Indian Caucus



Newest Native American Netroots member: Prarie Rose Seminole. The amazing Oke found her by chance and invited her to our caucus. Good job Oke.



R_L: Oke, side pocket, Kitsap River during the American Indian Caucus



navajo, Meteor Blades, Lucia Sanchez and Raymond Ortiz



deoliver47 and I modeling our earrings made by Wings, Aji's husband



Van Jones at Netroots Nation during noon plenary session



Van Jones, I was able to get close several times and snapped a lot of photos, many of them blurry as usual. Finally Van reaches out to me, shakes my hand and I thanked him for mentioning Native Americans in his speech. I told him that I know Meteor Blades and that MB asked Van to please remember us in his speeches. Van then told me that he has a new comment that he's working on to insert for us and that he'd like to try it out on me. What followed was a typical eloquent comment which I can only clumsily paraphrase. "We talk about Democracy but we need to give credit to the founders of Democracy, the Iroquois. When we talk about Democracy we must credit the teachers." I told him I loved it and I reiterated, please don't forget about us. He responded that he had every reason to remember us. A wonderful up close and personal moment!



Elisa, Markos' wife fund raising




Markos fund raising for NN12 next year



Shanikka writing a check for Markos

Markos was so excited to see side pocket, there was a huge hug and much back slapping



Kitsap River's memorial seat for exmearden

occams hatchet's quilt square he signed. LOE tagged it. ;)



teacherken balancing beer on his head. He says he delivers drinks to his kids like this.



Kossacks waiting in line to get into the closing night party



The Front Page table:
L-R: Kaili Joy Gray, Barbara Morrill, Meteor Blades, Susan Gardner, Jed Lewison, Hunter and elfling



Robert in Monterey and Shayera facing the camera. That is Julia Rosen's head and Laura Van to the far right?



A blurry teacherken and his razzie



I found my posse. vicki, aha aha, jotter, Paradise50 and Mr. Sharoney



Another group toast to exmearden



My new friends, Marcia Jarmel & Ken Schneider, Filmmakers, Patchworks Films


I ran outta steam about now, it was only 10 PM. See my tip jar.
SUNDAY, JUNE 19th
I could only manage one photo on the last day.

Meteor Blades, poe and Shanikka
There was so much more happening all around me but I was unable to snap it for you. I'm so glad others have taken to posting their photos. I love them as much as you all do.
Also, please leave a comment to identify the ?s above. I'll do my best to fix.
Over and out.
Update: Some outdoors shots