The following still photos taken from the currently viral video shows unequivocally that two supervising police officials violated NYPD's Use of Force Policy pertaining to Pepper-Spray.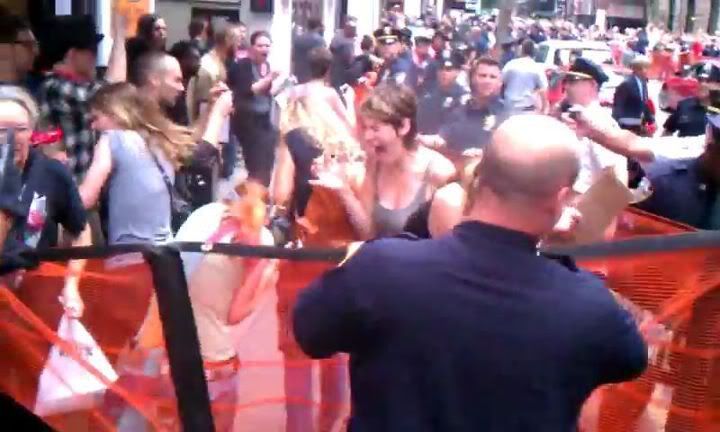 In the first photo you can clearly see a white shirted officer take aim at a young woman several feet away, doing no violence or disruption, and in fact seeking to merely protect herself from the unprovoked attack.
In this next photo you can see that his target remains this citizen as his raises his arm further to take aim at her eyes. A steady and continuous stream, rather than a short burst, of pepper-spray is clearly visible in the below photograph.
A series of photos illustrates this even further and is posted as an album here: http://www.facebook.com/...
Someone needs to obtain and publish immediately the official Use of Force Policy of the NYPD. I have reviewed several documents with that policy, when it was under critical scrutiny, a decade ago and it clearly shows numerous policy violations not merely by officers (the regular uniformed officers themselves seem taken aback, have to duck themselves, and several are also victims of the pepper-spray) but by senior officers.
NYPD training explicitly prohibits the use of pepper-spray as a means of crowd-control. Officers are furthermore trained that they may not disburse their spray from several feet away, as in this instance. And the clear guidelines (five criteria) for the use of this level of force are not met - including the fact that passive resistance is not deemed an appropriate level to justify such force.
Furthermore the officer is supposed to fire - at most - two quick bursts not a steady, continuous stream into the eyes of the person being targeted. Whether the policy still recommends aiming for the eyes is unclear as most departments do not provide such instructions but aim for the torso so that the effect comes the disbursed spray rather than a direct injection into the eye.
But it is common practice throughout the US to take video evidence such as this and still claim it is justified use of force because it is an largely unwritten interpretation that "pain compliance," including pepper-spray, can be used to obtain "compliance". And lack of compliance is considered any verbal utterances - in this case the women were calling out of concern for a man being beaten in the street while being arrested and out of fear for being corralled like herd animals by the officers.
A direct attack on the use of force is likely to result in no further investigation and no disciplinary action of those involved. However I believe there is a much more fundamental aspect of the policy - which is unequivocal - and which cannot be subjected to bureaucratic double-speak to weasel out of responsibility and liability.
The NYPD policies of the past, and certainly of the present, require that any such deployment of pepper-spray be immediately followed by EMTs being called to the scene to treat the victim and there are very strict and strenuous detailed policy instructions on how to treat and not treat such victims.
In this case, and most likely running rampant through the City, the victims are left to fend for themselves lying on a sidewalk with no medical care provided.
I believe that an indirect appeal on this aspect - both to the public and through the media and to the NYC officials will have an impact. Both in helping to curb these abuses in the immediate moment without further need for inquiry - by requiring appropriate reporting and medical care standards to be followed; and by shifting the burden of responsibility away from those officers on the street and to those officials who are their ultimate superiors and responsible for their actions and inactions.
One must not assume that because pepper-spray has technically been categorized as "non-lethal" force that one cannot, under certain conditions, die from its effects. Furthermore the effects, especially when administered in the manner seen in these photos, can be horrendous even if not life threatening and are tantamount to physical torture.
I therefore urge anyone who has contact with persons on the ground in NYC that are involved or interested in strategically addressing at minimum this matter take up this suggestion.
At minimum obtain without further delay the official NYPD Use of Force/Pepper Spray policy and DEMAND that it be complied with and explicitly in the requirements for the safety of the public and those upon whom this method of "compliance" has been employed.
Tue Sep 27, 2011 at 12:08 AM PT: http://www.dailykos.com/...
Please discuss this and related matters as a group. Encourage a discourse to develop a coordinated strategic set of actions.
Included in this I have made a photo diary which I believe "proves" the case itself. Thanks to those who posted the videos as well as Rosaura and the photographer Dave who have posted or been linked to above. Please take a look and spread it around.
The videos are essential. But the still images - in order of a narrative - are even more powerful to PROVE the point. The videos are highlighted thereby and the particulars stand out strongly.