Surprised I'm not seeing this up on this site yet.
Just caught these two, gonna look for more, once again on FB.
Quan, Under Attack, Changes Course on Occupy Oakland
Mayor reopens plaza to protesters, promises dialogue and "minimum police presence" if demonstrations stay peaceful
More below the fold.
October 27, 2011 - Oakland Mayor Jean Quan, under attack from inside and outside her administration, announced late Wednesday that Occupy Oakland can return to the plaza in front of City Hall, an abrupt reversal that followed a night of street violence Tuesday and widespread criticism over her handling of the crisis.

As more than 1,000 people descended on Frank H. Ogawa Plaza Wednesday night, Quan called for "a minimum police presence" and said nonviolent protesters would be allowed to re-occupy the area near City Hall. One day earlier, with Quan's authorization, 400 police officers had dismantled the tent city.

Quan has been facing a growing firestorm over what some describe as a tentative, out-of-touch approach to the crisis. Earlier, Quan admitted that she had not known that police were planning to evict the protesters early Tuesday morning, saying only that she had signed off on the plan.

Dan Siegel, the mayor's longtime friend and legal adviser, said he was considering resigning over the raid. He added that city officials were divided over how to handle Occupy Oakland. read more>>>
And this with her statement at Think Progress finishing it off:
Oakland Mayor Jean Quan Says She Will Minimize Police Presence And That She Supports The Movement
Oct 27, 2011 - After the first heavy-handed police crackdown on demonstrators in Oakland, Mayor Jean Quan wrote a statement on her Facebook page praising police for closing down the Occupy Oakland protest encampment. Now, facing anger from across the world, Quan is backing down on her aggressive language and even says that she supports the goals of the movement. She is committing to minimize police presence in the plaza and "build a community effort to improve communications and dialogue with the demonstrators." View her full statement: follow for her statement>>>
Have this in my other diary still on rec list. IVAW have changed the call out name to make it an International Action:
Scott Olsen is seen here on the right moments before he suffered his head injury and those who rushed to his aid were assaulted by police. read here>>>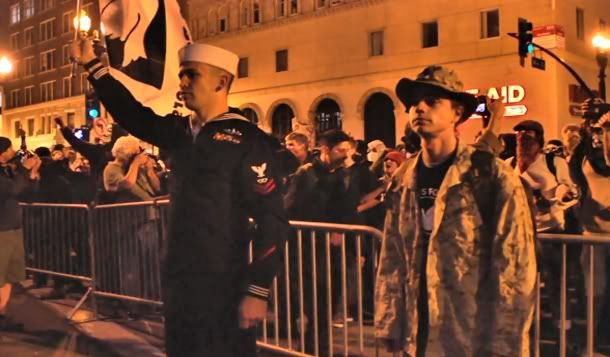 A Call for Tonight for Scott, Oakland and International!
International Solidarity Vigils for Scott Olsen
There will be a peaceful vigil held Thursday, Oct. 27 for Scott Olsen, Marine veteran with two tours in Iraq and member of Iraq Veterans Against the War (IVAW). Scott was critically injured by a police projectile at Occupy Oakland on October 25.

The Oakland vigil will be held during the General Assembly of Occupy Oakland at 14th St and Broadway.

A call has gone out to the Occupy Movement for Occupy encampments across the nation and world to hold SOLIDARITY VIGILS at this time (7pm in their respective time zones).

If you are holding a rally in your city, please let IVAW know about it by emailing details to media@ivaw.org.

Donations for Scott's medical costs & his family's travel expenses can be made at IVAW.org with 'Scott Olsen' under Special Projects.
And this from the other diary as well:
Marines reactions from around the country and world:
MARINES TO OAKLAND POLICE: 'You Did This To My Brother'
Oct. 27, 2011, 4:55 AM - Marines around the world are outraged by the injuries inflicted by police on Scott Olsen at Tuesday's Occupy Oakland protests. The following picture is taken from the Reddit thread "How I feel, as a United States Marine, about what occurred in Oakland."

This man is not alone. In the five hours since the thread went up there have been over 600 comments.
A couple of more:
Tent back on Oakland plaza after late-night march
10/27/2011 08:25:41 AM - At least one tent was back up in front of Oakland's City Hall a day after anti-Wall Street protesters filled the city's streets with a late-night march and the police chief pledged a vigorous investigation into an earlier clash between police and protesters that left an Iraq War veteran in critical condition with a fractured skull.

Television news footage showed the tent and a handful of people in the plaza early Thursday morning. Police two days earlier cleared the plaza, which had grown to dozens of tents and raised health and safety concerns among city officials. read more>>>
Occupy Oakland: Mayor Quan Issues Contrite Statement after Police Crackdown
Oct 27 at 6:37 am - Late last night, Oakland Mayor Jean Quan issued a statement about the police crackdown against Occupied Oakland protesters. In it, she expressed concern for those injured and a commitment to minimize police presence in Frank Ogawa plaza, at least for now. Her statement follows national and international outcry over police treatment of unarmed protestors. read more>>>
Good News on Scott Just Coming In!!
War vet hurt in Oakland occupy protest improving
October 27, 2011 - An Iraq war veteran who was injured during the raucous Occupy Oakland protest on Tuesday night has been upgraded this morning to fair condition at Highland Hospital in Oakland, a nursing supervisor said.

Scott Olsen, 24, of Daly City, a member of Iraq Veterans Against the War, was among the hundreds of protesters who filled the streets of downtown Oakland to protest the police dismantling of the encampment at Frank Ogawa Plaza outside City Hall. read more>>>
Vet Injured in Oakland Protest in Fair Condition
October 27, 2011 - The Iraq War veteran injured when anti-Wall Street protesters clashed with police in Oakland has been upgraded to fair condition.

A hospital spokesman says 24-year-old Scott Olsen's was moved from the emergency room to the intensive care unit on Thursday. read more>>>