In a stunning display of determined non violence, 10 students at University of California at Davis literally take it on the chin in the now famous pepper spray attack Friday afternoon at the UC Davis campus.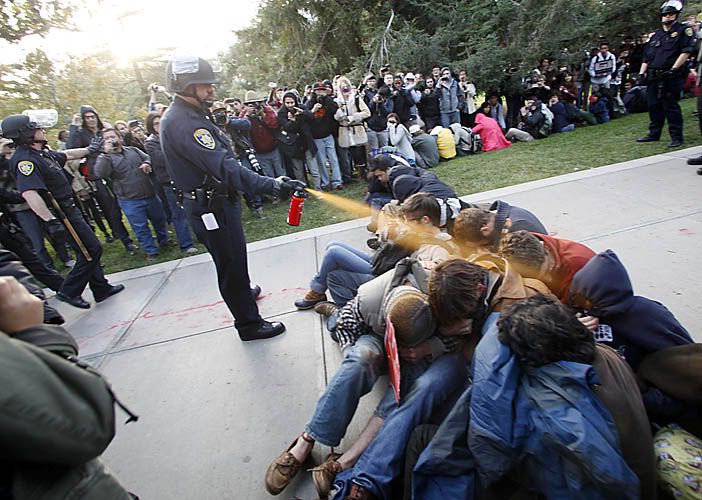 Photo credit: Wayne Tilcock/Enterprise photo
UC Davis Police Lt. John Pike uses pepper spray to move Occupy UC Davis protesters who were blocking officers' attempts to remove arrested protesters from the Quad on Friday afternoon.
The Davis Enterprise reported that Lt John Pike sprayed 10 students while they sat on the ground and published the above photo.
8 men and 2 women were arrested, and later released.
John Pike, 38 years old, served in the US Marine Corp from 1991 to 1995 and then worked for the Sacramento Police Department from 1995 to 2001 and has worked for the UC Davis Police Department for the last 10 years.
Pike has received 2 Meritorious Service Awards from UC Davis, the most recent in 2006 when a patient at UC Davis Medical Center grabbed a pair of surgical scissors and was threatening to attack 2 other Officers when Pike ran into the room and leveled a football style body block to the patient.
Dateline.UCDavis.edu reported:
His body block in the hospital room stemmed from a split-second decision, too. With the struggle taking place in the close confines of a hospital room, Pike knew he had no other choice but to use brute force to take down the patient.

He decided against using pepper spray, a baton or sidearm, not wanting to hit either of his partners as they struggled with the patient.

"You've got all these tools on your belt," Pike said, "but sometimes they're not the best tools."

Indeed, the best tool that evening was his large stature. "A body block is exactly what it was," he said.
It is with a note of irony I point out that Officer Pike chose not to use pepper spray in 2006, while arguably enjoyed its deployment in 2011.
Lt John Pike has just replaced NYC Mayor Mike Bloomberg as the Hero of the Occupy Movement, as Keith Olberman so aptly opined last Tuesday.
But history tells us that the dumber The Establishment gets, the more obvious its repression becomes, and the more popular it makes the movements it seeks to crush.
This Establishment is either too shortsighted or too dumb to keep from shooting itself in the thigh, as a certain NY football player did 3 years ago. Too stupid to keep from tripping over its own riot gear as it marches its minions to battle, to do battle with 20 year olds sitting down on a sidewalk waiting to be cuffed and taken away.
This Establishment is too shortsighted to understand, there are lessons learned from the WTO clashes, that todays cell phones ALL HAVE CAMERAS, that whatever the police do, it will be recorded for posterity. Sure you can delete memory's in devices from people you arrest, but when you consider the sheer numbers involved, why bother, we going to end up watching anyway.
This Establishment is too dumb to understand what Gil Scott Heron understood 40 years ago, the Revolution will be live. Livestreamed, Ustreamed, in HD, on you tube, on facebook, on twitter, on your Blackberry, your iPhone and your Droid.
This Establishment is too dumb to realize if they fixed the things that are broken, and stopped stealing our future, the Occupy Movement would not have a leg to stand on.
Why will I take the train from New Jersey to Wall St on Thanksgiving morning and volunteer to cook a Thanksgiving meal for Occupy Wall St? Because there is a fundamental primal need, for me to give thanks to Occupies everywhere, inside of me. Because I feel an underlying obligation to to stand with Occupy Boston, Occupy Oakland, Denver, Portland, Dallas, Madison, Wall St, etc, and last but not least, OccupyUCDavis.
Thank you Lt John Pike, from the Bottom of Michael Bloomberg's plutocratical heart, thank you.
12:15 PM PT: Lets see if this is a Fed civil rights case, it might be against Fed law to pepper spray passive people. If so this will blow up to huge proportions.
12:20 PM PT: John Pike went to California State University-Hayward and got a BS.
Some comments wrongly assumed Pike never went to college, most Police Officers in this day and age are required to have degrees.