I decided to put my party in charge for Ohio's redistricting in this map. Objectives: give every incumbent a safe district (easy enough to do when there are so few remaining).
I managed to cram all the Republicans into 5 vote sinks: 1 suburban and 4 rural.
Here's the map:

As you can see, it doesn't look all THAT bad except for a few districts. Ok, actually it looks pretty bad, but it's no Maryland.
1st: Connie Pillich? (D)

This actually turned out slightly vote sink-ish, but there wasn't really anywhere else for some of this territory to go. It's a robust D+7, probably the 3rd safest Dem district on the map. Chabot is gone.
2nd: Jean Schmidt vs. Steve Austria (R)

Two very underwhelming congresspeople get bunked together here. I'd give the edge to Austria, by which I mean I hope he wins but I have no clue if he would. There are a few exurbs here, but it's basically a 100% rural district and very good COI. It's R+15
3rd: Mike Turner (R) vs ?

This is the best I could do to get rid of Turner, but he'd probably survive a D+1 in most years. Centered in Dayton and surrounding suburbs, it goes into Xenia, Springfield, Urbana, and Oxford to keep the district Dem-tilting.
4th: Jim Jordan (R)

Jordan has the second vote sink; it's R+16. It's extremely rural: the biggest towns are Ashland and Findlay, and it goes into NE Ohio to take some very red precincts in Medina County.
5th: Bob Latta (R)

Another underwhelming Republican gets saved. Latta has an R+18 vote sink, which is extremely Republican anywhere outside the South and is probably one of the most Republican rural districts one could draw anywhere East of the Mississippi and not in the South. I guess Lima, Troy, and Sidney count as the biggest population centers here.
6th: Bill Johnson (R) vs. Charlie Wilson (D)

D+3 federally in this part of the state is Likely D when open, but I'm calling it Lean D due to incumbency. The Southern part of this district is centered around the college town of Athens and includes rural blue territory around it (not sure why it's blue; maybe unions?). Then it goes into steel country and goes all the way up to Youngstown, also taking in Steubenville and New Philadelphia.
7th: Dennis Kucinich (D, but I really wish he were kicked out of the caucus)

I managed to create a new district based around many of Cleveland's whiter suburbs (and some of the Whiter part of the city itself). Key locales here include Parma, Solon, Strongsville, North Royalton and the Akron suburbs of Stow and Talmadge. I'd call this Tilt D, but it'll really depend on the candidates; if Kucinich gets through the primary, it's probably Lean R. Betty Sutton could also run here and let Tom Sawyer come back and take the Akron district.
8th: John Boehner (R)

The mother of all vote sinks: this is actually a relatively COI-based suburban district but comes in at R+23. Over 2/3 of the residents voted for McCain. Boehner is safe here for as long as he wants in the most Republican district in the former Union (I'm not counting states admitted after the Civil War).
9th: Marcy Kaptur (D)

Kaptur keeps a Toledo-based district, but at D+7 this should still easily elect a Dem when she retires, which will probably be this decade.
10th: OPEN (D)

This D+5 district is a good vehicle for an up and coming state senator to make a run; no idea who though. Maybe St. Rep. Matt Lundy. Likely D either way.
11th: Marcia Fudge (D)

It's only 43% Black, but I believe the VRA Black district doesn't need to be maintained since it goes into Akron, and once you have that belief, all you have to do is make sure the Black candidate of choice gets through the primary, which 43% should guarantee, especially considering there's some very red territory here in this D+19 district. I did put every single Black majority precinct in Cuyahoga County here, though.
12th: Pat Tiberi (R) vs. ? (D)

This was a fun one to draw. At D+4, it's probably out of reach for Tiberi. Since some of the territory outside Franklin County is blood red, I took in Newark, Delaware, and Marion to keep this Lean D.
13th: Betty Sutton (D) or Tom Sawyer (D) or John Boccieri (D) vs. Jim Renacci (R)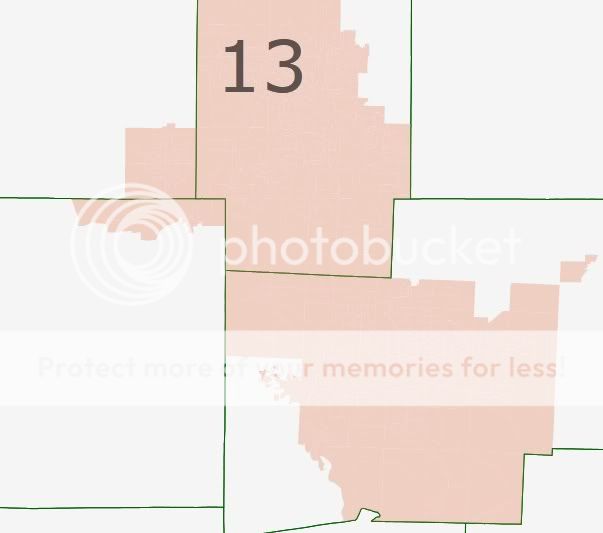 Akron and Canton dominate this district. Smaller towns and suburbs include Wadsworth, Green, Barberton, Norton, Copley, and Cuyahoga Falls. At D+5 it should be Likely D when Open. Renacci might not even bother running.
14th: Tim Ryan (D) or other D (Capri Cafaro?) St Sen vs. Steven Latourette (R)
My theory is that Ryan would rather run in a relatively new D+1.5 district (although more Dem locally) in order to have more people know and like him before his likely 2014 gubernatorial run. If not, another Dem can probably beat LaTourette, but it's only Lean Dem. Trumbull and Portage should help the Dems immensely. John Boccieri could possibly run here as well.
15th: Steve Stivers (R) vs. Paula Brooks? (D)

Brooks did decently for a Dem 2010 challenger running against Tiberi, but I'm guessing she'd rather run in the D+4 district that is completely in Franklin Co. than the one that isn't. Lean Dem.
16th: Bob Gibbs (R)

Gibbs is a big winner in this R+13 vote sink.