It is that time of year again, the time of year parents of special needs children just dread: Christmas vacation. Our son normally goes to school all year round, so this two week break will wreak havoc on schedules and routine; thus, creating tantrums, melt downs and all out chaos.
As we bid a tearful adieu to the short bus, let's all take a deep breath and know we are in this together so let's share some holiday songs, stories and ways to cope. Pour yourself some eggnog or gluhwein and relax, there are only 14 more days until they are back in school.
There Goes Routine
(sung to the tune of "Here Comes Santa Claus")
There goes routine,
There goes comfort,
There goes therapy.
Here comes boredom,
Here comes whining,
There goes sanity!
School break's here
And I should cheer
The time to spend with my kids.
But though I bless
Togetherness
I feel like I'm losing my wits.
But here comes New Year's.
Here comes three cheers,
Here comes tears of joy.
Get the backpacks,
Meet the buses,
Goodbye, girls and boys!
Though it means
More homework scenes
And teacher battles and such.
Ending Christmas break
Can make me
Love that school so much!
Years ago, we wanted the holidays to be ideal for everyone in our family, but things didn't work so well. Our son is hypersensitive to noise and has difficulties in new situations. Autism and crowds don't go together well. Sometimes, it is better to stick with the familiar than it is to venture into unknown territory.
On Sunday, I ran into a mom with her three autistic sons at the grocery store. She already looked spent after only a weekend. As I shopped, I could hear her boys from several aisles away, it was like having triplet toddlers but bigger and louder in every respect. If you are a family member of friend of someone caring for special needs, the best gift you could ever offer is respite help. Just give them a few hours to go to the store or go out on a date with their spouse and have some free time. This is the most appreciated and sought after gift anyone would want. Keep the child in their home and watch him carefully. Try to engage and interact with the child, if you can. The smallest things, such as: eye contact, a smile, a wave, holding your hand are all milestones in dealing with autism. You will impact many lives by this generous gift.
If someone in your family has autism, I'm sure these Holiday songs hit home. From sarnet.org
We Won't Go
(sung to the tune of "Let It Snow")
Oh, your party sure sounds delightful,
But our child's behavior's frightful,
And since we'll just bring you woe,
We won't go, we won't go, we won't go.
Well, the tantrums he won't be stopping,
And we'll chase him 'til we're dropping,
He just can't stand the stress, and so
We won't go, we won't go, we won't go.
If we actually made it there,
After miles of yelling and gripes,
We would suffer your guests' cruel stares
And overhear all of their snipes.
Oh, they'd whisper that we're bad parents,
And our child is quite aberrant,
'Til our spirits were sunk, and so
We won't go, we won't go, we won't go.
Trouble on the Rooftop
(sung to the tune of "Up on the Rooftop")
Up on the rooftop, what's that then?
Our child has escaped again.
Out through the window, down the spout
How does that little one get out?
Uh uh oh!
Look at him go!
Uh uh oh!
Look at her go!
Oh, out through the back door
Quick as can be,
Off down the sidewalk
So merrily.
Wanders around the neighborhood --
This escaping's just no good.
Wanders the highway, goes to town.
Call the police to hunt him down.
Uh uh oh!
Go on home!
Uh uh oh!
Don't ever roam!
Don't sneak up the chimney
Or through the dog door
Stay in your room
Forever more.
Echolalia Bells
(sung to the tune of "Jingle Bells")
Jingle bells, jingle bells,
Jingle all the time.
Sing it in the morning,
Sing it in bed,
Sing it at suppertime.
Oh, jingle bells, I hear those bells
Constantly, it seems,
Every waking moment now
And even in my dreams.
Jingle bells, jingle bells,
Endlessly, that thing!
Jingle bells, I've got to yell,
Is it all this child can sing?
Oh, jingle bells, jingle bells,
Jingle jingle JING!
Oh what pain is in my brain
From this endless jingling!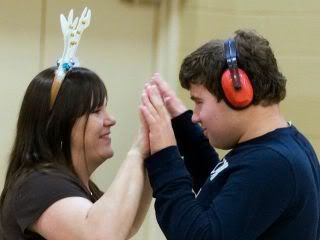 Our son with his Occupational Therapist. Reindeer games are fun and bring out interaction.
Happy Holidays Everyone. Please share your stories and photos.