Westminster Dog Show Rebuffs Shelter Dogs
For 24 years, Pedigree has been the sponsor of the annual Westminster Kennel Club Dog Show, but not anymore. This year, Westminster switched sponsors to Purina. The reason? Pedigree's commercials promoting adoption from shelters are not the image Westminster desires.
cross posted at writing in the rAw
Apparently, humans aren't the only ones fighting the 1%. Seems shelter dogs and mutts need to start their own #Occupy movement.
Bejesus. If this isn't an indicator of how bad things are, how wide the divide: dissing the beloved mutt???? I don't know what to say... except that real dog lovers will go ape over this.
Shelter dogs are a bummer? Really???? Tell that to my Romanian dog who is smarter and more resourceful than any inbred purebred. In fact, set them loose in the countryside of Romania and then let's see who's the better dog.
Idiots:

Tired of Sad Ads, Kennel Show Takes 'Dog With a Smile' Tack
Prancing purebreds and pound puppies do not mix, or at least they will not during the televised broadcasts of the Westminster Kennel Club Dog Show this year, after the club cut ties with Pedigree, a longtime sponsor, in part because of Pedigree's commercials featuring sad-eyed mutts up for adoption.
snip

"Show me an ad with a dog with a smile; don't try to shame me," Mr. Frei told The A.P. The kennel club had expressed its concerns to Pedigree, he said, adding, "We told them that, and they ignored us."
_____
__
My Romanian girl... when she first arrived, we had to have her shaved and cleaned up: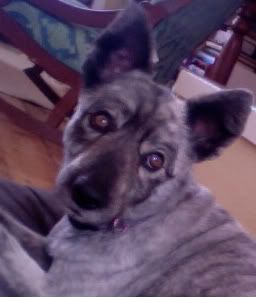 here she is last summer, much more relaxed and secure: