Adam Baldwin seemed like a reasonable guy, a conservative activist who writes for Big Hollywood - one of Andrew Breitbart's websites. I try to talk to the other side sometimes and let me tell you, no good deed goes unpunished.
You may recognize Mr. Baldwin as Jayne from Firefly or possibly from Full Metal Jacket in this famous scene:
(h/t Mitt Romney)
ANYWAY, we were having a back and forth on Twitter as to whether or not it was appropriate to use Pepper Spray on the UC Davis protesters. I was saying it was excessive force given it was a peaceful protest/passive resistance and pepper spray is severe while Mr. Baldwin was saying it was appropriate and in keeping with standard mob dispersal procedures.
Mr. Baldwin then asked me what constituted "passive resistance." I answered "Sitting down, arms locked not threatening or being violent to police -> i.e lunch counter sit-ins civil rights movement." Abbreviations for Twitter obviously.
He then slammed me as both a "Kos Kook" and "Racist":
Now...
1. I was trying to explain to him a TACTIC of protest with a popular example.
2. How is that "racist"?
Oh, well allow me to retort - or rather question that charge...
And an odd response - is this how conservatives actually think?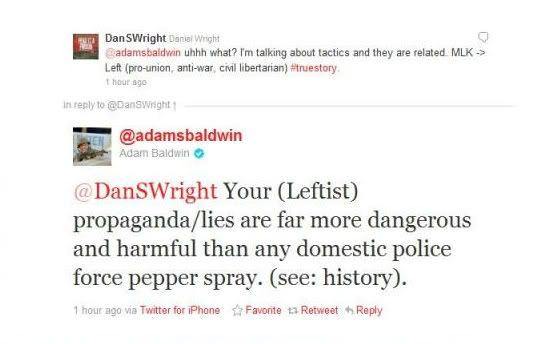 ... I was half confused and half insulted. So rather than disengage (probably a better idea) I engaged.
I pushed back on Mr. Baldwin's first point after Mr. Baldwin claimed that MLK would be GOP and Dems "were/remain party of slavers." Which was a reference to the pre-Civil Rights Act/Pre-Civil War Democratic Party, which was the party of the South. Though, to say the Democratic Party remains that party is ridiculous.
Mr. Baldwin has since deleted those tweets and rightfully so.
I merely pointed out to Mr. Baldwin that Martin Luther King advocated for unions and a left of center economic program including guaranteed minimum income, was a civil libertarian (FBI surveillance will do that to a man), and was anti-war/anti-imperialist:

I knew that I could never again raise my voice against the violence of the oppressed in the ghettos without having first spoken clearly to the greatest purveyor of violence in the world today, my own government. - MLK, April 1967
Those are Left Wing positions... and oh yeah,
so was Civil Rights at the time
. What is common today was once "Radical" and "Leftist" Mr. Baldwin.
Mr. Baldwin first refused to accept the Wikipedia Entry on the Poor People's Campaign which identifies MLK as far left on economic issues (guaranteed annual income is way Left) because Wikipedia is suspect in his eyes (knowledge has a well known liberal bias). But he didn't at least complain when I submitted an NPR piece proving King was by Mr. Baldwin's definition "Leftist".
But it wasn't long before...
For context Mr. Baldwin said he deleted old tweets, like his Democrats "were/remain slavers" because my convo was "clutter" and I wasn't "Intellectually Virtuous." So I threw the charge back when he labeled me a racist for telling him historical facts about MLK.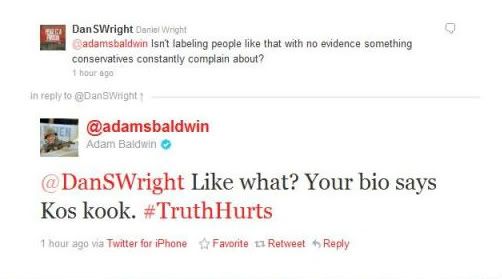 "Kos Kook?" My bio does say I diary on Kos (proudly) let's just say that was a misinterpretation. And by the way that is a constant complaint among conservatives - that people label them racists without evidence, just ask Adam Baldwin. So I repeated: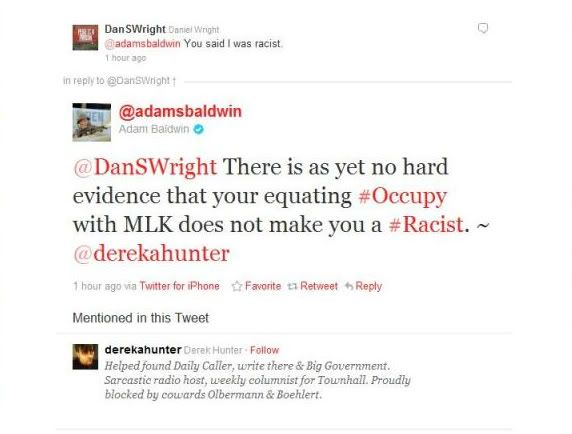 Mr. Baldwin now tries to bring in a colleague from another Breitbart site Big Government - who to his credit didn't claim what I said was racist and made a point about violence at Occupy protests or rather being selective about which protests to highlight and which not to.
Also, where is the evidence I'm NOT racist?
Remember this is a writer and activist who claimed I wasn't Intellectually Virtuous.
Now what just happened here seems a lot like what is happening in America writ large. A progressive/liberal/leftist whatever says something reasonable - gets smeared, pieces apart the smear to show it is untrue, is smeared again, proves that smear is untrue and then is just demeaned and I guess "PeeWee" is a physical description.
Now Mr. Baldwin seems like a big guy so I'm sure compared to him I would seem "PeeWee" but ... wait what were we talking about? Protest tactics!?!?
These are the people opposing Occupy Wall Street.