Quilt signed at NN10, pinned for quilting
My sister, Ann, and I are both looking forward to our trip to Providence, RI for NN12. Thanks to Kitsap River, we will have a booth in the Exhibit Hall. In addition to having a quilt for signing at the booth, we'll have some Pootie Pads available. We are also thinking of bringing some lap throws if there is interest. More info below the orange squiggle!
Pootie Pads are little, catnip stuffed quilts that have become very popular with Daily Kos pooties and their owners. The catnip is Oregon Tilth certified organic and is very, very potent. Pootie Pads come in two sizes, Original (17" x 23") and Petite (9" x 13.5"). Original size is $35, Petite is $18 or two for $35. They make great gifts for cat people.
Here are some Daily Kos pooties loving their Pootie Pads:
If you would like to buy a Pootie Pad at NN12, will you let me know in the poll below? If you would like to order one or more now, you can use these PayPal links (our website is still under construction). Fabric choices are shown here.
Original size Pootie Pad -- $35 + $5.15 shipping
One Petite Pootie Pad -- $18 + $5.15 shipping
Two Petite Pootie Pads -- $35 + $5.15 shipping
Let us choose a fabric for you -- or if you see a fabric below that you like, tell us in a note using the names below the pictures.
Here is Loki with his Pootie Pad:
We also make charm lap throws. They measure 45" x 60" and are made of 100% cotton fabric and very fluffy, best quality polyester batting. They are light, soft, and warm. We can make them in any color. Cost is $150. (Think Mother's Day?) Here is an example: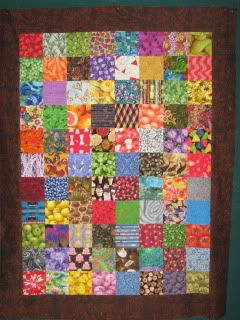 With an espresso brown border and backing
Ann is currently making a pootie themed lap throw (heaven knows, we have a few cat fabrics!). But we can do anything. Flowers. Sports. Cooking. Maybe one in orange?
Please let me know in the poll if you would be interested in Pootie Pads or lap throws at NN12. If you would like something sooner or you won't be in Providence, please comment!