Every day is a new day and with that, a new opportunity

EVERYONE is welcome and please join us each morning at 7:30 AM PACIFIC
to tell us what you're working on, share your show & tell, vent, whatever you want...
...this is an open thread. Nothing is off topic.
Speak to me. I'm listening.
~~~
TODAY'S COMMUNITY PARTICIPATION FEATURE:
--I'm really enjoying reading every single entry of yours in our past daily diaries! So interesting and I love how our memories inspire others to recall their memories.

Saturdays in July are perfect for grilling and chilling. What are your specialties?
If you have photos please post them. If not, we need a mouth-watering description.
Here are mine:
First, build a kick-ass fire. I use only hard wood, no yicky petroleum based briquets:

I have a few specialties. The first one is my cedar planked salmon, it's guaranteed to make you click my heart icon and follow me.
Before:

After:

Another specialty, lamb tenderloins. Before:

After, Plated, lamb tenderloins with fresh rosemary:

Naturally raised Porterhouse steak, before:

After:

Sliced elk rib rack, before:

After:

[urp!]
Latest Updates: Kossack Regional Meet-Up News Below the Fold
COMMUNITY BUILDING UPDATES:
Let's build communities!

Every region needs a meat-space community like SFKossacks.
We take care of each other in real life.
I urge YOU to take the lead and organize one in your region.
Please tell us about it if you do and I'm here for advice.

~

THINK GLOBALLY, ACT LOCALLY

If you see Kossacks organizing meet up events please Kosmail me or make a comment below so I can keep a running log of them.
A preliminary report on the NOLAKossack meetup held this past Thursday. A future photo diary is promised.

Yesterday's meetup was a great success (19+ / 0-)
We had a total of 11 people show up: Crashing Vor, cv lurking gf, noladerf, NewOrleansDem and his partner, CentristandProud, BlueMississippi, luckydog, and a surprise visit from Kelly and his wife (both lurkers here on DailyKos) plus myself. One thing that most people said as they arrived was "I've never met any Kossacks before". It gets kind of lonely for progressives in a state that has turned so red as Louisiana.

I have pictures but forgot to pack my memory card reader so posting them will have to wait until I get home. I'm planning a wrap up diary that I'll post next week.

Your help was invaluable navajo, as was Bill in Portland Maine's. The turnout was easily double what I expected and I have both of you to thank for that.

Inca, 1995-2007 and Maya, 1996-2011; The Siamese Synchronized Sleeping Team
KUDOS! To gchaucer2 and Phil S 33 who took up the gauntlet of the navajo challenge and began the arduous organizing task of a Kossack meet up. Tentatively scheduled for August 19th. Another round-up diary was posted by Phil S 33 and they are promising an RSVP list.
~~~
Events Currently on the Books for SFKossacks
Please see this diary for full descriptions
of each event below.

TODAY'S THE DAY! SFKossacks represent
at the California Maritime Academy!
UPDATE: Detailed Driving Directions Included Below!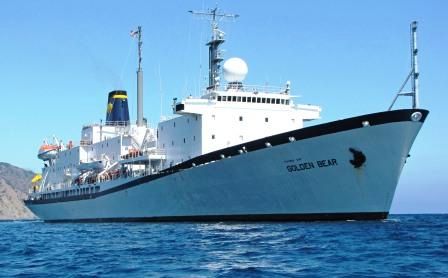 Saturday, July 21, 2012
California Maritime Academy
200 Maritime Academy Drive, Vallejo
3:30 PM
Wine, beer and beverage reception in the lobby of the Simulation Center
4:00 PM
Tour of the
Golden Bear
training ship
5:00 PM
Reception Style Hearty Finger Foods
6:00 PM
Tour of the Ship Simulator
RULES TO BOARD THE SHIP: No open-toed shoes or high heels. No children under the age of five. To board, each person must have photo identification and sign a guest registry.
Steveningen
works at the
California Maritime Academy
in Vallejo. His facility will cater the event. Steven and I will cover this cost for all of you. Wine and beer is being provided by Steveningen, Sally Cat, side pocket, no way lack of brain, jakedog42, kimoconnor and navajo.
Transportation Instructions:

Getting to Vallejo from the City is done one of two ways. There is the ferry and accompanying bus lines that run from the Ferry Building. Plan an hour but a very very pleasant ride.
There is BART to El Cerrito Del Norte station and a bus that runs every twenty minutes to Vallejo which is about an additional 15 minute ride.

For people relying on public transportation to get to the campus, Brian and I could certainly meet people and drive them to campus and take them back to the terminal.

There should be enough drivers going who can stop by any of the terminals and pick people up.
Other options are to take BART to stations near drivers' homes where you can be picked up.

It is noted if you don't have a car, we'll get you there. Tell us in the comments what your needs are.
RSVP LIST:

1. Steveningen
2. Steveningen's husband
3. navajo
4. Meteor Blades
5. Sally Cat
6. side pocket
7. Mrs. side pocket
8. jbeach
9. kimoconnor
10. elfling
11. Hunter
12. elfling & Hunter offspring
13. elfling & Hunter teen guest?
14. Elisa
15. Markos
16. Elisa & Markos offspring
17. Elisa & Markos offspring
18. dharmasyd (has car, can carpool)
19. pat of butter in a sea of grits
20. pat of butter in a sea of grits offspring
21. no way lack of brain
22. linkage
23. cooper888
24. Mooney
25. mrsgoo
26. mahakali overdrive
27. jakedog42
28. Delta Hotel
29. tgypsy
30.

Saturday's forecast:
Saturday: Sunny, with a high near 83.
Saturday Night: Mostly clear, with a low around 56.
Bring a wrap.

**NEW** Driving directions to the California Maritime Academy.

If you are coming from San Francisco take route 80 over the Carquinez Bridge. Take the first exit, Sonoma Boulevard, immediately after the toll booth ($5.00). You will go under the freeway. At the first stop light take a left onto Maritime Academy Drive. If you are coming from the north, take the last exit before the Carquinez Bridge which is Sonoma Boulevard exit. Continue straight at the stop light and onto Maritime Academy Drive. You will see a hotel named the Vallejo Inn and will know you are on the right track.

Continue driving until you come to your first stop sign. You will see the entrance to the campus. After the second stop sign continue down the drive and park in the first parking lot you come to on the right hand side. Our Administration Building is directly in front of this parking lot. Walk along the sidewalk on the eastern side of this building. There will be a sandwich board with the name of the event pointing you in the right direction. Continue walking until you come to a copper clad building with two distinct curved towers. This is the Simulation Building where the event is being held.

Parking has been pre-paid for this event.
Tomorrow we start to work on fine tuning the events below:
Sunday, August 5th
Sunday Streets
11 a.m. to 4 p.m.
Valencia Street from 14th to 24th and 24th Street from Valencia to Hampshire
Transportation and Parking Directions

11:00 AM - 3:00 PM Walk on your own around and visit all the booths and stores.

Then, we'll all convene at a watering hole, its location as yet to be determined, at 3:00 PM. I'll announce the address in this daily diary as soon as citisven and kimoconnor select it. We can walk in a group to Kim's flat.

4:00 PM - ? Potluck backyard bbq kimoconnor's lovely city garden.


Bonus! Red Carpet Rollout for angelajean! She's visiting relatives in the Bay Area and will join us at this event.
Sunday, August 19th
Red Carpet DOUBLE Rollout
Meet Tim Delaney and figbash!
TIME: Early afternoon TBD
PLACE: Heart's Desire Beach at Tomales Bay State Park

Stay tuned!




Okay. Floor's open.


Tell us what you are doing on this NEW DAY?