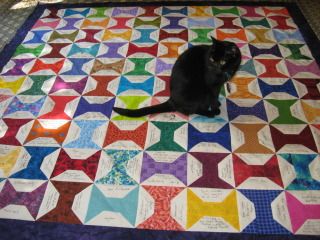 Quilt signed in Providence, NN12
We started a social document in Providence -- many, many people signed the quilt blocks, not just with their names but with a message. In August, some lucky person is going to win this quilt and can read all the messages at their leisure, for years to come. But I thought I would share some of them now.

Never down, never out -- Forward!



Intention!

We can make it a world of peace.

Onward and upward! (and forward, ever forward)

Never stop working to make a better world!

May wings of light & love always lift you higher

Time to fight for the America we all love

We can build a better world -- work together

Keep hope and dreams of peace alive

Jobs now!

It gets better.
That's just a little taste. This quilt is chock full of positive intention. One of those intentions is to elect better Democrats -- and that is why this quilt fundraiser is for
Darcy Burner
, candidate for the Congressional seat for WA-01. On issue after issue that progressives care about, it is clear that she will do right by us.
Click this thermometer to donate to her campaign.
And it could be yours. Entry rules are below the orange squiggle.

The entire month of July will be a quilt fundraiser for Darcy Burner, candidate for Congress, WA-01. There will be a drawing for the quilt signed in Providence at NN12 the first week in August. Everyone can get one chance per day, each and every day in July by EITHER donating $10 or more to Darcy Burner's campaign through this Act Blue page OR by writing a 50-word-or-less essay on this topic: How can we bend the arc of history more towards justice for all?. If we deem your essay to be on topic, it will count for a chance. Send essays to winglionquilts AT gmail DOT com with "Darcy Burner" in the subject line. To recap, earn an equal chance once a day every day in July by either donating or sending a short essay (one or the other). That means everyone who began at the beginning can have as many as thirty-one equal chances in this drawing. The first week in August, I will find a neighborhood child to do the drawing and someone will become the new owner of the quilt.
Quilt stats: It will be about 66" square, sleeved for hanging. The fabric is cotton, the batting a fine wool. I am quilting it by hand and am close to finishing it.

Click on the thermometer to donate!
Here is a quilt fundraiser diary schedule for the rest of July. Please let me know in the comments if you would like to post a diary. Thank you!
Sunday, July 22
Monday, July 23 - Sara R
Tuesday, July 24
Wednesday, July 25 - teacherken
Thursday, July 26 - llbear
Friday, July 27 - belinda ridgewood
Saturday, July 28
Sunday, July 29
Monday, July 30 - Patriot Daily News Clearinghouse
Tuesday, July 31
Bend the arc of history more toward justice for all! Contribute to Darcy Burner's campaign!