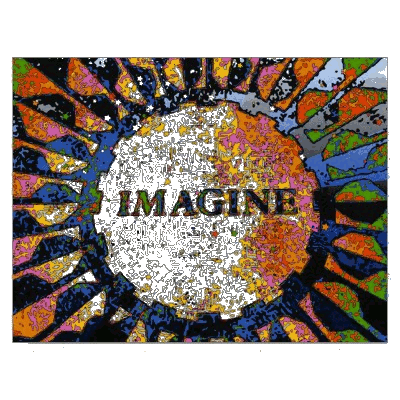 Welcome! "What's Happenin'?" is a casual community diary (a daily series, 8:30 AM Eastern on weekdays, 10 AM on weekends and holidays) where we hang out and talk about the goings on here and everywhere.
We welcome links to your writings here on dkos or elsewhere, posts of pictures, music, news, etc.
Just about anything goes, but attacks and pie fights are not welcome here. This is a community diary and a friendly, peaceful, supportive place for people to interact.
Everyone who wants to join in peaceful interaction is very welcome here.
---
Good Morning!
"Before the drone strikes started, my life was very good. I used to go to school and I used to be quite busy with that, but after the drone strikes, I stopped going to school now. I was happy because I thought I would become a doctor."
[ ... ]
"Before [the strike], my life was normal and very good because I could go anywhere and do anything. But now I am not able to do that because I have to stay inside. . . . Sometimes I have really bad headaches. . . . [and] if I walk too much [on my prosthetic legs], my legs hurt a lot. [Drones have] drastically affected life [in our area]."

~ Sadaullah Wazir, teenager, former student from the village of Machi Khel
in Mir Ali, North Waziristan, was severely injured in a September 2009
drone strike on his grandfather's home. -- "Living Under Drones" (PDF)
---
Bombs Away - The Police

Drop in
any time
day or night
to say hello.

---
News and Opinion
A new drone war in North Africa?
White House secret meetings examine al-Qaeda threat in North Africa

U.S. officials said the discussions have focused on ways to help regional militaries confront al-Qaeda but have also explored the possibility of direct U.S. intervention if the terrorist group continues unchecked.

"Right now, we're not in position to do much about it," said a senior U.S. counterterrorism official involved in the talks. As a result, he said, officials have begun to consider contingencies, including the question of "do we or don't we" deploy drones.

The effort has been led by White House counterterrorism adviser John O. Brennan and involves top officials from the CIA, State Department and Pentagon. At the same time, the U.S. military commander for Africa has crisscrossed the region in recent weeks, making stops in Mauritania, Algeria and other countries that could become part of a peacekeeping force for Mali.
Dying under the drones

According to a Washington Post report, of the 581 militants killed by these drone strikes in 2010, two were on the most-wanted list. A "militant," by the way, is just a military-age man the U.S. government has killed by drone. If you've got a certain kind of faith in bureaucracy, you'll trust that those 579 were a threat to your freedom.
Next week, two men who aspire to be president of the United States will debate one another on national television. But no one will ask them why the U.S. might need an arsenal of 7,000 drones, how the U.S. government can conscionably call each military-age male it kills with those drones a "military combatant" just by virtue of having killed him, how it is that Barack Obama can refuse to offer any information at all on the process by which he decides whom to target.

It's time we faced up to the failures of drone warfare
A devastating report into the use of drones by the US Army should make us all question whether these aircraft should be America's weapon of choice.

It seems impossible to justify in any kind of ethically-minded cost-benefit analysis. What's more, there is a strong case to be made this kind of drone use is criminal under international and US law. President Obama - who wound down operations in Iraq and Afghanistan but intensified the drone assault - should heed the sensible recommendations made in the report in order to increase accountability and limit the possibility of loss of innocent life.

Additionally, he should follow the advice of UN special rapporteur on human rights and counterterrorism, Ben Emmerson, and open the US to an independent investigation of its use of drone strikes.

Of course, knowing the power structures in the world we live in, that's unlikely to happen. The US, like Britain and many other western nations, is simply too powerful to be persuaded to be held to the standards it typically expects of others.
'Intimidation, Threats, and Lawyers': The Great American Gas Fracking "Land Grab" Introducing a couple from Texas who, despite their objection, had the natural gas sucked out from beneath their property by the Chesapeake Energy Corporation without paying a dime in compesation, an investigative report by Reuters recounts how the gas giant has embarked on an aggressive nationwide "landgrab" with a series of legal maneuvers and industrial fracking equipment in tow. In a special report, The casualties of Chesapeake's "land grab" across America, a review of official state records by Reuters shows that since January 2005, the Texas agency in charge of granting waivers under a land regulation statute—known as Rule 37—"rejected just five of Chesapeake's 1,628 requests" to access land without the owners permission. The exemptions granted by the state "effectively secured [Chesapeake's] ability to drain the gas" from private properties without royalties or other payments. ... And in Ohio, where fracking has also come under heavy fire, State Rep. Mark Okey, a Democrat who represents communities where drilling has been heavy, said of the gas company: "They believe in intimidation tactics. They threaten you. They will yell at you….It's all about getting you to sign [the lease agreements]."
New York Attorney General sues JPMorgan for alleged mortgage securities fraud New York Attorney General Eric Schneiderman on Monday filed a lawsuit against JPMorgan Chase for alleged fraud relating to mortgage-backed securities, a type of investment that consists of mortgage loans that have been pooled together. The case is the first brought by a White House task force called the Residential Mortgage-Backed Securities Working Group against a major bank. President Barack Obama formed the group in January to investigate fraud in the mortgage-backed securities market. The task force alleged that the bank "kept investors in the dark" regarding the quality of the loans it packaged into mortgage-backed securities. The bank failed to disclose problems with the mortgage-backed securities with its investors, such as the fact that the loans had been made to borrowers who "were highly likely to default," according to the lawsuit.
---
Blog Posts and Tweets of Interest
Voting while Trans
Afghanistan 1 out of 5 combat deaths are insider attacks
World Heritage Site Destroyed: Another Casualty of War
My Basic Question
September 2012
Afghanistan: NATO Wakes Up and Wants to Leave
Bernanke: No Deficit Reduction Now, Economy Still Needs Support
Health Care Visits Down, Health Care Spending Up
Confusion Rules in Afghanistan
---
The Police ~ Murder By Numbers
---
We believe in fighting with another purpose -- waging peace.
While we will write and debate about many topics on our new site, one that will always be in sharp focus is the issue of war and peace.
"Like any other people, like fathers, mothers, sons and daughters in every land, when the issue of peace or war has been put squarely to the American people, they have registered for peace."
~ Paul Robeson