Six years ago, an Italian man lost his life due to injuries suffered while he rescued several young women three years earlier: but that was only part of his amazing story, which you can read after the jump ...

But first: Top Comments appears nightly, as a round-up of the best comments on Daily Kos. Surely you come across comments daily that are perceptive, apropos and .. well, perhaps even humorous. But they are more meaningful if they're well-known ... which is where you come in (especially in diaries/stories receiving little attention).

Send your nominations to TopComments at gmail dot com by 9:30 PM Eastern Time nightly, or by our KosMail message board. Please indicate (a) why you liked the comment, and (b) your Dkos user name (to properly credit you) as well as a link to the comment itself.
In December of 2003, I happened upon this story written by The Guardian newspaper's correspondent in Rome,
John Hooper
- who is always worth reading anyway, as this dispatch on former premier
Silvio Berlusconi
was as sharp (and yet succinct) a description of the power that Signor Berlusconi (mercifully) no longer has.
But in addition: John Hooper was, I believe, the first anglophone journalist to tell the story of Natale Morea - and how apropos to read it as Christmas, 2003 approached. For the name Natale in Italian means Christmas, making it truly a "Christmas Story".
Alas, it has been difficult to find accounts of the rest of his story in English - some of the accounts in Italian do not tally with others, and the Babelfish or Google translations are ... well, as inadequate as you'd imagine. After looking from time-to-time for more information, I finally decided to publish this, anyway .... the story is compelling, regardless of the details, and perhaps a more complete account is out there, waiting to be told ... but let's begin.
------------------------------------------------------------------------
Natale Morea was born sometime in 1946 in the town of Massafra - in the Apulia region of south-eastern Italy (in Italy's "heel" region, geographically). From his youth, Natale knew he was different: as he liked playing with dolls as much as sports and thought of himself as much a girl as a boy. In the 1950's, this would be a difficult proposition almost anywhere - in rural, socially conservative southern Italy .... well, you can sense what it was like in elementary school.
At some point, he began to think of himself as a trans-gendered child (even though that word probably didn't exist) and may have even become a cross-dresser (at least in terms of that era). High school, though, was no better; even some of the teachers got on his case. And so in 1977 (at age 31) he got together enough money to depart for the city of Milan in the north - where in one account, "everyone was so busy, they didn't worry about anyone else's business".
Here is where accounts of his life start to diverge: John Hooper describes Natale Morea as finding a factory job selling costume jewelry, while another essay stated that he started his own business selling women's clothes. Either way, he was content.
Until, that is, the economic times changed. In John Hooper's account, the factory closed down, and a subsequent business venture failed. In the other essay, a major recession led to the closing of his dress shop. Unemployed either way, Natale Morea visited his old hometown in 1996 (nearly twenty years after he left) and found that little had changed ....

(His nephew) Angelo Morea told the newspaper Corriere della Sera, he remembered his uncle breaking down in tears one day. "It would have been better for me to have been born crippled than gay," he quoted him as saying.
Eventually, he made his way to the capital city of Rome ... but had no luck finding work, especially as a transvestite gay man. In time, he became a homeless person, sleeping wherever he could .... and in December, that can be a cold place.
It was here, as John Hooper's account tells it, that Natale Morea's fate was changed forever:

It was the early hours of a cold Sunday morning. A group of young women had left a nearby district of bars and clubs when they were set upon by a band of young men. It is still not clear to the police whether they wanted to rob them or rape them.

In any event, it was the sort of ugly, violent incident from which many a "respectable" member of the public would turn away in fear and horror.

Natale Morea did not. He put himself between the women and their attackers, allowing them to escape, and paid for his courage with a beating so dreadful it put him into a coma.

In a split second of decision, Natale Morea - the "queer", the "cross-dresser" - proved himself to be more of a "real man" than any of his many persecutors, and, in so doing, went from a social outcast to a national hero.
He was visited in the hospital by the young women he had saved, and also by
Walter Veltroni
- then the mayor of Rome - in the photos below. In addition, the president of Italy (Carlo Ciampi) awarded Natale Morea the
Medaglia d'Oro al Valore Civile
(Gold Medal for Civil Valor) as part of his 2003 year-end honors a few days later.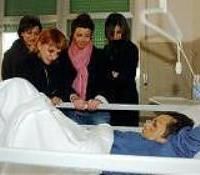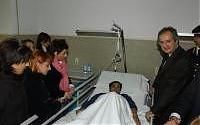 By his action, the young women were able to summon Italy's nation police, the Carabinieri who arrested the suspects that very night. In 2005, both Mirko Simoni and Stefano Zerilli (shown below) were sentenced to 13-1/2 years imprisonment for their crimes.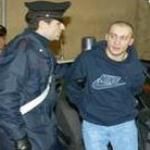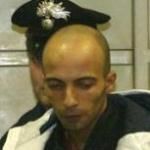 Several months later, Natale Morea came out of his coma and was told what had happened. He had received many gifts in the interim, and one of them was a keyring to an apartment in his old hometown of Massafra - with a note from the mayor that read thusly:
A special gift from the people of our village to our hero Natale Morea. Please come back, you are welcome here forever.
And he did return home, reading the many cards and letters sent from around the nation at his new flat. But the extent of the beatings he sustained took their toll, and so he moved in with his sister to receive care - where he eventually died from those injuries in May, 2006 at the age of 60.
"Italy will not forget" said president Giorgio Napolitano in a letter to his family. And despite the problems of translation I have alluded to before: it appears that his funeral was well-attended from around Massafra and well beyond ... and that these photos came from his funeral Mass (though I can't be certain).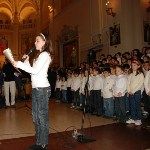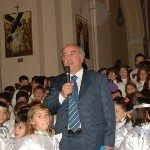 That wasn't even the end of the Natale Morea story. In 2010, the village of Monfalcone (in the north of Italy) decided to change the way they classified the homeless. Here the translations are even more difficult to discern - but as near as I can tell, it appears that a 'virtual street' has been created with the name Via Natale Morea - which will be the address listed on identity cards of those who are homeless, if I understand this policy correctly. What a fitting tribute to this man: especially since in Italy one can normally not name a street after a person until ten years after their death.
I'll close this tribute to Natale Morea with a song written by a fellow Italian, Piero Piccioni - a film composer and the first Italian to lead a jazz group ever broadcast over the radio. He wrote the theme song to the film Light at the Edge of the World - based upon a Jules Verne novel - and this tune has a somewhat elegiac quality to it. So much so that I'd like to have this version below - by the tenor saxophonist Pharoah Sanders - performed at my funeral. Somehow, I think Natale Morea might have liked to have it played at his funeral, too.
Now, on to Top Comments:
-------------------------------------
From land of enchantment:
In the diary by Grizzard exhorting Joe Biden to "Go get 'em, Joe!" - Remediator has words of praise and appreciation for the vice president that made me smile.
From
cohenzee:
In the diary by Laurence Lewis about how our pal Mitt has still not released his tax returns - blueoasis has a good one for today.
From
aeou:
In the diary by Jason Libsch about site updates - petral had a good point about loss of functionality on the site.
From
railfan:
In the third installment of tonight's VP debate live blog - first, yg17 has an oops typo moment - then adds an immediate correction - but too late to not be a Top Comment.
From
nomandates:
In the diary Why I Vote for Democrats by the intrepid JanF - an astute contrast by Blacksheep1 examines the natures of our President and Vice President.
From
lineatus:
In the front-page photo diary of the VP debate: Cali Scribe suggests tomorrow's headlines - that shouldn't risk getting lost in these long threads.
And from
Ed Tracey
, your faithful correspondent this evening ........
In the Morning Elections Diary about Tennessee GOP representative Scott DesJarlais - the anti-abortion rights physician who once had a relationship with a patient, then tried to persuade her to get an abortion - TofG is not optimistic anything will come of this.

In the diary by Joe Hills Ghost about Rep. Paul Broun (R-GA) - who is a doctor yet declares that evolution and the Big Bang theory are "lies straight from the pit of hell" - scientist Kossack JRElliott considers Broun to be Unfit for life in a modern world .... and describes in detail why.

In the various diaries on Senate candidate Josh Mandel (R-OH) - who seems to come unglued over radio hosts asking even mildly difficult questions - some Kossacks are just wigged-out by Mandel's appearance. Howdidigethere thinks he resembles someone in a 1980's John Hughes movie (among other possibilities). Meanwhile, MBishop1 believes Mandel resembles not so much a Senate candidate ... but the high school yearbook photo of one (then goes out on a limb with another prediction).
TOP PHOTOS
October 10, 2012
Next - enjoy jotter's wonderful PictureQuilt™ below. Just click on the picture and it will magically take you to the comment that features that photo.



(NOTE: Any missing images in the Quilt were removed because (a) they were from an unapproved source that somehow snuck through in the comments, or (b) it was an image from the DailyKos Image Library which didn't have permissions set to allow others to use it.)
And lastly: yesterday's Top Mojo - mega-mojo to the intrepid mik ...... who rescued this feature from oblivion:

1) "Camouflage" by Wisper — 306
2) He went tacky, she went khaki by ontheleftcoast — 290
3) Call up his offices. Ask if he's paid his child by The Swimmer — 253
4) Liz Rocks - nobody has expressed these truths by moose67 — 222
5) The people of Massachusetts should feel... by markthshark — 220
6) WTF? by suesue — 194
7) Mocking people's clothes always a crowd pleaser. by lexalou — 170
8) She handled that with a lot of class... by PvtJarHead — 167
9) You forgot to mention that he has by Fury — 152
10) For Republicans, morals are not a set of beliefs. by TheOrchid — 148
11) Methinks the DCCC and Pelosi's office might need by brooklynbadboy — 144
12) Sweet! by lastman — 126
13) you make a good point! by dylanfan — 125
14) It's one of those misogynistic dog whistles by elmo — 119
15) The Plan was engaged last Wednesday by MooseHB — 114
16) My husband Stef and I by Sal Bovoso — 111
17) I love it when a plan come together!n/t by JeffW — 106
18) They were serving their country by GOPGO2H3LL — 106
19) I live in California by mediamaverick — 103
20) I do, I can hardly wait to cast my vote for her! by HarpLady — 95
21) Lawrence Has Old Fashioned Values..... by snapples — 94
22) Yeah, we don't want to piss them off. They might by nailbender — 92
23) since it appears he is a doc who is bedding by entlord — 91
24) This is good news. by NMDad — 90
25) She's such a girl, she left TWO legs in Iraq. by earicicle — 89
26) Buyers' remorse by Frank Palmer — 88
27) Many things to love about by Remediator — 88
28) Glowing reviews for Warren by Scarce — 85
29) Khaki, the new pink. by terence — 83
30) Also his refusing to look at him by Brooke In Seattle — 82