Over the last two weeks I have been following Charlie Cook's ratings closely. Today he updated them again. This is my cheat sheet: it includes his rating, his conversation with pollsters AND the average margin in each state and the probability of Obama winning the state. As you note, I have two ratings, one with Right Wing Pollsters and one without. Throughout this year, Cook has been pretty tough on pollsters like Rasmussen (and PPP to some extent). One of the reasons for this is the fact that neither Rasmussen not PPP call cells phones and he is right to raise the concern. Given PPP's track record I have left them in.
Here is my cheat sheet:

As Cook himself notes:
But the challenge for Romney isn't just that he needs to win two-thirds of the "true" Toss-Up state electoral votes. It's that in five of the six (Colorado, Iowa, New Hampshire, Ohio, and Wisconsin) Obama is still leading in most polling, particularly the last two, while in Florida, it seems awfully close to dead even. If Obama carries Ohio and Wisconsin, where he is ahead in most polling, he gets the 270 with one electoral vote to spare, so Romney could sweep Colorado, Florida, Iowa, and New Hampshire and still come up short.
One of the things to note is North Carolina. Essentially the idea that North Carolina isn't close is a function of Rasmussen and Gravis (a pollster who no one has heard of before August).
Here is the essential truth: Obama is in a strong position - certainly stronger than the press is saying.
If you run simulations (methodology described below) this is what you get:

The key here to note is that OHIO IS NOT EVEN. Because it isn't, this isn't as close as you think.
What about the national polling? Well, as I have noted before, the state polling has not agreed with the national polling for a while. Here is the comparison between state and national polls. As I noted in an earlier diary - when the two diverge the state polling is usually right. And this shouldn't be surprising: there are far more state than national polls, and there are pollsters who do them. The data is pretty clear: Obama is up between 1.5 and 2.2 points.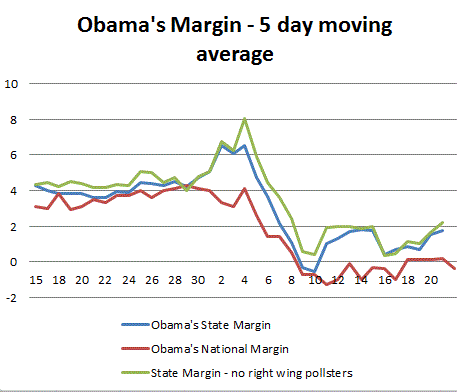 Let's look at a comparison of pollsters. As I noted before, the right is absolutely flooding the zone. You can see the effect in this comparison: note how off they are from the state average.
Methodology:
In 2010 Chris Bowers did a detailed analysis of past election results.
Essentially, what that work found was the empirical odds of winning a race with a certain lead in the polling average. To summarize:
A candidate with a .5% lead wins 56% of the time
A candidate with a 1% lead wins 64% of the time
A candidate with a 2% lead wins 78% of the time
A candidate with a 3% lead wins 83% of the time
A candidate with a 4% lead wins 89% of the time
Go here for more detail:
http://www.openleft.com/...
I take these odds, and run 20,000 simulations. The odds presented are if the election was held tomorrow.