Didn't see this posted so I thought I would.
There is more firm news on the effects of the Hurricane on the President's campaign schedule. President Obama will attend already scheduled early campaign stops Monday but will return to Washington Monday afternoon and remain there till Tuesday where he can monitor the storm from the White House.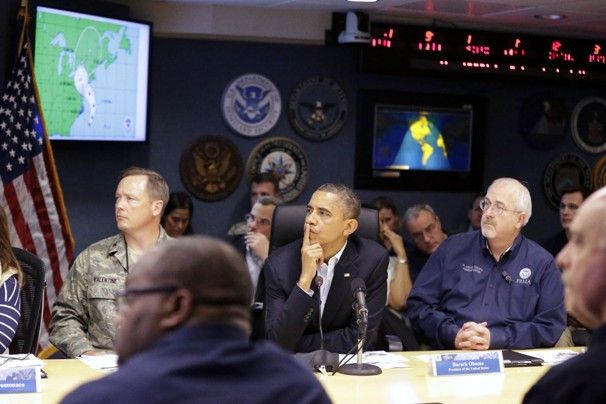 WASHINGTON (AP) -- The White House says President Barack Obama is canceling campaign appearances in Northern Virginia on Monday and Colorado on Tuesday so he can monitor Hurricane Sandy. The storm is currently forecast to make landfall along the Eastern seaboard at that time.

Obama is still scheduled to make campaign visits to Orlando, Fla., and Youngstown, Ohio Monday before returning to the White House. Other changes to the campaign schedule will be announced as warranted.

The White House says Obama is being regularly updated on the storm. He has directed his team to work to bring all available resources needed by state and local governments preparing for the storm, which could affect a third of the country with high winds, heavy rains and flooding.
This sounds like the prudent thing to do (despite Newt Gingrich's
whining
earlier today).
Romney has also reshuffled his schedule.

Romney nixed three stops in up-for-grabs Virginia on Sunday, opting instead to campaign with running mate Paul Ryan in Ohio before heading Monday to Wisconsin