Back in the day…back, back, back when I was living on the streets of San Francisco's Haight Ashbury neighborhood…back in 1968 when I was 20 years old, there was a presidential election going on as well. Republican Richard M. Nixon defeated Hubert H. Humphrey that cycle. Nixon was one scary dude.

What's right for Richard M. Nixon is right for the country. And what is right for the country is right for the world.
But it wasn't as scary as wondering where our next meal was coming from…or where we would sleep at night…or how cold and wet we would be come morning.
In 1968 twenty-year olds were not allowed to vote, so even had we been fiercely involved in the election, we would have had a very limited impact.
Here we are 44 years later and there are still homeless young people. And after the election which we hope we will be able to celebrate, they will still be homeless.
HHS estimates that the number of homeless and runaway youth may reach 1.6 million per year. Research suggests that up to 40 percent of those youth are LGBTQ (NGLTF's An Epidemic of Homelessness.
Since only 3-5% of the general population identifies as LGBTQ, we can see that there is a huge problem here.

Family conflict is the primary cause of homelessness for all youth, LGBT or straight. Specifically, familial conflict over a youth's sexual orientation or gender identity is a significant factor that leads to homelessness or the need for out-of-home care. According to one study, 50 percent of gay teens experienced a negative reaction from
their parents when they came out and 26 percent were kicked out of their homes. Another study found that more than one-third of youth who are homeless or in the care of social services experienced a violent physical assault when they came out, which can lead to youth leaving a shelter or foster home because they actually feel safer on the streets.
And the results of homelessness on LGBTQ youth are mental health issues, substance abuse, risky sexual behavior, victimization and ultimately criminalization.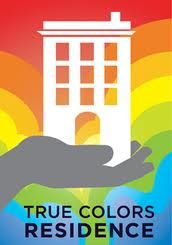 Cyndi Lauper had her eyes opened a little over 5 years ago and has chosen to try to help. I've highlighted her True Colors Fund and the True Colors Residence in the past.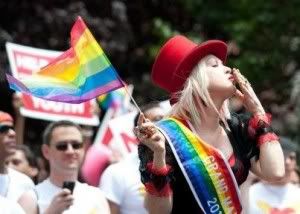 And I covered the opening of her Forty to None Project back in June of this year.
Other diaries I've done about LGBTQ youth homelessness:
3/28/12: Blueprint for Equality (Part 2): Housing and Homelessness
2/18/12: Homelessness of GLBT Youth a Nationwide Problem
10/29/11: All Children Matter
9/24/11: The HOME Act
12/17/10: Homeless for the Holidays
8/17/10: Homeless LGBT Youth, Lost in the Crowd
9/26/08: Ketchup Soup (a primer)

After a year of development, we are proud to launch the result of our extensive research – the Forty to None Project – the first national program to focus solely on youth homelessness and its impact on gay, lesbian, bisexual and transgender young people. The Forty to None Project is committed to doing all it can to help to bring an end to this epidemic, and reduce the disproportionate percentage of gay and transgender youth who are homeless from 40% to none.
Cyndi's foundations and projects use a three pronged approach, addressing education, advocacy, and empowerment.
Cyndi has gathered a lot of talent together for a benefit concert on December 8 at NYC's Beacon Theater to raise awareness of the problem and raise funds for the Forty to None Project. Appearing in Cyndi Lauper & Friends: Home for the Holidays will beAdam Lambert, Terri Nunn, Rita Coolidge, Sarah McLachlan, Whoopi Goldberg, Rosie O'Donnell, Roberta Flack, St. Vincent, Emily West, Alexis Krauss, Hunter Valentine, Andy Cohen, and others to be named later. The event will be hosted by Carson Kressley. It will also include a sneak preview performance by the cast of the soon-too-be-Broadyway mucical Kinky Boots (book by Harvey Fierstein, music and lyrics by Cyndi Lauper, directed and choreographed by Jerry Mitchell).

When I first learned that up to 40 percent of all homeless youth in this country identify as gay, lesbian, bisexual or transgender I was shocked and saddened. For far too long homeless youth have not received the attention, resources and funding necessary to bring an end to this epidemic. My hope is that through this inspiring evening of music and comedy we can raise awareness and much needed funds to help these young people through our newly launched Forty to None Project.

--Cyndi Lauper
Ticket
prices range from $35 to $150.