This was originally published on Election Day when many Kossacks had better things to do than read a blog.
Seattle Mayor Mike McGinn really threw down the gauntlet on Global Warming to Big Coal (Peabody)!

Report: Coal trains would snarl Seattle traffic

By Mike Lindblom
This news comes as no surprise.

Seattle Mayor Mike McGinn said Monday he'll help unite other Northwest officials to oppose coal exports, as he released a report saying coal trains would increase traffic congestion in the city.

Four street crossings between Belltown and the waterfront, and four crossings in Sodo, would be blocked as many as 18 times a day for an average of five minutes, said the analysis by consulting firm Parametrix.

McGinn is responding to a proposal to ship coal from Wyoming to the proposed Gateway Pacific Terminal at Cherry Point, north of Bellingham. He and City Councilmember Mike O'Brien wasted little time going to the larger issue: They don't want Washington state to act as an enabler for global warming.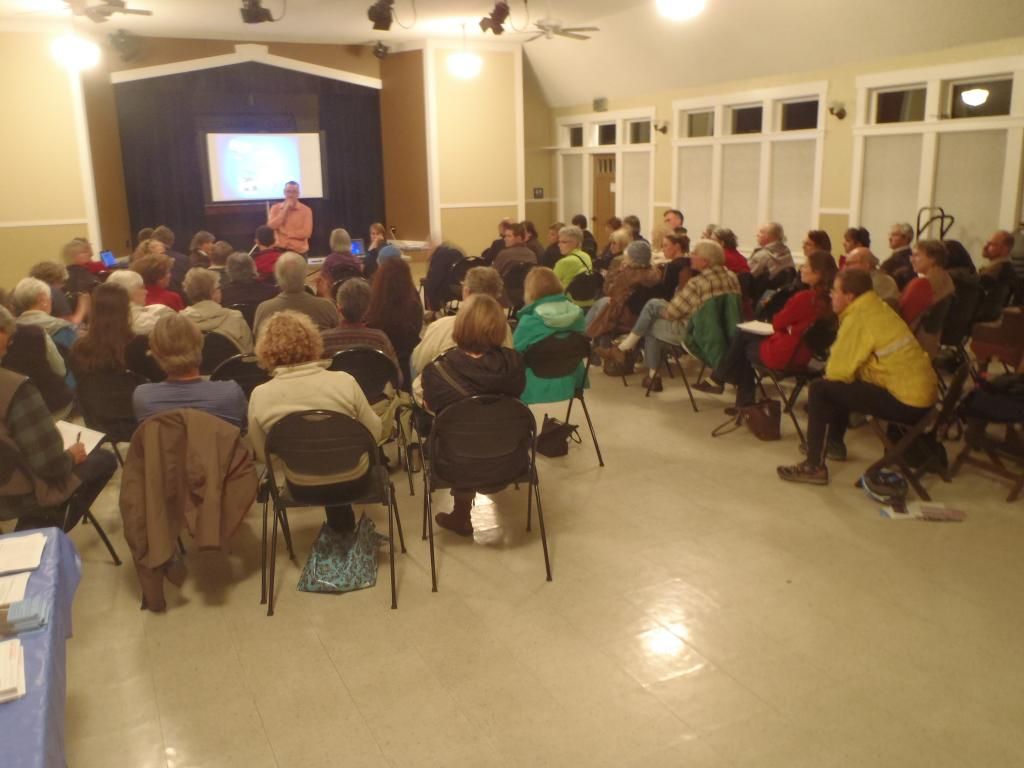 Mayor McGinn gave some opening words to the coal port scoping commenting workshop Monday night last week in Ballard, led by fellow Kossack James Wells (pictured above)
I attended the third scoping hearing last night. The main level of the auditorium was fulled to capacity with an overflow crowd backing up when I arrived, then the balcony was opened to accommodate the large crowd.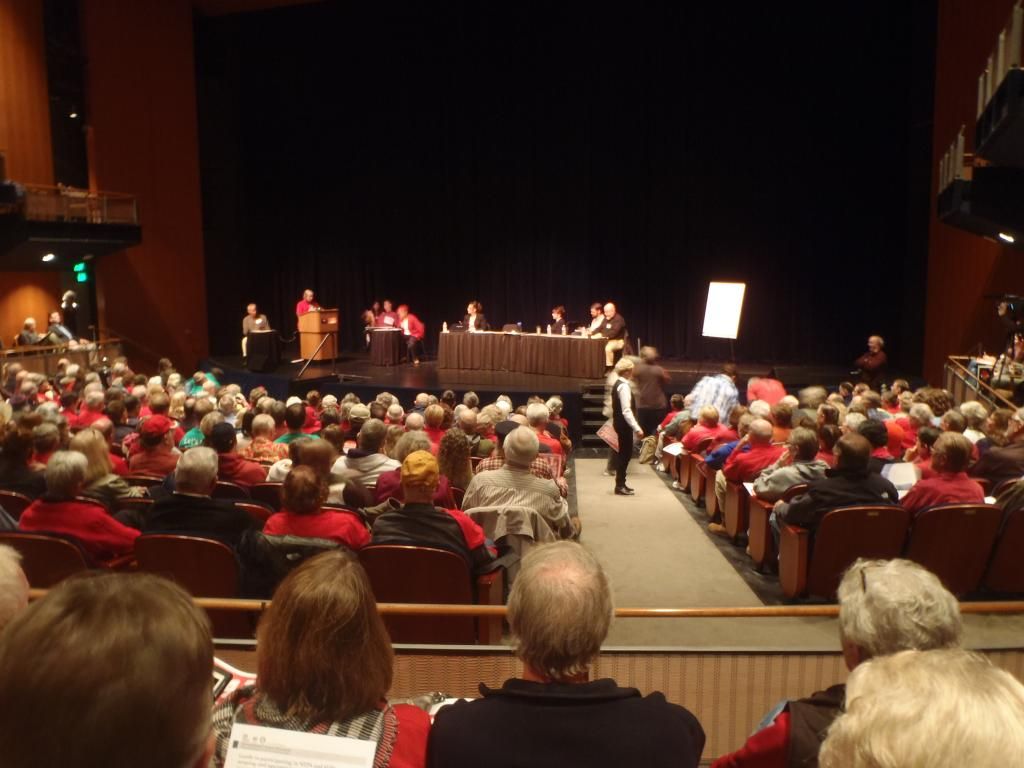 As with the two previous scoping hearings the vast majority ofthose attending were overwhelmingly opposed to the Pacific Gateway Terminal Project. The Mayors of Everett and La Conner shared their concerns about the project in comments.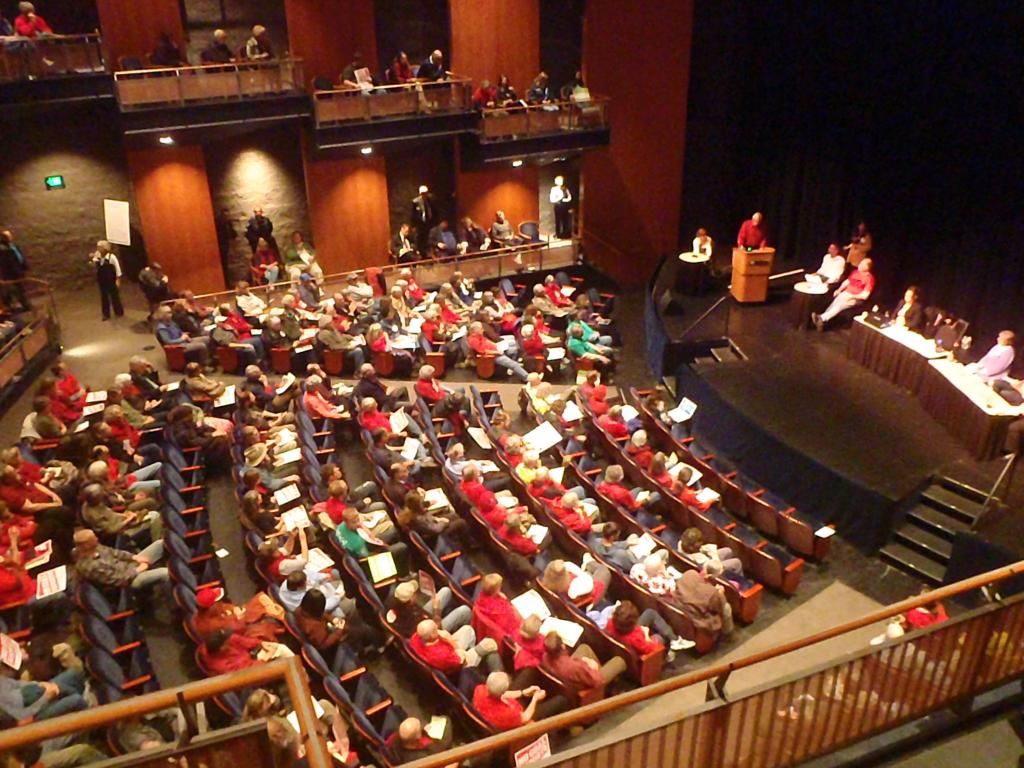 One woman who lived next to the tracks came to listen then decided to offer a comment after she arrived. She described how the trains hauling the heavy coal broke windows, sent dishes crashing down, cracked the foundation resulting in damaging flooding and an expensive repair, broke their and their next door neighbor's sewer lines in a three day span of heavy coal train traffic.
A man who lives on nearby Fadalgo Island brought a bottle he found on the beach In it he said he found a long list of concerns on a note written by an Orca Whales to share with the panel, and read them. One particularly strident woman brought a cheer from the usually silent audience.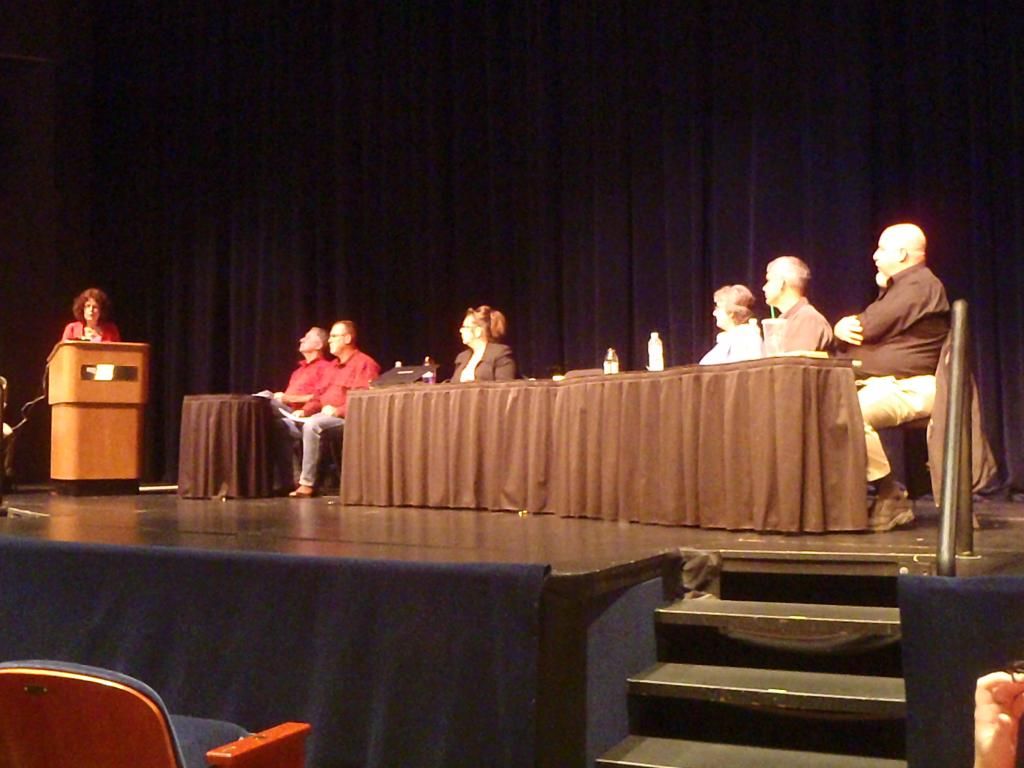 I talked to my friend Carlo from Edmonds after then hearing. He has to take time off work this week to return to Helena Montana for a pretrial hearing. He was one of the 23 people from all over the country arrested in the Montana Capital Building during a week of anti-coal protests in August.
After the hearing I had just ordered dinner at a counter at an Anacortes Pizzeria when a couple of Republican campaign volunteers wearing stickers for Rob McKenna saw my coal train sticker and asked me a number of questions about the hearing. There were also worried about the coal trains, and didn't think the proposed terminal should be approved without a lot of changes to the plan.
The next Scoping Hearing is on the 13th in Seattle. If there's any way you can attend please come.
Also see: 57 NW Tribes join call for Programmatic Environmental Impact Statement on Coal Ports
and They've got the money. We've got the humans!
Please take the time to attend one of upcoming five Scoping Hearings if you can.
11/13/12 – 4-7 p.m. Thursday, Washington State Convention Center, Ballroom 6F
11/29/12 – At Ferndale Events Center, 5715 Barrett Road, Ferndale, WA 98248 from 3pm-7pm
12/4/12 – At Spokane County Fairgrounds, 404 North Havana Street, Spokane Valley, WA 99202 from 4pm-7pm
12/12/12 – At Clark College, Graiser Student Center, 1933 Fort Vancouver Way, Vancouver, WA 98663 from 4pm-7pm
You can also submit as many comments as you want on aspects of the project that are a concern to you HERE