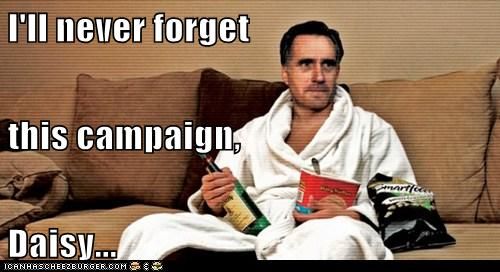 I should know better than to mix a humorous photo with a serious news story, but I am who I am
Mitt Romney just doesn't know when to quit. Rather than seek some recovery of his dignity in silence, today in a conference call to his financial supporters, he chose to descend lower, as reported in Romney Blames Loss on Obama's 'Gifts' to Minorities and Young Voters, reports Ashley Parker of the New York Times.


A week after losing the presidential election to President Obama, Mitt Romney blamed his overwhelming electoral loss on what he said were big "gifts" that the president had bestowed on loyal Democratic constituencies — including young voters, African-Americans and Hispanics. … "In each case they were very generous in what they gave to those groups," Mr. Romney said.

"With regards to the young people, for instance, a forgiveness of college loan interest, was a big gift," he said. "Free contraceptives were very big with young college-aged women. And then, finally, Obamacare also made a difference for them, because as you know, anybody now 26 years of age and younger was now going to be part of their parents' plan, and that was a big gift to young people. They turned out in large numbers, a larger share in this election even than in 2008."
Additionally, Romney sited the President's health plan for leading 93 percent of blacks and 71 percent of Hispanics to vote for the President.
Seeming to want to play a game of limbo with himself, (how low can you go), Romney goes into the sordid details of his spiteful mindset.


"You can imagine for somebody making $25,000 or $30,000 or $35,000 a year, being told you're now going to get free health care, particularly if you don't have it, getting free health care worth, what, $10,000 per family, in perpetuity, I mean, this is huge," he said. "Likewise with Hispanic voters, free health care was a big plus. But in addition with regards to Hispanic voters, the amnesty for children of illegals, the so-called Dream Act kids, was a huge plus for that voting group."
Romney said that while he would not run again, he was looking into ways of keeping his supporters together, potentially with a newsletter. Oh great, I can hardly wait. We could be getting ignoble sour grapes updates for years folks. Where do I sign up.
Romney also suggested that while President Obama focused on "small issues" and buying off constituents with bribes, he focused on the big issues such as military strategy, foreign policy, the economy, and jobs.
If Mitt Romney is not careful he may risk looking like a petty loser, spouting off sour-grapes, instead of respecting the clear choice of the voters in this election. ... Wait, too late!
(BTW, Sorry if it appears I've been off writing new posts rather than tending to the one on the rec board about the outrageous attack by Senator's McCain and Graham on President Obama over Ambassador Rice but "Service Interruptions" have kept me off Daily Kos for several hours, so I've been working off-line on other stories. I do make it a policy to read all comments and actively engage in comment discussions in all of my posts. I'll be back over there next.)

3:40 PM PT: Hey, I wonder why Mitt Romney didn't take this opportunity to finally reveal his secret plan to add 12 million new jobs to the economy, and his secret plan to balance the budget?
What do we have to do to show we are worthy?
3:49 PM PT: There seems to be a problem with the link to the NYT article in this post which I am fixing. Here's another link in the meantime. It is a real NYT article
http://thecaucus.blogs.nytimes.com/...