The Tax Policy Institute of the Urban Institute and Brookings Institution has an informative table of the distribution of adjusted gross income (AGI) for the 2011 tax year:
The Democratic rallying cry in the wake of the election has been to let the Bush tax cuts expire for the "top 2%" of AGI. The table at the above link shows that the top 2% cutoff is $143,705 for single filers and $477,128 for married filing jointly. That's a bit different from the $200,000/$250,000 numbers bandied about, but maybe the trial balloons shouldn't be taken too literally.
Anyway, I thought it would be interesting to see just what kind of revenue can be generated as a function of the AGI cut-off, assuming that the cut-off is a number that's negotiable.
Crunching data from the TPI table and the proposed tax rate tables I get this curve of additional revenue vs. the tax cut expiration cutoff: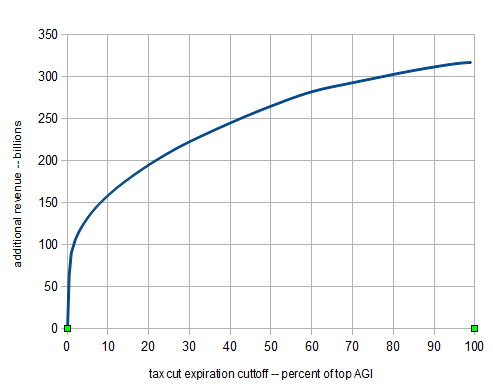 So just letting the Bush tax cuts for everyone would generate over $300 billion annually. That would go a long way towards shoring up the deficit, but evidently that's not politically possible, even though this would just restore the tax rates of the Clinton years. Oh, we would plunge into an economic abyss, the economists and business analysts tell us (just as the same people said about the Clinton 1994 tax hikes and were dead wrong). Whatever, that's the political situation we're dealing with so the only question on the table is where the "tax the rich" cutoff will be in terms of the Bush tax cut expiration.
The above chart shows clearly how the Bush tax cuts were weighted toward the wealthy. Just eliminating the cuts for the top couple percent gets about a third of revenue back. The chart doesn't show much detail on the steep part of the curve, so here's the same chart with a logarithmic scale:
So that's pretty interesting. Eliminating the tax cut for the top 1% generates nearly $100 billion in annual revenue, while extending that out to 2% only generates a little more. Might that be a potential compromise, i.e., set the cutoff at 1%? That would be $193,307 single and $761,938 married.