It's the end of McKayla's meme! She no longer is not impressed and it took POTUS to do it.
The United States gymnastic team visited the Today show today (heh) where McKayla Maroney spoke about meeting the leader of the free world, President Barack Obama. And she was impressed! This highly skeptical young woman who inspired her own meme for not being impressed with her own Silver Olympic medal, was finally impressed.
She said that it was the President who asked her to make the face for which she became famous, saying that he himself makes the face at least once a day.
Resulting in this popular image.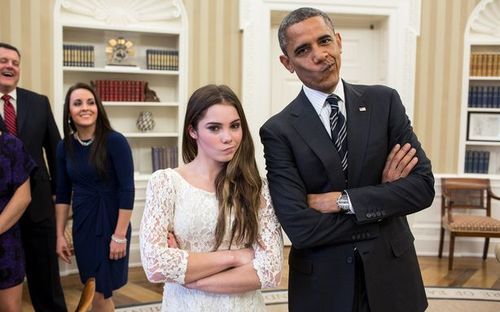 (The President seems to have invented his own new facial expression - the scowl-smile or smowl or scile?)
Matt Lauer joked with McKayla asking her how she got the President to make the face. "Did you suggest to him that he think about the fiscal cliff"?
McKayla said her experience was 'mind blowing'. Much better than impresssed! A new Tumblr is ripe for creation - McKayla Maroney's mindisblown.
While this encounter will soon drop off the radar, it is delightful while it has a life. It shows the humanity of our POTUS and his connection with the lives of Americans, tuning into the zeitgeist of the day as it does. You know something like this would never have happened with Mitt Romney as President (who instead created his own bizarre memes). No wonder the vast majority of Americans said Barack Obama was 'the one' who understood the problems of people like them on Nov. 6th.