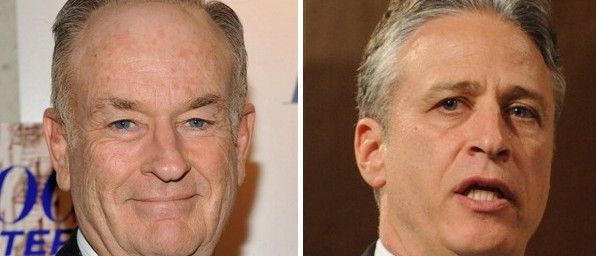 The sparky "bromance" between Jon Stewart and Bill O'Reilly took another sharp and sizzling turn Monday as O'Reilly lashed out at Jon Stewart for being obtuse, working with pinheads, and failing to understand the perspective of real "traditional" Americans, reports Jeff Poor in O'Reilly fires back at 'obtuse' Stewart and his 'pinhead' writers: Obama voters aren't 'traditional'. Last Thursday, Stewart suggested that many of the "voter who re-elected President Obama hold "traditional" American policy views."
"Here's what I'm talking about, Mr. Obtuse: If you and your 17 writers would actually look at the exit polling, you will see that a coalition of voters put the president back into the Oval Office," O'Reilly said. "That coalition was nontraditional, which means it veered away from things like traditional marriage, robust capitalism and self-reliance. Instead, each constituency that voted for the president, whether it be single women, Hispanic-Americans, African-Americans, whatever, [had] very specific reasons for doing [so]. What do you think was going on at the Democratic convention, when a variety of speakers put out a whole laundry list of things they want the government to provide? Did you miss that, Jon Stewart?" ...

"Traditional American voters generally want a smaller government in Washington — more local control, some oversight on abortion and believe in American exceptionalism," he continued. "The majority of those who voted for President Obama want a large government that spends heavily on entitlements, because that reduces so-called income inequality. They want equality for gays in the marriage arena. They want unfettered abortion with no parental notification for minors. They want a one-world foreign policy they gives other nations equal status to America. Here's a bullet at this point to those pinheads at Comedy Central: Those are not traditional positions. Are we clear about this?"

O'Reilly also objected to Stewart saying that he was "lamenting Mitt Romney's loss," saying that his show was a "no lamenting zone."

O'Reilly continues:

"Notice the word lamenting — no lamenting here, no lamenting zone," O'Reilly said. "Stewart is obviously channeling Ben Franklin, one of our great experimenters. Here is the deal: The country is definitely changing. The values of Americans [are] being challenged by the coalitions the Democrats effectively put together. That's the deal. No lamenting, no race-baiting, no bull feathers."

Isn't it incredibly arrogant of Bill O'Reilly to presume he can speak for what "traditional Americans" believe and even further, to suggest that they all agree with him?
The self-satirical answer is yes! Speaking on behalf of all humans of noble spirit, wisdom, compassion, and superior understanding, (as well as and any other of the more refined sentient life forms in this universe) I'd like to clarify by saying, "hold it right there partner!" (satire alert!) Isn't it somewhat of a sophomoric exercise in projective identification for Bill O'Reilly to create stereotypes of what a "traditional American" thinks, and then to suggest that 15 or so generations of "tradional Americans" all agree with him in his running spat with Jon Stewart?
I expect more from Bill O'Reilly ... this man is a college graduate! Speaking on behalf of all the other college graduates, Bill, I have to say you are embarrassing us, and giving us a bad image. Shape up here cowboy!
One reason I find these exchanges interesting is that a substantial number of people, especially younger future voters, are learning much about our political system and views through shows such as Jon Stewart's, Steven Colbert's, and even Bill O'Reilly's show, than they are from reading newspapers and other sources more common in my generation. For many, this might be an eye opening experience about the nature of right-wing ideology.
I believe I can speak for both traditional and progressive TV watchers, and well as the "more advanced" bloggers, that this spat is fun, funny, and educational.
Read more: http://dailycaller.com/...
1:04 PM PT: I'm having trouble getting the newer embedded video codes to work here. Someone explained how to convert them last week, but I can't find it. Anyone willing to give me a second chance?
1:27 PM PT: Part of what Jon Steward was saying last week was that O'Reilly and others complaining about Latinos, minorities, and the erosion of "traditional values," too quickly forget that over the last couple hundred of years the previous "traditional" Americans complained about Catholics, the Irish, etc. etc. etc. Stewart said comically, that the only group welcomed to America with open arms were the Jewish.