This was just posted on Barack Obama's Facebook profile.
They ask people to share a great graphic. (The correct graphic is embedded below the fold. I found it by following the hyperlink in Obama's FB post, which leads back to the campaign website here).
The problem is that, when you click on "share", what is posted to your profile is the above photograph instead of the graphic.
Also, this same problem is happening on barackobama.com. Yesterday, there was a posting titled "Forward this: The President's plan to keep your taxes low and reduce the deficit". (Note: Obama's FB post leads here). The website features the same graphic and says "Share this and spread the word on Facebook and Twitter." But when you click on "Share this", here's what happens: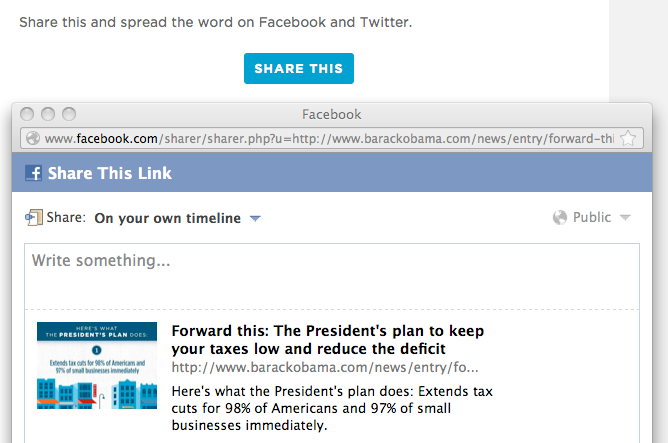 What was uploaded to my FB profile was the illegible tiny image above, rather than the bad ass graphic below.
OFA needs to upload the graphic directly onto Obama's Facebook and then promote it again. That way the graphic will actually embed on thousands of people's FB profiles. Otherwise, we're just posting a picture of folks eating lunch.