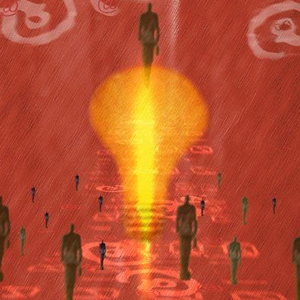 Commentary: African American Scientists and Inventors
by Black Kos Editor, Sephius1


Darnell Diggs and his twin sister are the youngest of 15 children who grew up in the small Alabama town of Brundidge to parents who did not finish high school. Their parents did value education. "Our parents inspired us to work hard at school, and if you didn't, you got disciplined. That was encouragement enough," Diggs recalls.
Thirty-four-year-old Darnell is now Dr. Diggs, a physicist working at the U.S. Air Force Research Laboratory at Wright-Patterson Air Force Base in Dayton, Ohio. Most of his siblings have at least undergraduate degrees in areas as diverse as chemistry, math, physics, business, and education.
Diggs was a 2004 Black Engineer of the Year Award winner in the "Promising Scientist in Government" category. He was also named one of the 50 Most Important Blacks in Research Science in 2004 by Science Spectrum magazine.
(con't.)
During his high school days Diggs was first-chair trumpet player in the school band and was in the ROTC. He preferred biology to the physical sciences and planned to become a physician. Yet when he went off to Alabama Agricultural and Mechanical University, a historically black school near Huntsville in Normal, Alabama, he took a cousin's advice and began to study business, hoping to prepare for the Medical College Admission Test (MCAT) on the side.
That all changed during the final semester of his sophomore year, when he took a required physical sciences class for nonscience majors. The instructor of that class told Diggs he was in the wrong field and that he ought to be majoring in physics. He even offered to help Diggs obtain a scholarship if he tried studying physics. Having paid for his schooling on grants and loans up to that point, the offer of a scholarship was enticing. Diggs enjoyed the physical science course, so he decided to take the instructor up on his offer.
But Diggs found inspiration in a book entitled Gifted Hands by Ben Carson, an African-American who grew up in inner-city Detroit and at age 33 became the director of pediatric neurosurgery at Johns Hopkins University Hospital. Diggs identified with Carson, who had to struggle to overcome many of the same hurdles Diggs did, and drew motivation from Carson's story.
With Carson's book in mind, Diggs dug in for the comprehensive final and came through with a grade high enough to pass the course. That academic near-death experience gave him the resolve to struggle on, although it was not an easy path.
[...]
As graduation approached, Diggs thought about what he was going to do for the rest of his life. During that period of introspection, he attended a seminar at the National Conference of Black Physics Students that discussed the low numbers of black graduate students in physics. The attendees were encouraged to go to graduate school if they were able, and Diggs decided to give it a shot. He was admitted to the master's program in physics, also at Alabama A&M, on the condition that he do well academically. The focus of his master's studies was fiber optics. He enjoyed graduate school and his grades continued to improve. By the time he received his master's degree in physics, his grade point average was 3.5, a considerable increase from the 2.7 at the beginning of his graduate career.......Read More


~~~~~~~~~~~~~~~~~~~~~~~~~~~~~~~~~~~~~~~~~~~~~~~~~~~
News by dopper0189, Black Kos Managing Editor
~~~~~~~~~~~~~~~~~~~~~~~~~~~~~~~~~~~~~~~~~~~~~~~~~~~

~~~~~~~~~~~~~~~~~~~~~~~~~~~~~~~~~~~~~~~~~~~~~~~~~~~
Exonerated Yusef Salaam talks about a film on the infamous 1989 rape that shook New York City. The Root: Revisiting the Central Park Jogger Case.
~~~~~~~~~~~~~~~~~~~~~~~~~~~~~~~~~~~~~~~~~~~~~~~~~~~
In one of New York City's highest-profile criminal cases, a group of five black and Latino teenagers (all 16 or younger) -- Antron McCray, Kevin Richardson, Raymond Santana, Kharey Wise and Yusef Salaam -- were arrested and convicted for the brutal rape of a white jogger that occurred in Central Park on April 19, 1989.
The incident shook a city that was already sagging under heavy urban malaise, with high rates of petty crime and murder. The only problem was that the youth were later proven to be innocent. Another man, Matias Reyes, 31, admitted to the crime in 2002. DNA evidence corroborated his confession. The five men were soon exonerated, but only after spending many years behind bars. In a new documentary titled The Central Park Five, which opens in New York on Nov. 23, filmmakers Sarah Burns; her husband, David McMahon; and Burns' father, the Oscar-winning director Ken Burns, revisit the details of that fateful night and how New York Police Department investigators and court officials handled the evidence.
The idea for the documentary came from a book by Sarah Burns, The Central Park Five: The Untold Story Behind One of New York City's Most Infamous Crimes. Her interest in the case was piqued when she met two of the teens while working for a lawyer in 2003, the year after they were exonerated. "The book spends a lot more time exploring some of the context for this case and some of the details of the trial," she told The Root. "But the film, I think, has a great advantage, the ability to share with an audience directly these interviews with the five, where you get to meet them and get to know them and see some of the emotion of them telling their story ... They had not really told their story before, so I think this was both difficult and somewhat cathartic for them."
Salaam, now approaching 40, agreed. "This film gave us our voices back, by giving us the opportunity to tell our own story," he told The Root. "It was almost like a slap in the face to have folks not even know the real story of what happened."




~~~~~~~~~~~~~~~~~~~~~~~~~~~~~~~~~~~~~~~~~~~~~~~~~~~


~~~~~~~~~~~~~~~~~~~~~~~~~~~~~~~~~~~~~~~~~~~~~~~~~~~
If Haiti makes me regularly shed a tear, Congo brings me to break down and cry. "The bloody conflict you didn't read about this week is in Congo, and it threatens to redraw the map of Africa." Foreign Policy: That Other War
~~~~~~~~~~~~~~~~~~~~~~~~~~~~~~~~~~~~~~~~~~~~~~~~~~
One of Congo's biggest eastern cities fell to a powerful rebel force on Tuesday, Nov. 20, in a war that may redefine the region but has produced little political action by the United Nations, the United States, and international powers that heavily support neighboring governments -- notably Rwanda, a Western darling and aid recipient -- that are backing the violence, according to U.N. experts. The fighting has displaced nearly 1 million people since the summer, and the battle for the city of Goma marks the latest episode of a long struggle by Rwandan-backed rebels to take control of a piece of the Democratic Republic of the Congo -- a struggle the rebels are now decisively winning. The fighting has also highlighted the ineptitude of the United Nations mission, one of the world's largest and most expensive, charged with keeping Congo's peace.
U.N. Secretary-General Ban Ki-moon called Rwandan President Paul Kagame on Saturday "to request that he use his influence on the M23 [rebels] to help calm the situation and restrain M23 from continuing their attack," as the U.N.'s peacekeeping chief put it. And French Foreign Minister Laurent Fabius affirmed that the rebellion in Congo was supported by Rwanda, expressing "grave concern." But the violence has only escalated since. The U.N. Security Council called an emergency session over the weekend, but its condemnation of the violence, demanding that the rebels stop advancing on Goma and insisting that outside powers stop funding the M23 rebels, have all simply been ignored. The Security Council announced it would sanction M23 but did not even mention Rwanda, the main power behind the rebellion. And even as the fighting has intensified, the U.N. mission in Congo has been making public pronouncements about new access to drinking water for people in eastern Congo -- producing a surreal image of the war.
The well-equipped and professional M23 fighters, perhaps better armed and organized than any rebel unit in Congo in the past decade, put on a remarkable show of force over the weekend to move within a few kilometers of the provincial capital, Goma. The rebels not only withstood heavy shelling by U.N. helicopter gunships, but simultaneously gained ground and forced back the Congolese national army on two other fronts, according to reports. The Congolese army and U.N. peacekeeping forces subsequently stayed out of the rebels' way, allowing M23 to capture large parts of Goma with virtually no resistance. In the end, some 3,000 Congolese soldiers, backed by hundreds of U.N. peacekeepers with air power, were unable to contain M23 forces numbering in the few hundreds.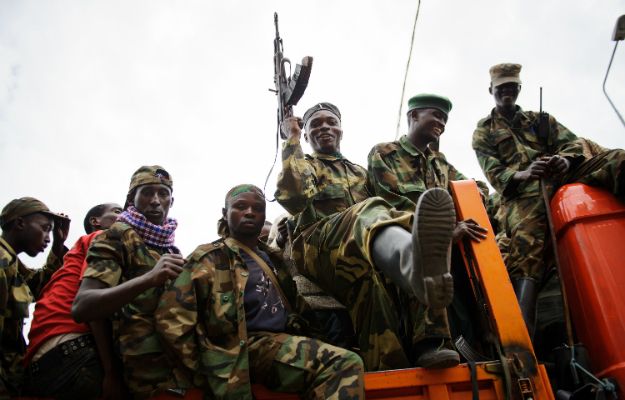 Courtesy of Foreign Policy Magazine


~~~~~~~~~~~~~~~~~~~~~~~~~~~~~~~~~~~~~~~~~~~~~~~~~~~
Brazil's dismal education standards are too low for the world's No. 6 economy and threaten to stunt the nation's development. LA Times: Brazil education standards contribute to learning crisis
~~~~~~~~~~~~~~~~~~~~~~~~~~~~~~~~~~~~~~~~~~~~~~~~~~~
As 6-year-old Ana Jamil skips up to the school gates, she has a simple question for the principal: "Is there class today?"
Children here are in the habit of asking, because their teachers often don't show up, as hers didn't the day before.
When Jose Pereira da Silva Municipal School does hold class, students spend just a little more than three hours a day with teachers who are woefully unprepared.
"Around here, there are teachers who can't even read and write," principal Maria Olivia Andrade says. "We're waiting for the government to install air conditioning. We need a library. That's essential. But by far the thing we need most desperately is training for the teachers."
With salaries starting at just $350 a month and their jobs as state workers secure, teachers regularly stay at home. Although more kids are showing up for class, partly because of free lunches and government programs, they still have little chance of leaving with a decent education.
At Andrade's school, the annual goal is that 70% will learn to read and write before they leave at age 14.
"Last year, we managed to pull it off," she says, smiling sheepishly at the low expectations. "This is a poor neighborhood, far from the big capitals. The kids simply don't have the same opportunities. The differences are colossal."
But schools like Jose Pereira da Silva are easy to find in Brazil. At one in Sao Paulo, a sponsoring company discovered that the high school geography teacher couldn't explain north, south, east or west. Even most of the shockingly expensive private schools are below international standards.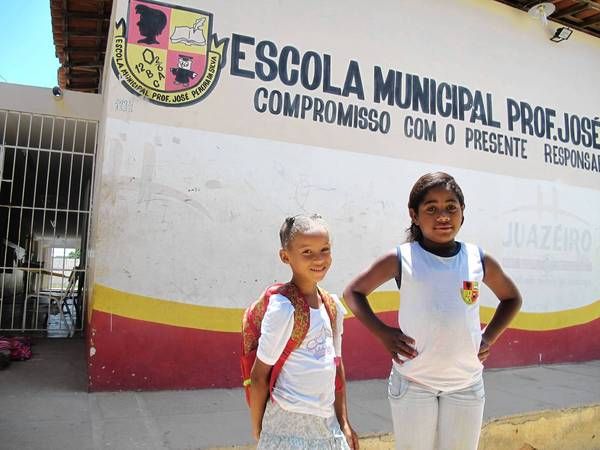 Ana Jamil and Vanessa Taina stand in front of Jose Pereira da Silva Municipal School in Juazeiro, Brazil. Ana, 6, has hopes for her future, but her teacher often doesn't show up. (Vincent Bevins / For The Times / October 23, 2012)


~~~~~~~~~~~~~~~~~~~~~~~~~~~~~~~~~~~~~~~~~~~~~~~~~~
The youngest person ever to be invited to the prestigious Massachusetts Institute of Technology's Visiting Practitioners Program is a 15-year-old self-taught engineer from Sierra Leone named Kelvin Doe. The Root: Self-Taught African Teen Wows at MIT.
~~~~~~~~~~~~~~~~~~~~~~~~~~~~~~~~~~~~~~~~~~~~~~~~~~
In a town where electricity is available generally only once a week, Kelvin taught himself to build batteries and generators, as well as a transmitter for his own community-empowerment radio station, using discarded electronics that he found in the neighborhood's garbage cans.
Watch his triumphs and his struggles as he travels to the U.S. for the first time to attend the program.




~~~~~~~~~~~~~~~~~~~~~~~~~~~~~~~~~~~~~~~~~~~~~~~~~~~

~~~~~~~~~~~~~~~~~~~~~~~~~~~~~~~~~~~~~~~~~~~~~~~~~~~
Old pictures are always fun to look at around the holidays. The Grio: University of Kansas showcases historic black photography online.
~~~~~~~~~~~~~~~~~~~~~~~~~~~~~~~~~~~~~~~~~~~~~~~~~~~
The University of Kansas is now making a historic collection of images showcasing African-American life available online.
The collection, compiled from the work of African-American photographer Leon K. Hughes, is called "African American Life in Wichita, Kansas" and features photos of the city's black community life from the late 1940s to the 1970s.
According to the KU website, Hughes was a self-taught photographer. He and his wife, Rose, began a home-based photography business in 1946 for which he captured photos of the community for the next three decades. In 2009, his wife gifted the collection of more than 2,700 images to the university.
The collection's archivist, Deborah Dandridge, said the photos showing weddings, graduations and church and school gatherings coincide with the arrival of thousands of African-American newcomers from nearby states and the South to the city.
"These photographs suggest how African-Americans, for centuries, refused to allow the nation's color line deny them experiences of love, faith, dignity and grace," Dandrige added.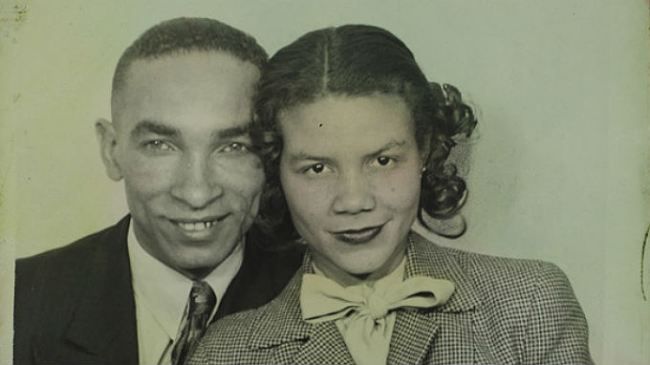 Leon K. Hughes and his wife Rose (Leon K. Hughes Photograph Collection/University of Kansas)


~~~~~~~~~~~~~~~~~~~~~~~~~~~~~~~~~~~~~~~~~~~~~~~~~~
Welcome to the Front Porch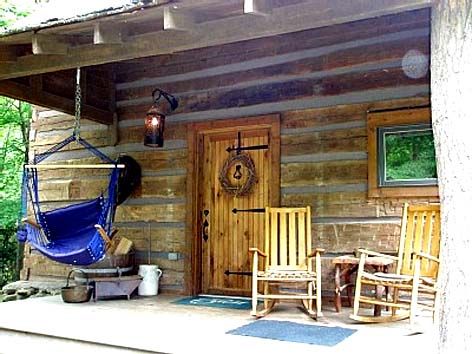 If you are new, introduce yourself, grab a chair, a plate of Thanksgiving leftovers and rap with us for a while.