Jimi Hendrix: Voodoo Chile, commentary by Black Kos Editor Denise Oliver Velez
Born on November 27, 1942 in Seattle, WA he was at first given the name Johnny Allen Hendrix, changed to James Marshall Hendrix, and to those who knew him growing up and during his early years as an R&B musician he was Jimmy. But it is the "Jimi" he became in 1966 who irrevocably changed music. His death on September 18, 1970, cut short what was for most of his fans and music historians an extended guitar note that lasted for only a handful of years.
There are few of us who cannot spin a tale of when they first heard him, or the first album they bought, or their favorite Hendrix tune. A smaller group can describe seeing him perform live.
Hard to believe he died 42 years ago.
To me he will always be that voodoo chile who worked his magic crafting a guitar bridge between two worlds—the deeply rooted power of black music and the world of young whites who had discovered a hippie revolution laced with acid and weed. A psychedelic experience tightly wrapped in the roots of call and response, blues, and "chitlin' circuit" r&b.
I met him briefly in a coffee shop across from the Brill Building, in NYC, home of Rock and roll and r&b music producers and writers. I was with the stepdaughter of the lead singer of the Platters, and she was flirting with him. He looked "country" to me, in a red jump suit with conked hair. Later I would see him in numerous black music clubs and bars with groups like Curtis Knight, King Curtis, and the Isley Brothers.
I didn't pay any more attention to him than I did to other sidemen.
But the Jimmy of soul music was remade into the Jimi of the Experience.
I don't remember when I got their first album - sometime between '67 and '68.
I do know it wasn't until 1968, hanging out on the Lower East Side of NYC, working as a waitress at the Dom/Electric Circus on Saint Marks Place, that I happened to go hear Sly over at the Filmore East and caught the Jimi Hendrix Experience live. He later headlined at the Circus.
My mind was blown.
Could this bell-bottomed, fringed jacket, headband wearing acid-tripping musician be the same country dude from the earlier 60's?
He was.
But I guess we had all been changed by the world changing around us.
But though this new "Jimi" was electrifying a mostly white audience, the underlying music was the same. His fingers still played with tonalities deeply rooted in the black experience.
Then in '69 came Woodstock.
And too soon after that came his death.
There are a slew of books about him. I'm biased towards my old friend poet and writer David Henderson's 'Scuse Me While I Kiss the Sky: Jimi Hendrix: Voodoo Child, who is interviewed about his book on CACE INTL TV. David talks about Hendrix' anti-war sentiments, and his concert in support of the Black Panther Party "Panther 21".
Jimi introduces Voodoo Child (slight return) as "The Black Panther National Anthem"



Well, I stand up next to a mountain
And I chop it down with the edge of my hand.
Well, I stand up next to a mountain,
Chop it down with the edge of my hand.
Well, I pick up all the pieces and make an island,
Might even raise just a little sand.
Cause I'm a voodoo chile,
Lord knows Im a voodoo chile, baby.
Rest in Peace voodoo chile.

~~~~~~~~~~~~~~~~~~~~~~~~~~~~~~~~~~~~~~~~~~~~~~~~~~~
News by dopper0189, Black Kos Managing Editor
~~~~~~~~~~~~~~~~~~~~~~~~~~~~~~~~~~~~~~~~~~~~~~~~~~~

~~~~~~~~~~~~~~~~~~~~~~~~~~~~~~~~~~~~~~~~~~~~~~~~~~~
Hopefully someday this will be part of the "history" section. ColorLines: A 'Love Balm' for Mothers Who've Watched Too Many Sons Die.
~~~~~~~~~~~~~~~~~~~~~~~~~~~~~~~~~~~~~~~~~~~~~~~~~~~
A woman, somewhere, gave birth to each of the people killed in Oakland's 109 homicides this year. And after the news cameras go away, and the protests die down, and the courtroom dramas wrap up—in the rare instance a killer is tried at all—those women are often left behind. They walk among us with lives forever reshaped by the violent taking of their children. "Love Balm for My Spirit Child," a new play which debuted last week at Oakland's Eastside Arts Alliance, explores that changed, wrenching existence.
In 60 minutes of tightly written, vivid theater, five actors share the testimonies of six Bay Area mothers who lost their sons and grandsons to police and community violence. "Love Balm" raises elemental questions about society, and the wholesale casting away of the lives of black and brown males. What does white supremacy and a societal fear of black men, enacted through the nation's history in the form of state-sanctioned police brutality and mass incarceration, look like to the mothers of just a handful of those men? How does a mother raise and love and lose a boy whose life society has deemed dispensable? And what does it mean to be, as the play says, "just ordinary women who dared to bring babies into the world?"
But the play's artistic director Arielle Brown says the project also seeks to answer a far simpler question: "How do we move through all that and continue to live and see our children in the sun?"
"Love Balm" features the testimonies of six mothers. They include Bonnie Johnson, the grandmother of Oscar Grant, who was killed on New Year's Eve 2009 by a BART transit officer, and Ayanna Davis, whose 25-year-old son Khatari Gant was killed in August 2007. Yasmin Flores, the mother of Daniel Booker, a 27-year-old shot in 2009 as he was walking out of a club, also told her story for the play. As did Anita Wills, whose grandson Kerry Baxter, Jr., was killed while he stood outside an Oakland church last January and Denika Chatman, the mother of 19-year-old Kenneth Harding Jr., who was killed by San Francisco police as he fled a bus stop. Just six mothers, and enough grief to fill lifetimes.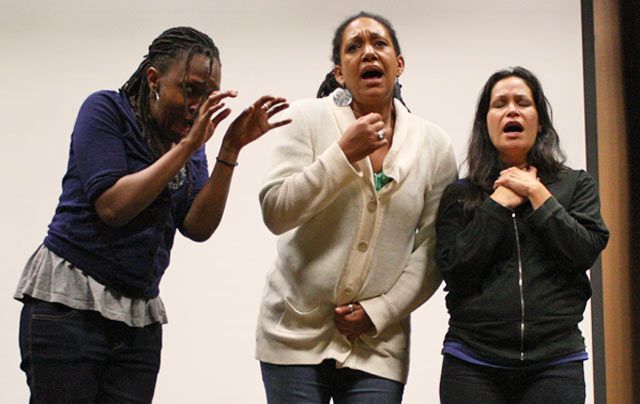 Rehearsal of the Love Balm Theater Project. All photos by Julianne Hing.


~~~~~~~~~~~~~~~~~~~~~~~~~~~~~~~~~~~~~~~~~~~~~~~~~~~


~~~~~~~~~~~~~~~~~~~~~~~~~~~~~~~~~~~~~~~~~~~~~~~~~~~
The voter turnout for minorities and women is a sign that white male privilege is coming to an end. The Root: Hey, White Guys, It's Time to Share America.
~~~~~~~~~~~~~~~~~~~~~~~~~~~~~~~~~~~~~~~~~~~~~~~~~~~
Sylvester Stallone never claimed that he intended any racial connotations in his now-beloved character, but it's easy to see Rocky as a metaphor for white men who felt they were slowly losing control over a society that they felt was their birthright to dominate.
Rocky went the distance against the arrogant Apollo Creed, a cartoonish characterization of Muhammad Ali, whose over-the-top persona had been an offense to the sensibilities of many whites ever since he defied the draft and refused to go to Vietnam.
Much of the country still hated Ali for that, so seeing Rocky challenge his pompousness, personified in Creed, was a welcome draw to the movies. Even though, by the end, Rocky had lost to this bad black man, the film seemed to signify a call to action to defend what was right and just.
For much of its history, Western pugilism was one of the few martial arts dominated by white men -- that is, until Jack Johnson, Joe Louis, Sugar Ray Robinson, Ali and others came along and established a black foothold, pouncing white challengers left and right, until the Klitschko brothers emerged -- and they weren't even American.
I don't want to get too far into boxing analogies without explaining my reason for them: The victory of Barack Obama in the recent election, both in the popular vote and electoral votes, is being seen by many white male conservatives as a historic tipping point that indicates the demise of white male societal dominance. For them, America is no longer a white dude's game, and it makes them sad.
Fox News host Bill O'Reilly announced it as if it were a declaration of America's new identity: "The white establishment is the minority," he said on election night as Obama ran up the electoral score, state by state.
Conservative pundit Pat Buchanan was more morbid, lamenting that "white America died last night." His verbal requiem mourned that America had become a "socialist Latin American" nation.
As unsurprising as these notions are coming from those two, these are paranoid expressions that are probably not isolated.


~~~~~~~~~~~~~~~~~~~~~~~~~~~~~~~~~~~~~~~~~~~~~~~~~~~
The jockeying to replace Jesse Jackson Jr. began before the ink was dry on the former congressman's resignation letter. TheGrio: Jockeying under way to replace Rep. Jese Jackson Jr.
~~~~~~~~~~~~~~~~~~~~~~~~~~~~~~~~~~~~~~~~~~~~~~~~~~~
Among those expressing an interest: Chicago aldermen, a former NFL linebacker and a defense attorney who represented R&B singer R. Kelly and former Gov. Rod Blagojevich.
But as the field of would-be successors grows to a dozen or more names — one of whom may be another member of the Jackson family — party leaders and political analysts say a stampede of candidates could pose risks for the Democratic stronghold. Spread the field of candidates too thin, they say, and it becomes easier for a more conservative candidate — or anyone else party leaders don't want — to pull off a win.
The possibility so worried Democratic Congressman Bobby Rush, a close friend of the Jacksons, that within hours of the resignation he had these words for anyone thinking of running: "Cool your jets."
"My fear is that there is going to be so many wannabes blinded by ambition … that we could find a tea party (candidate winning)," he said during a news conference. "That would be a travesty."
In a resignation letter sent Wednesday to House Speaker John Boehner, the 47-year-old son of a famed civil rights leader cited his ongoing treatment for bipolar disorder and admitted "my share of mistakes." He also confirmed publically for the first time that he is the subject of a federal probe and is cooperating with investigators.
Federal authorities are reportedly investigating Jackson's possible misuse of campaign funds. The House Ethics Committee is investigating his dealings with Blagojevich, who is serving a prison sentence for trying to sell President Barack Obama's former Senate seat.
Jackson has not been charged with wrongdoing. Attempts by The Associated Press to locate him for comment Thursday were unsuccessful, and his family also could not be reached.
Illinois Gov. Pat Quinn, a Democrat, is expected to schedule a primary and general election in the coming days.
Cook County Clerk David Orr said officials want to hold the elections on the same dates as previously scheduled elections for municipal officials, which are set for a Feb. 26 primary and an April 9 general election.



~~~~~~~~~~~~~~~~~~~~~~~~~~~~~~~~~~~~~~~~~~~~~~~~~~~


~~~~~~~~~~~~~~~~~~~~~~~~~~~~~~~~~~~~~~~~~~~~~~~~~~~
Brazil's Supreme Court is now headed by a black justice for the first time (their equivalent of chief justice). Black Voices: Joaquim Barbosa Sworn In As Brazil's First Black Supreme Court Justice.
~~~~~~~~~~~~~~~~~~~~~~~~~~~~~~~~~~~~~~~~~~~~~~~~~~~
Joaquim Barbosa was sworn in on Thursday. He became the only black ever to serve on the court when he joined it in 2003, even though more than half of the country's 192 million people identify themselves as having African descent.
Barbosa, 58, was elected in October to a two-year tenure as Supreme Court president. His election was a foregone conclusion since the court's presidency always goes to the justice who has served on the bench the longest.
Over the past several weeks he gained national and international renown presiding over a high-profile corruption trial involving a congressional cash-for-votes scheme. The court has convicted 25 people including the former chief of staff of ex-President Luiz Inacio Lula da Silva.
President Dilma Rousseff, members of her Cabinet, state governors, congressional leaders and several sports and entertainment personalities were present at Barbosa's swearing in.
"The multiculturalism that characterizes the Brazilian people is evident here today with Joaquim Barbosa heading the highest court of the land," said Ophir Cavalcante, president of the Brazilian Bar Association in a speech during the swearing in ceremony.
Barbosa as Supreme Court president "has a strong symbolic impact for Brazilian blacks," Valter Silveiro, coordinator of the Center for Afro-Brazilian Studies of the University of Sao Carlos, said. "The new generations of blacks will have the opportunity that my generation never had – of seeing a black man presiding over one of the three branches of government."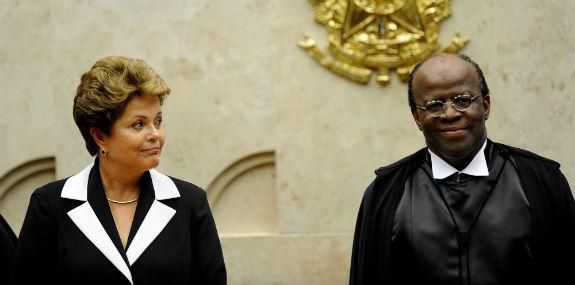 Brazilian President Dilma Rousseff and Supreme Court Judge Joaquim Barbosa (Evaristo Sa/AFP/Getty Images)


~~~~~~~~~~~~~~~~~~~~~~~~~~~~~~~~~~~~~~~~~~~~~~~~~~~

~~~~~~~~~~~~~~~~~~~~~~~~~~~~~~~~~~~~~~~~~~~~~~~~~~~
PBS, the Public Broadcasting Service, is expanding its digital platform. The nonprofit television network has announced the launch of Black Culture Connection, an online guide to films, stories and other resources about the black experience in the realms of history and culture. The website, currently in its beginning stages, will evolve into a larger digital resource over the course of the year. PBS: PBS Unveils Black Culture Connection Website.
~~~~~~~~~~~~~~~~~~~~~~~~~~~~~~~~~~~~~~~~~~~~~~~~~~~~
We're committed to bringing you the best of PBS and helping you explore Black history and culture around the world through our award-winning programs, special online events, chats … and more!
We are in beta and continuing to grow, but invite you to join our journey over the next year. You will be able to connect with award-winning documentaries like Freedom Riders and The Interrupters, new web original productions like Black Folk Don't, live chats with your favorite filmmakers, and PBS member stations to help you explore black history and culture locally in your community.
This is only the first phase of a larger online experience coming to PBS.org. We'll continue to add new features over the next several months. And we're very interested to hear what you have to say. So, explore, share and let us know what you think! We welcome your feedback at bcc@pbs.org. We are committed to building you a gateway to Black History and Culture, brought to you by trusted public media partners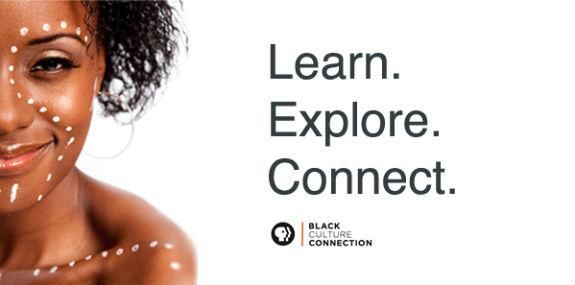 PBS.org


~~~~~~~~~~~~~~~~~~~~~~~~~~~~~~~~~~~~~~~~~~~~~~~~~~~~~~~~~~~~
Voices and Soul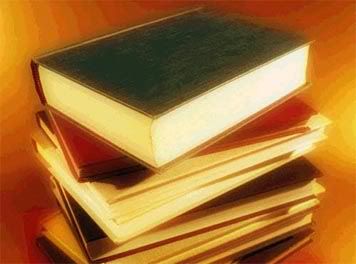 by Justice Putnam
Black Kos Poetry Editor
I come from a strong Matriarchy; so strong in fact, one might say I come from a feminist extended-family. There was no division of labor by gender when doing chores while growing up; all of us mowed the lawn, washed dishes, cooked, cleaned. When we lived on the farm outside of Corvallis; all of us learned to sew and sow.
The great Matriarch of the Family, our Great Aunt Mabel, lived to be 102. Shortly after marriage in the late 1880's, she and her new husband provisioned a covered wagon and trekked across the plains on their way to California. Along the way, as she put it, "he wasn't up to snuff, so I had to kick him out." She took up with another fellow during the almost year long voyage; and he was "worse than the first", so he was sent packing as well. It took a special man to be with this special woman; as it has been, as it is and as it will be with all the women in my family.
I've heard the accusation, on more than one occasion, that the women in the family are "full of themselves."
"Yes," is their unabashed reply, resonating across the generations, "yes we are!"
Poem For A Lady Whose Voice I Like

so he said: you ain't got no talent
if you didn't have a face
you wouldn't be nobody

and she said: god created heaven and earth
and all that's Black within them

so he said: you ain't really no hot shit
they tell me plenty sisters
take care better business than you

and she said: on the third day he made chitterlings
and all good things to eat
and said: "that's good"

so he said: if the white folks hadn't been under
yo skirt and been giving you the big play
you'd a had to come on uptown like everybody else

and she replied: then he took a big Black greasy rib
from adam and said we will call this woeman and her
name will be sapphire and she will divide into four parts
that simone may sing a song

and he said: you pretty full of yourself ain't chu

so she replied: show me someone not full of herself
and i'll show you a hungry person
~~~~~~~~~~~~~~~~~~~~~~~~~~~~~~~~~~~~~~~~~~~~~~~~~~~~~~~~~~~~
Welcome to the Front Porch