Benghazi: If an Anti-Muslim Movie lead to an Ambassadors execution are the movies financiers liable? There are enough links to the KOCH brothers so that, in my humble opinion, they must be involved. If true, any connection to the deaths must be eliminated (in Koch brother thinking).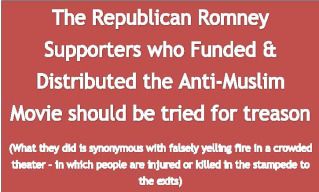 This was posted in response to my sign (when first posted 9/16/2012).

2 Anti-Muslim Films Released B4 Elections -
In Two Presidential Elections, An Anti-Muslim Film Has Emerged Exactly 7 Weeks Before the Polls Open:

"Nakoula produced an amateurish documentary that was screened in one tiny theatre, with a trailer released on the internet. That limited circulation stands in sharp contrast to another Islamophobic film that was broadly circulated in 2008 by mainstream newspapers with financial backing from a nonprofit group with ties to the Koch brothers."
Questions that I still have:
Did the Koch brothers fund the movie?
Who else can afford a movie crew of 80+ people?
If the Romney people knew in advance (as in having knowledge of who funded it and knowledge about the timing of it's release), is that why he responded so quickly?
Why is McCain working so hard to make sure the Ambassadors execution is not tied to the movie?
UPDATE at 3:36
In today's news conference Senator Graham mentions the Anti-Muslim Film starting at 50 seconds into this youtube video