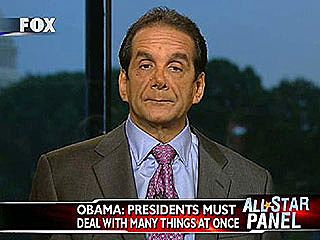 The Republican shit storm and initial reactions to the leak late yesterday of an outline of President Obama's initial proposal for resolving the "fiscal cliff" crises has begun in earnest. This morning Joe Scarborough is shocked, truly shocked that President Obama would be so disrespectful to Speaker of the House John Boehner as to ask him to even consider a such a "non-starter" and "provocative" proposal that does not ask Obama's base to make equivalently painful sacrifices on "entitlement cuts" as Boehner is willing to consider asking his base to face on tax increases. Senator Minority Leader Mitch McConnell is reported to have just laughed at the offer.
But, not even Joe Scarbourough's pique can match that of Charles Krauthammer who goes over the top on Fox News, last night, comparing President Obama's offer to the terms of surrender forced on General Lee at the Appottomox Court House and reported in
Charles Krauthammer Fiscal Cliff Analogy: Obama Offer Worse Than Appomattox.

It's not just a bad deal, this is really an insulting deal... Robert E. Lee was offered easier terms at Appomattox and he lost the Civil War. The Democrats won by 3% of the vote and they did not hold the House. Republicans won the House. So this is not exactly unconditional surrender, but that's what the administration is asking of Republicans.

There not only are no cuts in this, there's an increase in new spending with a stimulus - this is almost unheard of. I mean, what do they expect? They obviously expect the Republicans will cave on everything. I think Republican ought to simply walk away.

This article refers to Ryan Grim's summary of the President's offer as follows:

The proposal is based on a two-step plan that would decouple the high-end tax and capital gains rates from the middle-class rates, extending only those for the middle class. It would revert estate taxes to their higher 2009 level, and raise an additional $600 billion in taxes elsewhere, according to the GOP summary. It then proposes tax reform required to raise at least as much as the tax hikes, and entitlement reform that would trim $400 billion from the programs.

But, as I reported, last night, in Republicans reveal outline of President Obama's opening offer in negotiations, the details are more complicated.

Anonymous aides to Republicans "who know," say Tim Geithner's opening proposal from the White House to solve the "fiscal cliff" looks "almost exactly like" the budget proposal President Obama made last February, reports Andrew Taylor, in Fiscal Cliff 2012: Republicans Say White House Proposes $1.6 Trillion In New Tax Revenue, New Stimulus, Elimination Of Debt Ceiling.

GOP aides say Treasury Secretary Tim Geithner presented an offer calling for $1.6 trillion in new tax revenue over the coming decade, extending the 2 percentage point payroll tax deduction or something comparable to it and $50 billion in stimulus spending on infrastructure projects.

The White House plan calls for $960 billion over the coming decade by increasing tax rates and taxes on investment income on upper-bracket earners and $600 billion in additional taxes. Republicans view the offer as a step backward with the fiscal cliff – an economy-rattling set of automatic spending cuts and tax increases – looming at years' end.

The only new spending cuts in the plan would come from administration proposals curbing health care programs by $400 billion over the coming decade and modest cuts from non-health programs like farm subsidies and cutting Postal Service costs and through higher fees on airline tickets. The plan would also boost spending by extending unemployment benefits for the long-term jobless, deferring looming cuts to Medicare payments to physicians and helping homeowners refinance "underwater" mortgages.

Geithner is also requesting a permanent extension of the government's borrowing ability to avoid a crisis in the next months over the debt limit.
One outcome of such a "grand bargain" would be to avoid the $109 billion in cuts that would be this year's portion of the automatic sequestration cuts scheduled to take effect in January.
It is a relief to finally see an outline of a complete proposal dealing with taxes, sequestration, the doctors fix, payroll tax withholding, and the debt limit all in one package.
I would prefer to see cuts to military spending than any reductions in health care or Medicare. I know we say we are only cutting reimbursements to providers and not to beneficiaries, but there is only so far we can cut these without influencing services received.
Unless we Democrats better frame the Republicans longer-term strategy started by Ronald Reagan and Lee Atewater to use massive expansions of the military budget to squeeze out "entitlement" and other social spending, we are going to end up betraying the middle a working classes, and the poor by shifting the burden of previous remarkable Bush tax cuts and expanded military spending on the backs of our poorest and further degrade Medicare and Medicaid that actually needs expansion if we want adequate health care for our people.
My understanding is that some of the Mayo Clinics in the mid-west (maybe Arizona?) are no longer accepting Medicare patients, and it can take a long time to schedule appointments. When I was diagnosed last year with diabetes type 2 in April, it took my leading community health clinic, in Boston, until December to find me the first available appointment with a nutritionist to tell me how I should change my diet.
But, overall, I"m encouraged to see us Democrats opening with a solid aggressive proposal. I will strongly stand behind Geithner and President Obama in resisting concessions to these obstructionist Republicans. We can win this battle with the bully pulpit and media and I'm ready to fight this battle.
5:35 AM PT: Folks the first publication of this post had a problem in the link to Krauthammer's quotes that left out all his most interesting quotes. Sorry. P
Jill Jackson, of CBS News, writes GOP: White House "fiscal cliff" idea "a joke"



The White House made an offer to House Republicans today to avert the fiscal cliff that Republican aides familiar with the talks panned as "a joke", "an insult" and "a complete break from reality."


A Republican aide familiar with the offer that was presented to House Speaker John Boehner by Treasury Secretary Timothy Geithner and White House congressional liason Rob Nabors confirmed that the $4 trillion package would raise $1.6 trillion in tax revenue up front. Republicans call that number too high and extreme to be offering two weeks into negotiations with a just a month left before the deadline.

In exchange for the added tax revenue, Democrats would give in on $400 billion in spending cuts from entitlement programs like Medicare and an aide said those cuts would not be immediate. Boehner slammed that number right after the meeting at a press conference though he would not say what the number should be.